The Industry's Best Presentation Switchers
Now with 4K/60 @ 4:4:4 Scaling
IN1800 Series
Combining cutting edge video and audio processing, signal extension, and networked control, the IN1800 Series of seamless presentation switchers sets a new benchmark standard for integrated scaling and switching. This powerful scaler product family includes ten models with four, six or eight inputs, dual video outputs, and a variety of integration features that equip them for a broad range of professional AV applications.
Series Features
Vector 4K Scaling Technology
The Vector 4K scaling engine incorporates Extron-engineered, multi-tap, bicubic interpolation, which creates a new pixel by averaging adjacent pixels above, below, to the sides, and diagonally of the new pixel. This produces sharp, accurate output, preserving single-pixel detail that other scaling methods lack.
Vector 4K algorithms continually and dynamically adapt, ensuring optimal processing for upscaling, downscaling, or 1:1 pass-through applications. Two less robust alternatives to bicubic interpolation are "nearest neighbor interpolation," whereby a pixel is duplicated to an adjacent pixel, and "bilinear interpolation," which creates a new pixel by averaging adjacent pixels above, below, and to the sides of the pixel being created. Both of these methods can produce substandard output, resulting in data loss that may render the content unusable.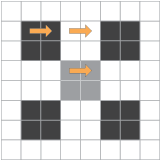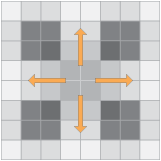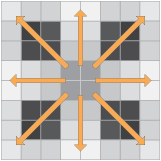 4K/60 4:4:4
With a maximum data rate of 18 Gbps, the IN1800 Series supports computer and video resolutions up to 4K/60 with full 4:4:4 chroma sampling. The Extron-exclusive Vector 4K scaling engine applies precision 30-bit processing and maintains 4:4:4 chroma sampling to ensure pristine image quality at the output. This level of processing retains fine image and color detail such as single pixel lines and text in computer content.
Competing scalers commonly process in the YCbCr, or component domain, employing 4:2:2 or 4:2:0 chroma subsampling. This decreases the bandwidth required to process the signal, at the expense of reduced color detail. Chroma subsampling may be acceptable when processing full-motion video content, but with PC-generated content, subsampled color can negatively impact the clarity of the image. Vector 4K 4:4:4 color processing retains the fine color details present in the original source.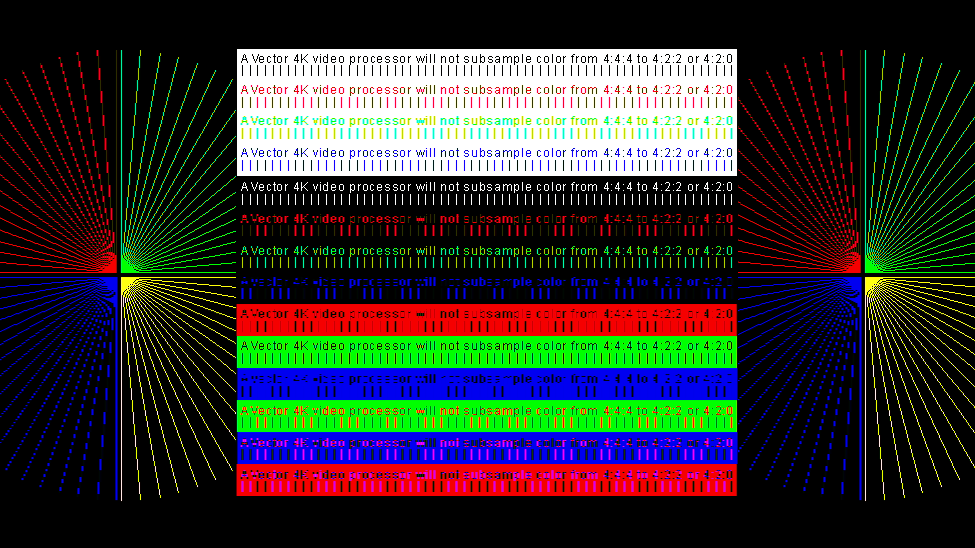 4:2:2 chroma subsampling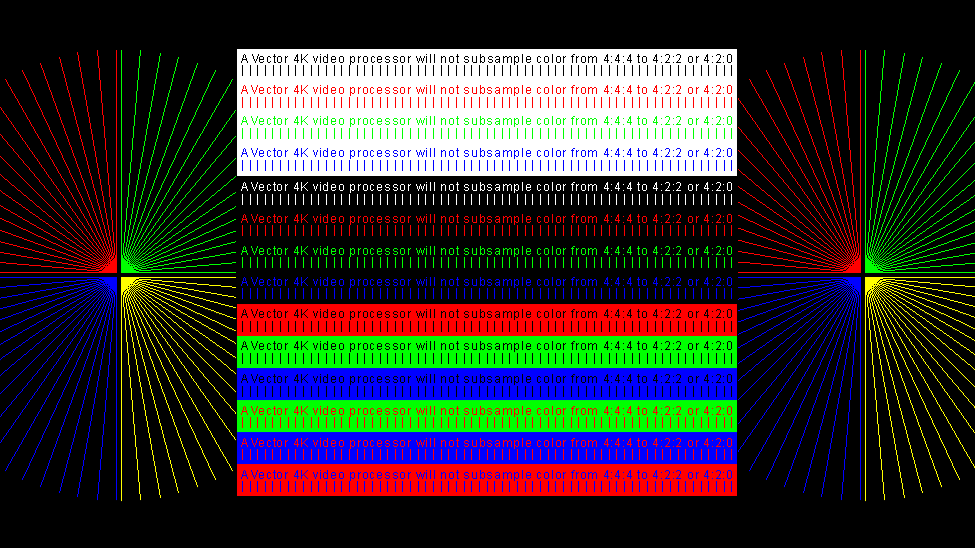 4:4:4 chroma sampling
Dual Video Outputs
The standard IN1804 and IN1804 DI models feature dual mirrored HDMI outputs to drive two displays simultaneously without the need for an additional distribution amplifier. All other models in the IN1800 Series feature one HDMI output and one mirrored DTP2 twisted pair video output that extends video, audio, and control signals to a display located up to 330 feet (100 meters) away.
IN1806 and IN1808 models feature an HDMI loop through that is selectable for any input, useful for local monitoring as wells as an additional independently switched output.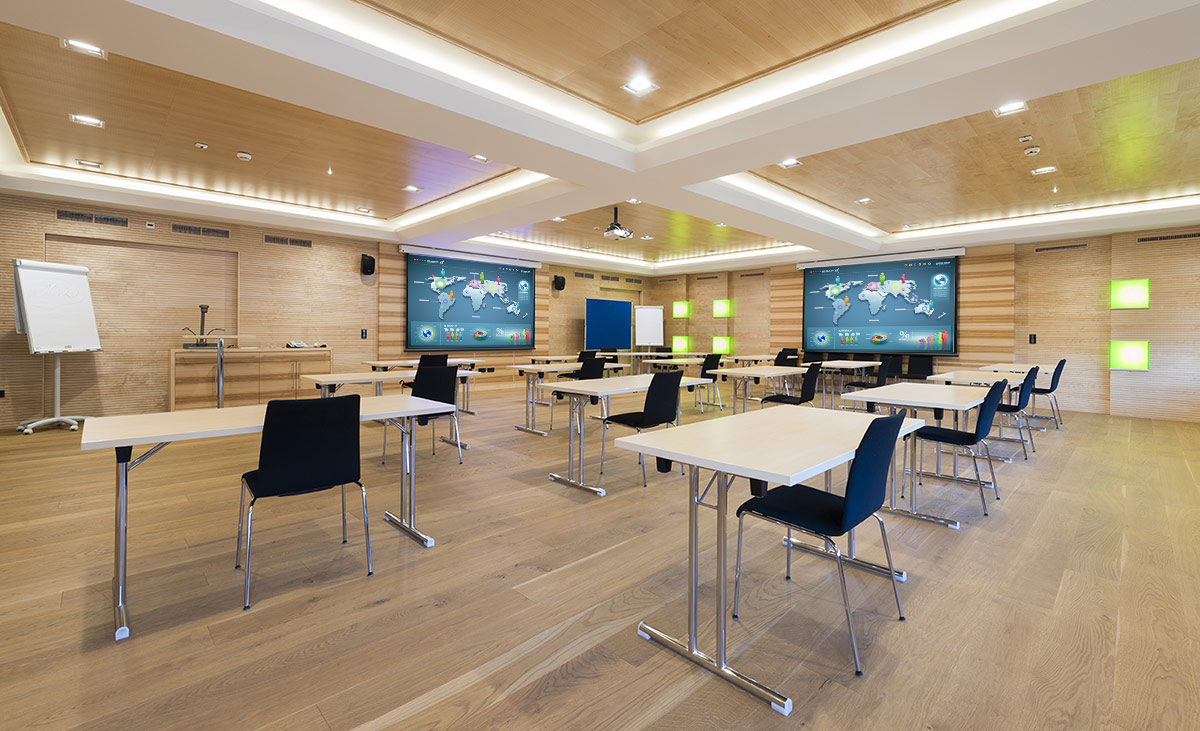 Seamless Switching
For fast, glitch-free video switching performance in demanding applications, four seamless transition effects are available.
Cut through Black — instantly cuts the current input to black, then cuts to the new input
Fade through Black — fades the current input to black, then fades to the new input
Seamless Cut — freezes the current video frame, then instantly cuts to the new input
Seamless Fade — freezes the current input video frame, then fades to the newly selected input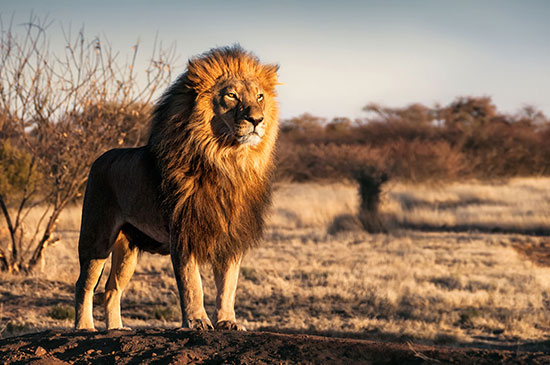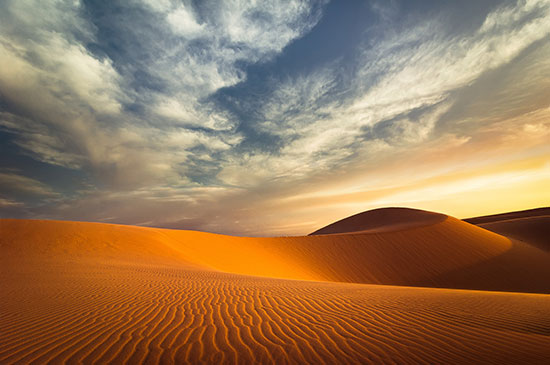 Image storage and keying
JPEG, PNG, and BMP image files can be uploaded for use as logos or supplementary content. Logos can be positioned anywhere on screen. Image transparency is supported, including Alpha channel, level keying, and color keying. Full screen images up to 4096 x 2160 resolution can also be recalled to provide information to the presentation audience.

Audio Embedding/De-embedding
In many professional AV installations, audio quality is just as important as video performance. IN1800 Series products are built for easy accessibility and flexible processing of audio signals.
Audio from sources such as microphones or music players can be embedded onto the video output. Audio that is present in the video output can be extracted and routed for additional processing or amplification.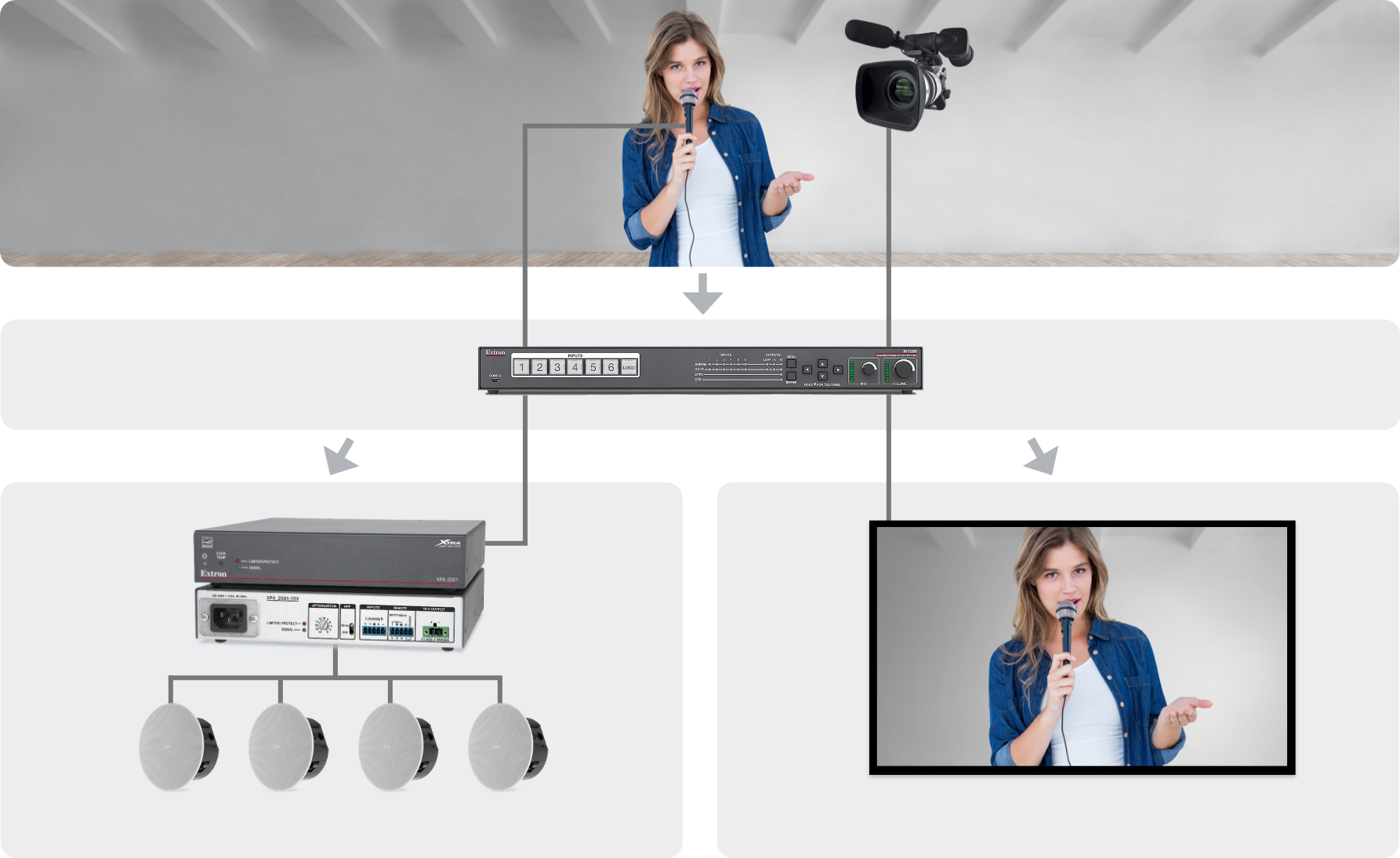 Source
IN1806
Audio Output
Visual Output
Built-in Room Automation
The IN1800 Series couples automatic video switching and CEC—Consumer Electronics Control capabilities together to create a simple solution for intuitive meeting room control.
The monitor is automatically powered up whenever a video source is connected, and the last connected device is always shown on screen. When all devices are disconnected, the display is powered down after a preset time.

Ethernet Control and Monitoring
Ethernet control enables centralized monitoring, control, and troubleshooting for every meeting and presentation facility in the organization. Additionally, RS-232 insertion from the Ethernet port can be utilized to enable control processor access to remote devices over the same CATx cable used for video transmission.
GlobalViewer Enterprise software simplifies AV system resource management with intuitive control for hundreds of common AV tasks. Whether you're working with 5 or 5000 rooms, GVE provides a powerful, flexible way to manage, monitor, and control nearly any device over a standard network. It's quite common for corporations, universities, and government agencies to have hundreds of collaboration spaces spread over broad areas. GVE allows you to manage this ever-increasing AV technology while effectively leveraging valuable help desk resources. The Help Desk view in GVE provides all the information you need from the entire enterprise or campus, all in one, easy-to-navigate interface.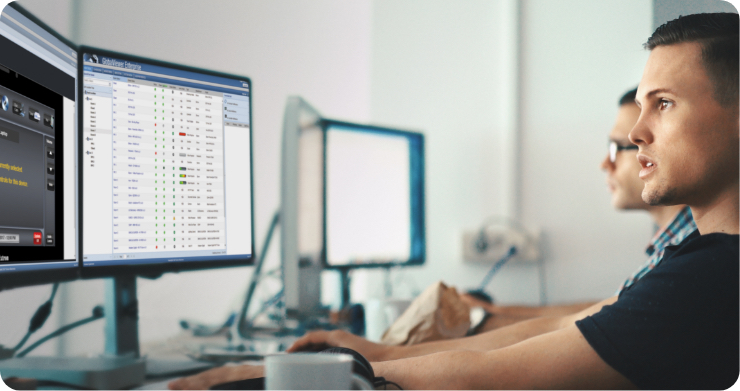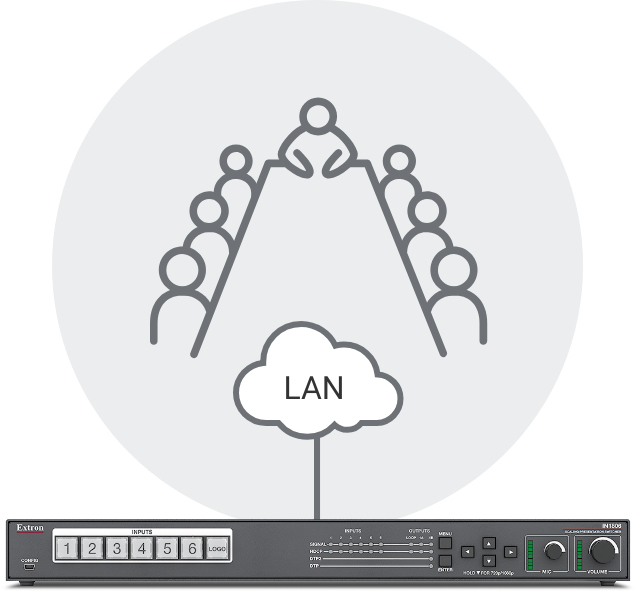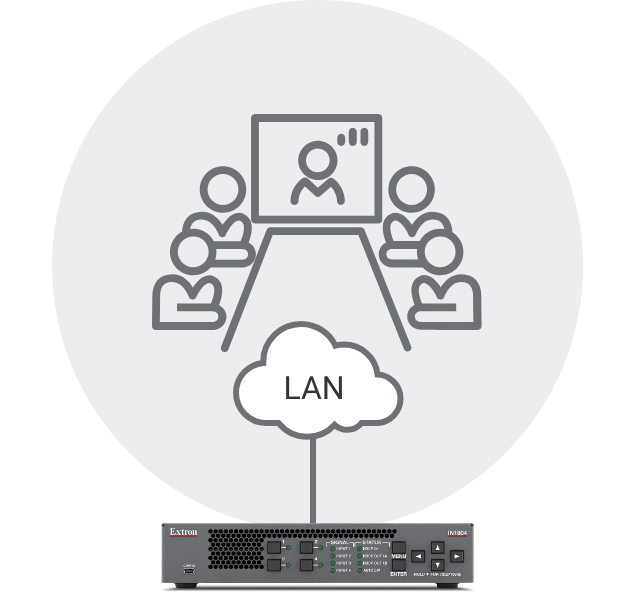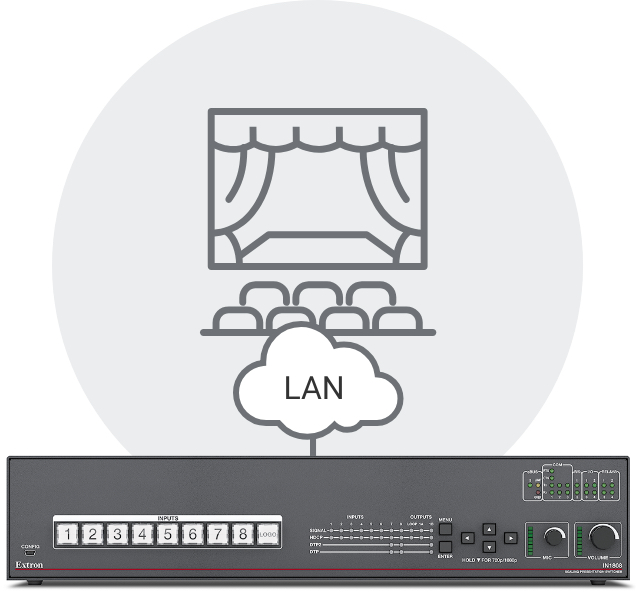 Exclusive Extron Features
DTP2 Signal Extension
IN1800 Series models featuring DTP2 twisted pair connectivity support 4K/60 @ 4:4:4 signal extension up to 330 feet (100 meters) over a shielded CATx cable when paired with DTP2 endpoints. These models are compatible with all DTP products, enabling additional design options within the AV industry's most comprehensive integration platform.
Within DTP Systems, you'll find numerous signal extender products in a wide variety of form factors and video formats, plus a broad offering of distribution amplifiers, switchers, and matrix switchers. Every DTP product features built-in signal conversion so any DTP transmitter is compatible with any DTP receiver regardless of video format.
In addition, IN1800 models with DTP2 are configurable to work with all Extron XTP CrossPoint modular matrix switchers, as well as HDBaseT-enabled displays.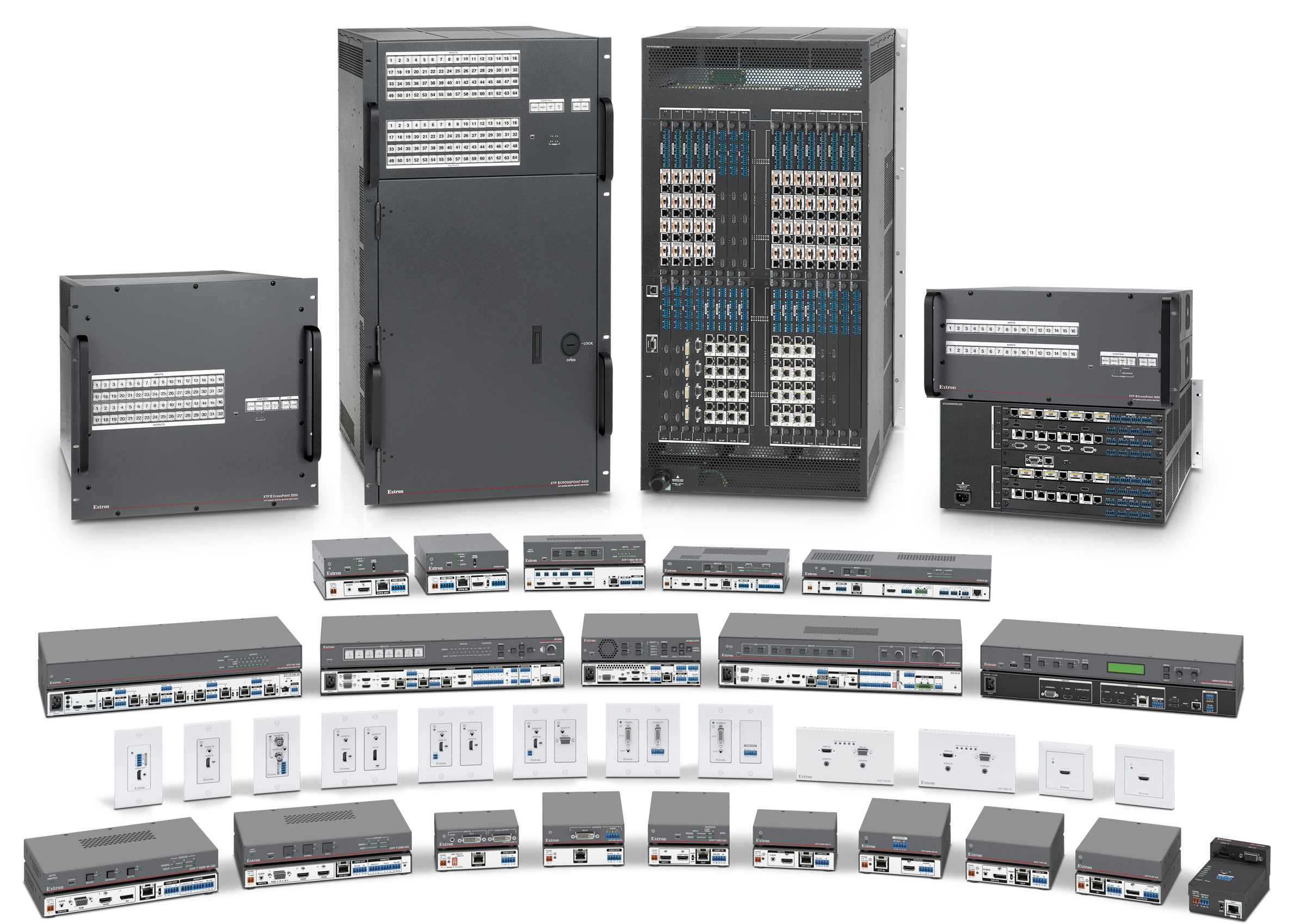 ProDSP Audio
All IN1806 and IN1808 models include Extron ProDSP audio signal processing. The 64-bit floating point architecture ensures a very wide dynamic range. Audio signal transparency is maintained by studio grade 24-bit audio converters with 48 kHz sampling.
ProDSP is loaded with powerful, easy-to-configure tools to control audio embedding, de-embedding, mic/line mixing with ducking, feedback suppression, dynamics, equalization, and delay.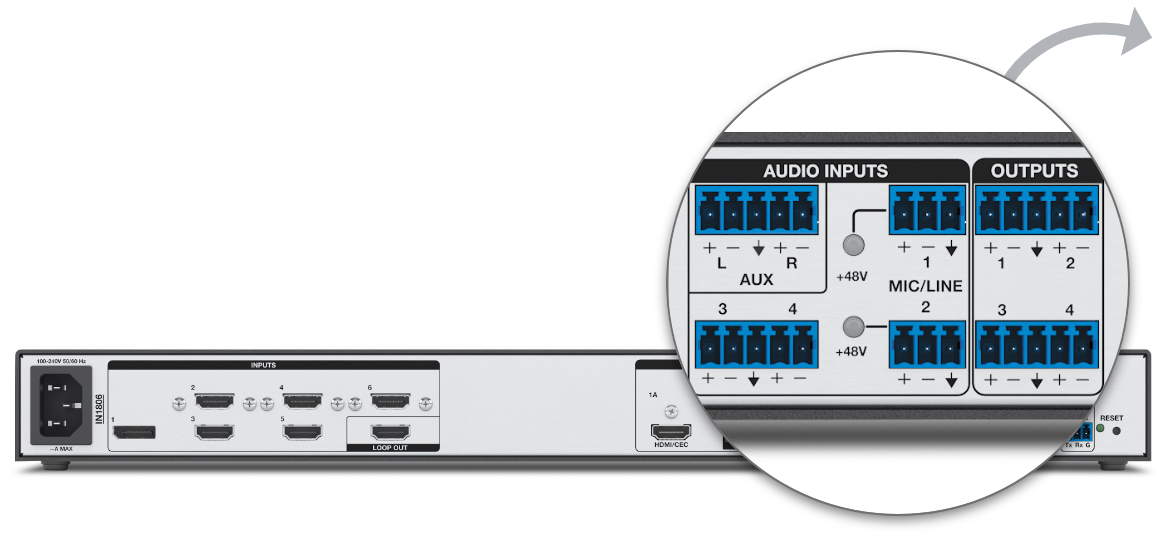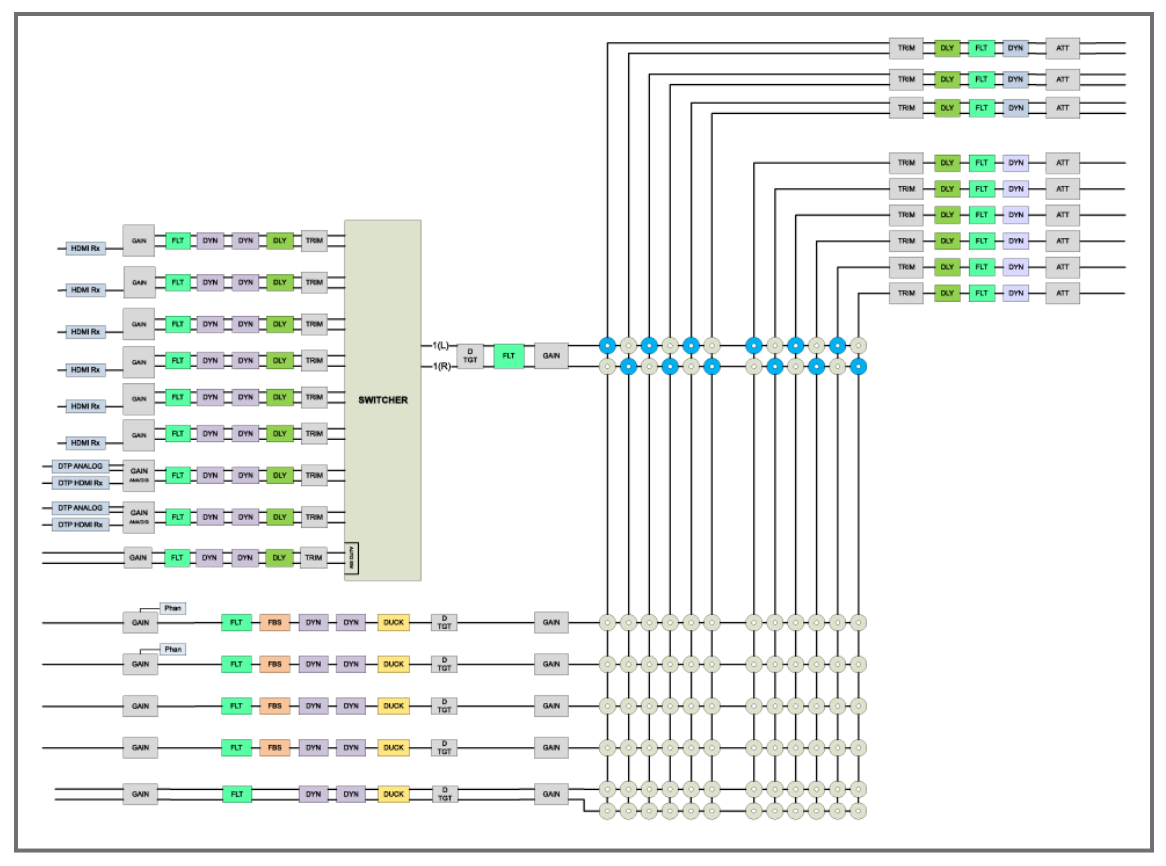 IPCP Pro xi Control Processor
IN1808 IPCP Q models feature a built-in Extron IP Link® Pro xi quad core control processor with a secure, dedicated three-port AV LAN switch and one standard Ethernet port. The network switch ports of the AV LAN are designed to control local AV devices, and safeguard them from outside intrusion or interference.
The IN1808 IPCP Q delivers high-speed processing and abundant control port capacity for complete, customizable control of an entire AV system, including all source devices and displays, plus lighting, window shades, projection screens, occupancy sensing, and more.
As with all Extron control systems, the IN1808 IPCP Q is very intuitive and easy to configure with Global Configurator® software. The latest version of Global Configurator includes powerful, advanced features such as conditional logic, local variables, and macros.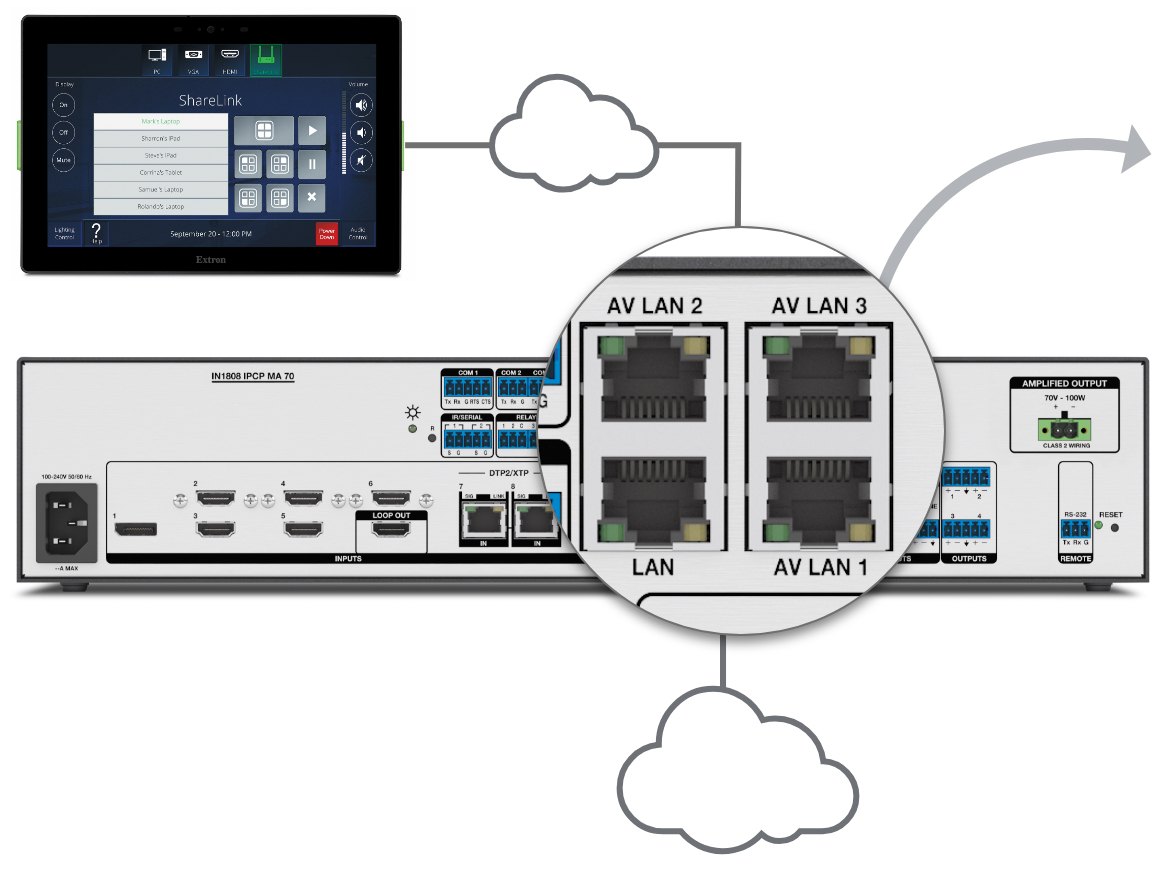 XTRA Power Amplifier
IN1808 IPCP SA and IN1808 IPCP MA 70 models are equipped with audio power amplifiers featuring Extron's exclusive Class D amplifier design with patented CDRS™ - Class D Ripple Suppression technology to provide a smooth, clean audio waveform and an improvement in signal fidelity over conventional Class D amplifier designs.
Conventional Design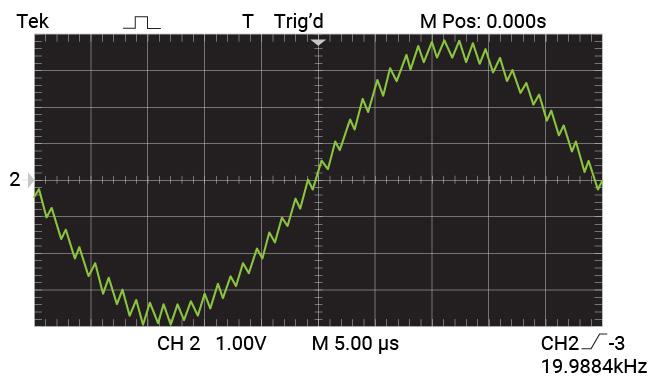 Extron CDRS Design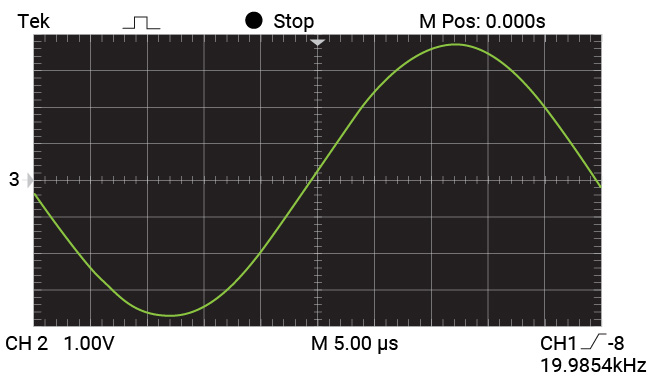 Everlast Power Supplies
We design and manufacture our Everlast Power Supplies in-house, employing premium-quality components and highly efficient, modern topologies for thermal management, transistor switching, energy dissipation, and virtually every other critical aspect of the power system. Each Everlast Power Supply is built with the same care and meticulous attention to detail as our award-winning high-end video products.
AV hardware manufacturers typically use generic off-the-shelf power supplies from 3rd party vendors. These mass-produced power supplies are frequently designed to meet a low price point, employing the least expensive components meeting the minimum manufacturing spec. Using a plastic fan assembly instead of a superior metal alternative, or a cheap diode vs. an efficient transistor, or a 10 cent capacitor instead of a 20 cent version might save some pennies in manufacturing costs, but those savings can turn into expensive liabilities when the product fails to power up. These high-volume, low-cost power supplies often employ older design principles and dated topologies.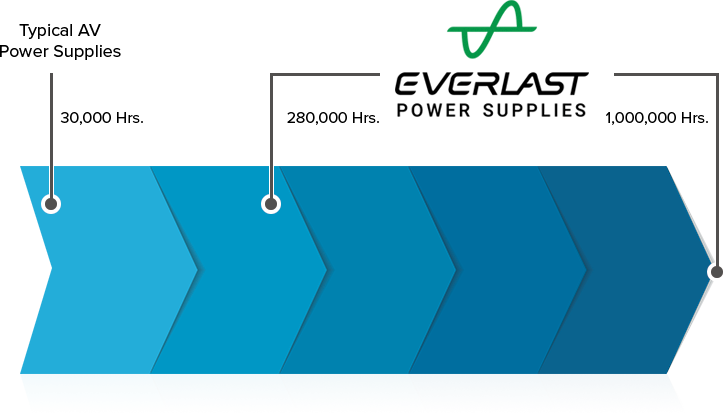 IN1800 Series Feature Comparison
Feature

IN1808 IPCP Q SA
IN1808 IPCP Q MA 70
IN1808
IN1806
IN1804 DI/DO
IN1804 DO
IN1804 DI
IN1804
Input and output rates from 640x480 to 4K/60 4:4:4
Logo keying and seamless switching transitions
Audio embedding/​de‑embedding
Control ports
Ethernet
RS-232
Ethernet
RS-232
Ethernet
RS-232
Ethernet
RS-232
Ethernet
RS-232
Contact/Tally
Ethernet
RS-232
Contact/Tally
Ethernet
RS-232
Contact/Tally
Ethernet
RS-232
Contact/Tally
Video Inputs
1 DisplayPort
5 HDMI
2 DTP2
1 DisplayPort
5 HDMI
2 DTP2
1 DisplayPort
5 HDMI
2 DTP2
1 DisplayPort
5 HDMI
1 DisplayPort
2 HDMI
1 DTP2
1 DisplayPort
3 HDMI
1 DisplayPort
2 HDMI
1 DTP2
1 DisplayPort
3 HDMI
Selectable input loop-through
Video Outputs (mirrored)
1 HDMI
1 DTP2
1 HDMI
1 DTP2
1 HDMI
1 DTP2
1 HDMI
1 DTP2
1 HDMI
1 DTP2
1 HDMI
1 DTP2
2 HDMI
2 HDMI
ProDSP Audio Signal Processing
IP Link Pro xi Control Processor
XTRA Class D 100 Watt 70V Mono Amplifier
XTRA Class D 50 Watt/ch Stereo Amplifier