XPA Ultra Advantages
NetPA Ultra amplifiers are built on the industry-leading XPA Ultra Class D and power supply platforms for the ultimate in performance and reliability.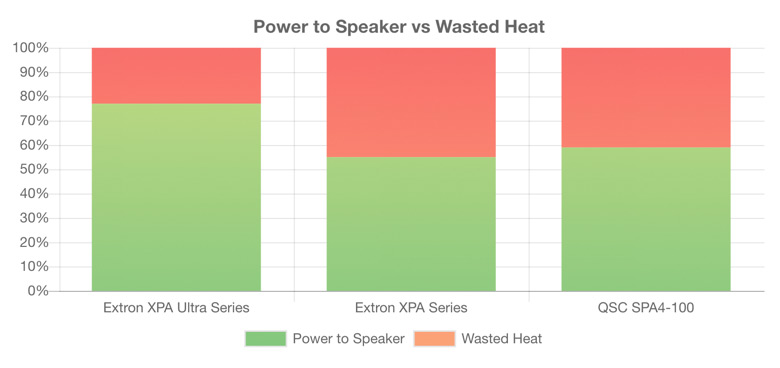 Power Efficiency Graph
Ultra Efficient
All XPA Ultra amplifiers operate at an industry-leading efficiency up to 77%. An efficient amplifier delivers the highest possible percentage of its input power to output power for speakers. Power not delivered is wasted as radiated heat, which causes further waste in higher cooling costs and energy requirements.
Ultra Cool
An XPA Ultra amplifier runs cooler than other Class D amplifiers. An amplifier that generates excessive heat not only wastes a rack space above it by requiring space for cooling, it also places more demand on rack cooling systems and reduces component life. The higher cooling requirements and failure rates of other Class D amplifiers lead to higher costs and downtime. The convection cooled XPA Ultra amplifiers run quieter, cooler, and longer, thanks to the cumulative effect of Extron's meticulous thermal engineering.
Thermal Imaging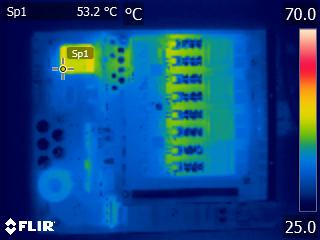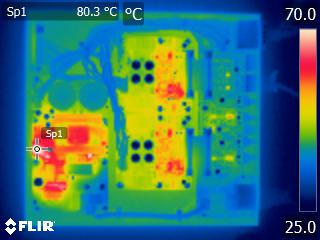 Both amplifiers running at 1/8 power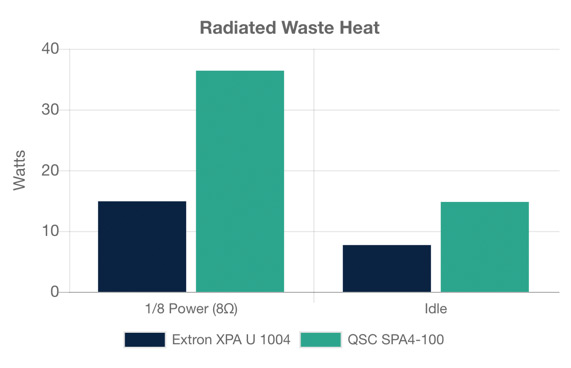 Enlarge Radiated Waste Heat Graph
Ultra Fast Wake Up Time
Extron XPA Ultra amplifiers carry on our commitment to conserve energy and reduce costs with their ENERGY STAR qualified designs. All Extron amplifiers have an auto power-down feature that places the amplifier into standby after 25 minutes of inactivity, consuming less than 1 watt of energy.
When audio is detected while in standby, waking up fast enough such that the beginning of audio is not cut off has long been a challenge, now solved by Extron engineers for the XPA Ultra lineup of amplifiers. The graphic and audio examples below show the difference between the XPA Ultra waking up completely in less than 100 milliseconds compared to competitors' Class D amplifiers that can take well over two seconds to achieve nominal power. As you will hear, a half second of missed audio can dramatically change the meaning of a sentence.
Click to hear actual
wake up recordings

play

play

play

play

Enlarge Wakeup Time From Standby Graph
Press play to hear actual wake up recordings

play

Extron XPA Ultra Series

play

Extron XPA Series

play

QSC SPA4-100

play

Crestron AMP 2100
Ultra Low AC Power Draw
A highly efficient amplifier will require less electrical power than an inefficient amplifier to deliver the same amount of amplification to speakers. The more efficient, ENERGY STAR qualified XPA Ultra amplifiers, with their Everlast power supplies, reduce electrical costs in terms of kilowatt hours used and power infrastructure required.
Ultra Reliable
It all comes down to this. When you turn on an XPA Ultra amplifier, it works. By keeping sensitive power capacitors away from heat sources; by avoiding the use of failure-prone wire harnesses; by designing out short-lived electrolytic capacitors from the audio path; by innovative heat dissipation techniques, an XPA Ultra amplifier will provide years of trouble-free service. By Design.
Features
ENERGY STAR qualified amplifier

NetPA Ultra amplifiers are energy efficient products that conserve energy and reduce costs

Onboard DSP

Comprehensive mix matrix and essential audio DSP

UL 2043 plenum rated

When used with the optional, easy to install Flexible Conduit Adapter Kit

Convection cooled, fanless operation

Can be stacked without extra rack space for ventilation

Internal Everlast Power Supply

Provides worldwide power compatibility, with high‑demonstrated reliability and low power consumption for reduced operating cost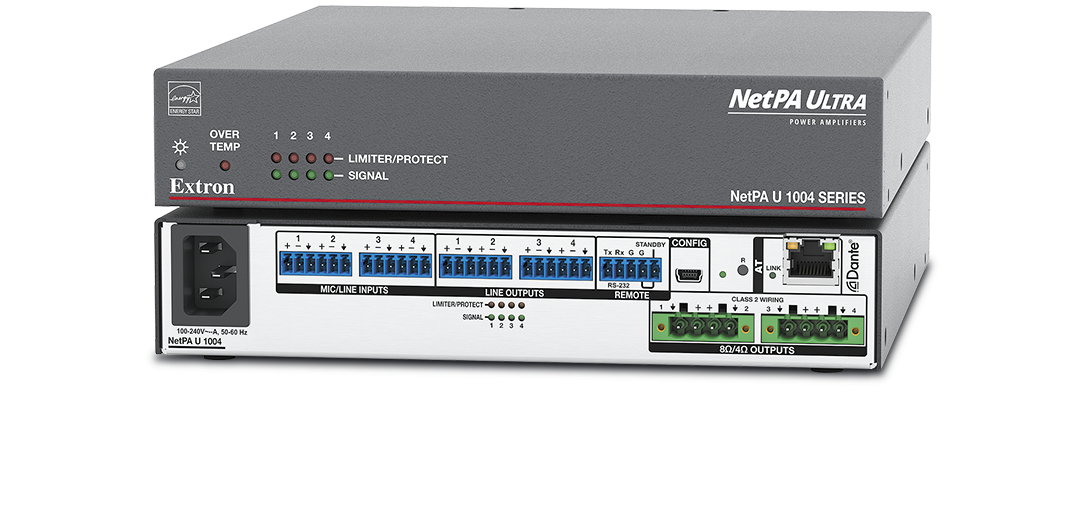 Analog Line Outputs

Allow for connection of additional amplifiers with unique processing

Control - Monitoring - Configuration

Network and RS-232 for parameter control and status monitoring - USB for configuration

Dante Connectivity

Works as part of a complete networked audio system solution

Mic/Line Inputs

Allows for connection of legacy analog sources

Auto Standby and Fast Wake Up

Auto standby after 25 minutes of inactivity with wake up in less than 100 ms upon signal detection - auto standby can be defeated if required

Flexible Output Power Options

8 ohm, 70 volt, and 100 volt models available
Designed & Engineered by Extron
NetPA Ultra Patents
Only a company that develops its own unique technology could have a patent portfolio as extensive as Extron, including many audio patents. The NetPA Ultra amplifiers benefit from our patented technologies shown below, technologies providing key performance and reliability advantages to our customers that cannot be duplicated by other amplifier manufacturers.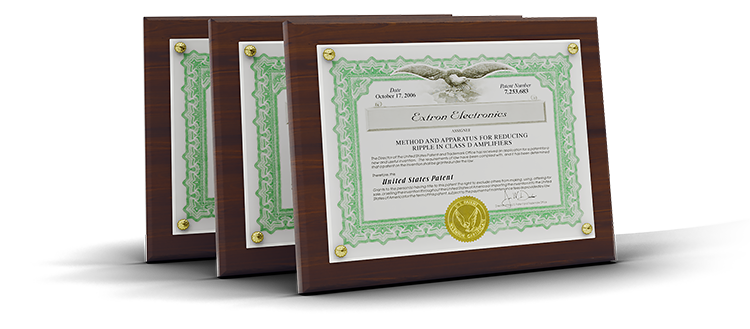 Class D Ripple Suppression - CDRS
Three patents form the basis of Extron's CDRS technology found in NetPA Ultra amplifiers. This technology reduces high frequency radiated emissions that can be picked up by other gear.
Class D Soft Switching
Extron's soft switching design works with CDRS to reduce dissipated power, which increases amplifier efficiency.
Class D Power Converter
The power converters in Extron Class D amplifiers facilitate energy transfer for more precise performance while using fewer lifetime-limiting capacitors in the power supply.
Low Noise Triangular Waveform Generator
Since a triangle generator is the heart of a Class D amplifier, and triangle generators have audio band noise content, this technology is used to greatly reduce that noise content resulting in a lower audio noise floor.
Class D Circuit Bandwidth Extension
This technology advances Class D Ripple Suppression to reduce THD at high audio frequencies.
Class D Distortion Reduction
New for the NetPA Ultra line of amplifiers, this technology reduces distortion in the output signal by filtering ripple and reducing nonlinearities as the audio signal passes through the amplifier.