GlobalViewer Campus Communication Suite
Network Managed Bell, PA, and Intercom System
Overview
Control all Bell, PA, and Intercom Functions from an Easy-to-Use Interface
Quick Links

Prominently positioned All Call button makes immediate live or pre-recorded campus wide announcements

Easy Access Menu Bar

Easy access to schedules, live or pre-recorded announcements, intercom, and system configuration

Multiple User Roles

Grant access to features based on user login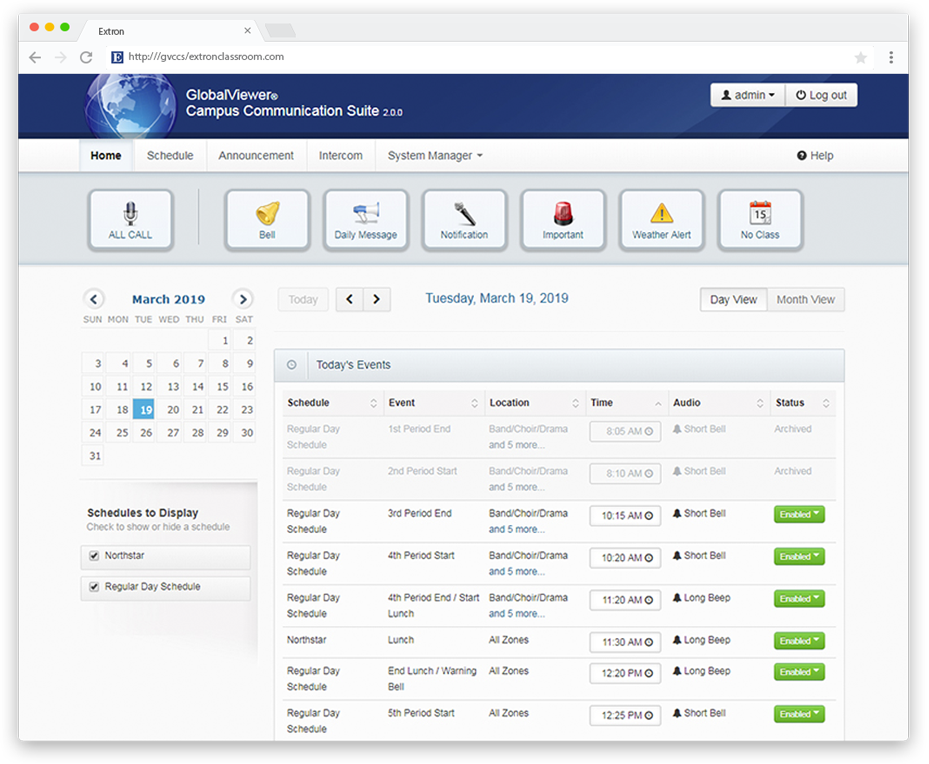 Web-Based

Runs in a standard Web browser from any computer on the network

Home Screen

Shows schedule of events for selected day
Digital Classroom AV Systems for Your Learning Spaces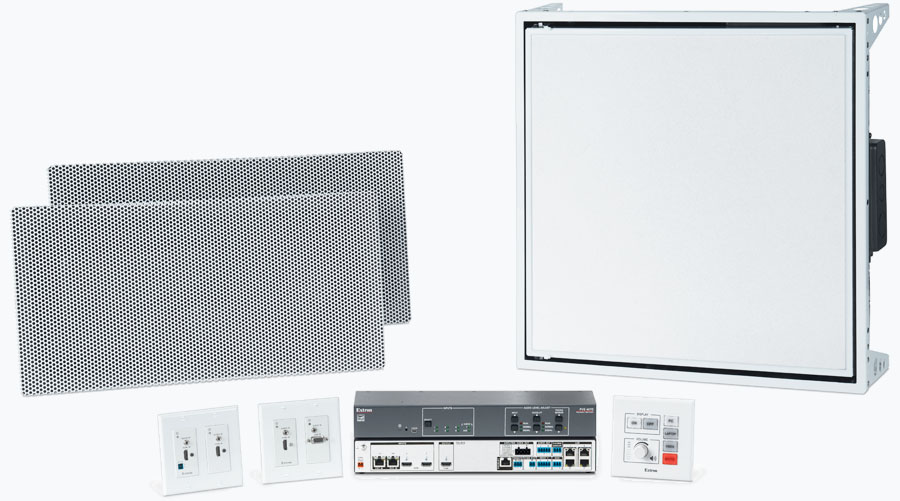 Classroom AV Systems
Extron Digital Classroom AV Systems are complete, easy-to-use AV switching and control systems that seamlessly integrate digital and analog video sources. These standard systems include all audio and video switching, audio amplification, system control, source connectivity, speakers, mounting hardware, and cabling for a complete classroom AV solution. Just add a display and sources.
Campus Communication
Enhance campus communication by adding the Audio Decoding Upgrade to your Digital Classroom AV System. The upgrade enables your Classroom AV system to decode public address announcements and bells from GlobalViewer Campus Communication Suite and play them over the classroom speakers. Simple and economical, the upgrade is activated via software on a per-system basis, allowing immediate use where and when you chose.
PoleVault
Projector mounting system and equipment enclosure for rooms with a drop ceiling.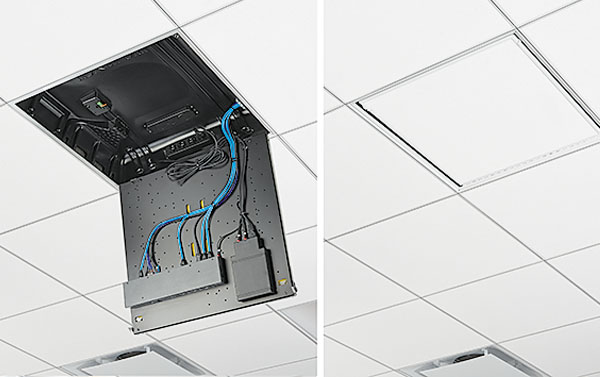 PlenumVault
Securely mount equipment enclosure hidden in plenum space above suspended ceiling.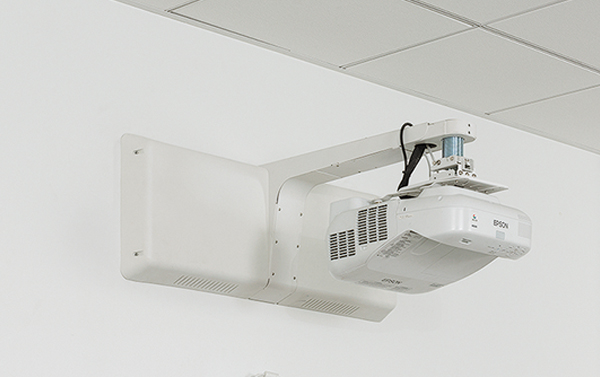 WallVault Short Throw
Short-throw system combines projector mount and equipment enclosure secured against the projection screen wall.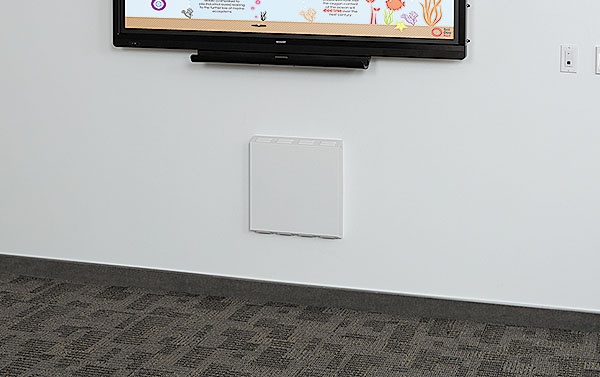 WallVault
Securely mounts and conceals AV system components to a wall.
System Components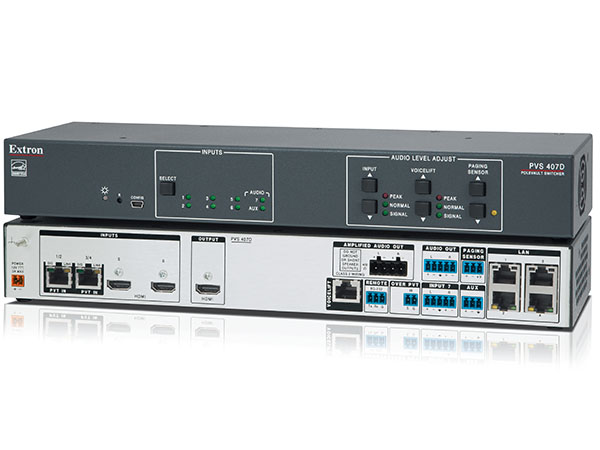 PVS 407D
IP-Enabled Digital PoleVault Switcher with Integrated Audio Amplifier
The heart of Extron Classroom Systems, providing AV switching, control, and audio amplification. Integrates with Globalviewer Campus Communication Suite to play bell tones and public address announcements over the classroom AV speakers.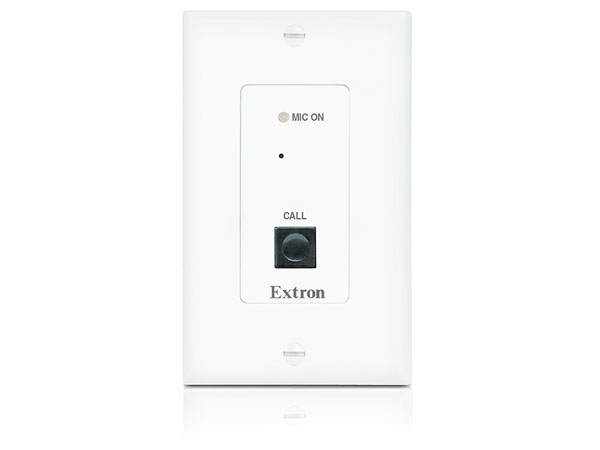 CC 101P
Campus Communication Suite Intercom Panel
Compact in-room intercom panel includes a Call button to initiate a conversation with the central office, a microphone to pick up the teacher's voice, and an LED that lights when the GVCCS operator is listening.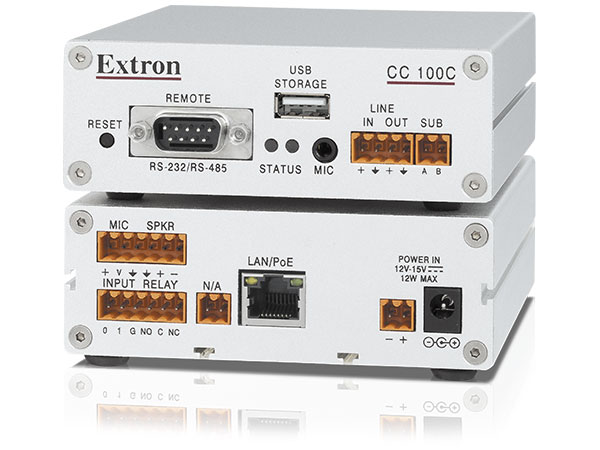 CC 100C
Campus Communication Suite Codec
Audio encoder and decoder works with GlobalViewer Campus Communications Suite to allow audio bell tones, public address announcements, and intercom communications to be streamed over the existing network.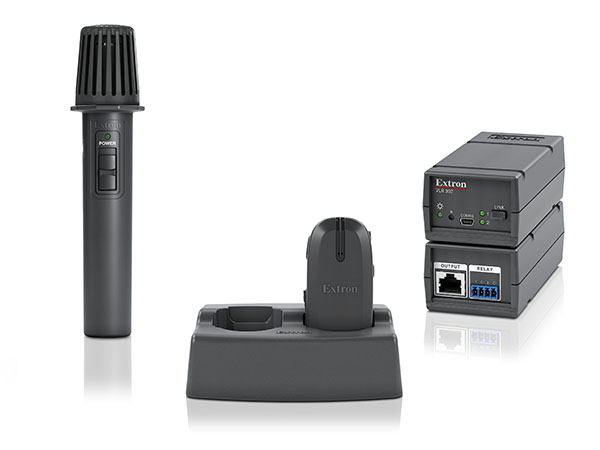 VoiceLift Pro Microphone
High Performance Wireless Microphone
Available with pendant or handheld microphones, VoiceLift Pro uses reliable RF technology and works with the PoleVault switcher and speakers to create a complete classroom soundfield system to gently amplify the teacher's voice. The pendant's Instant Alert feature discreetly signals the office or help desk operator through GlobalViewer Campus Communications Suite to summon assistance to that classroom.
Classroom

Bells, Paging, and Intercom integrated with the Classroom AV system

Common Areas

Provides Bells and Paging for the hall, playground, and the other general locations

Multipurpose

Bells, Paging, and Intercom for the cafeteria, gym, and auditorium

Office/Administration

Centralized control of the Bell System, Paging, and Intercom
Hardware/Software Requirements
Extron approved audio streaming device at each endpoint
Extron GlobalViewer Enterprise software installed and running
GlobalViewer Enterprise

Server-Based AV Resource Management Software
Designed to facilitate the workflow of AV system administrators and support personnel at educational institutions of all sizes, Extron GlobalViewer Enterprise AV asset management software comes packaged with GlobalViewer Campus Communications Suite. GlobalViewer Enterprise provides district-wide access to AV components over the network for remote support, energy management, and planning.
Remote Monitoring and Support
Real-time monitoring of all classroom AV assets on the network ensures they are up, running, and being used to their potential. For support issues, technicians can remotely access AV equipment to assist users with system operation. Disconnect and Event Alert email messages alert the proper officials of potential theft or other AV equipment problems.
Energy Efficiency and Cost Savings
Automatically powering down AV components and scheduling system availability lowers operating costs and extends the life of equipment. Preventing projectors from being left on overnight or over the weekend results in longer lamp life and lower energy bills.
Planning
Comprehensive reporting features provide important information for proactive maintenance and asset analysis. Lamp hour reports track usage and assist in lamp replacement scheduling. Usage reports for AV components provide important data for resource allocation, budgeting, and professional development.
User Stories
What Schools Have to Say About GlobalViewer Campus Communication Suite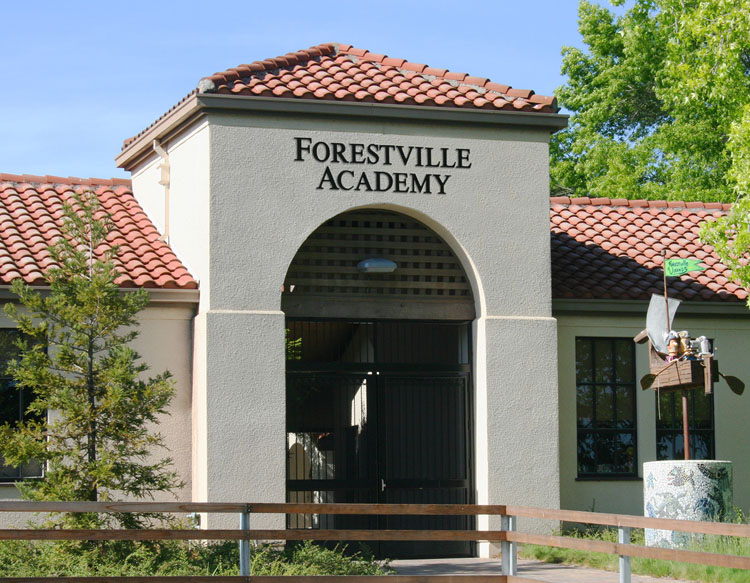 Forestville Academy, a public charter school in Forestville, California with students in grades K-8 replaced their inadequate PA system with GVCCS, which has met and exceeded their expectations. GVCCS's value was emphatically validated when a man involved in a domestic dispute was spotted wielding a gun near the school. Administrators used GVCCS to broadcast a pre-recorded campus-wide lockdown announcement.
The system worked flawlessly. Everyone in the classrooms and on the sports fields heard the message and took shelter in their designated area. The community is really behind this announcement project.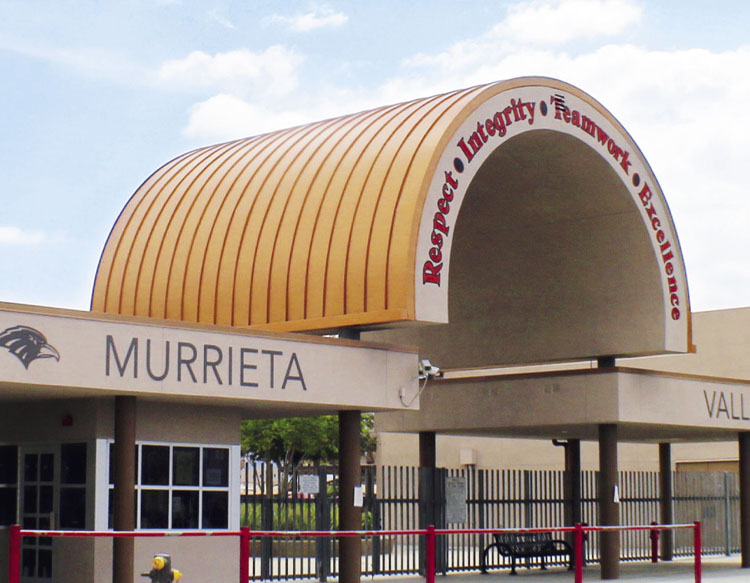 Murrieta Valley Unified School District in Murrieta, California educates 23,400 K-12 students at 20 campuses. A few years ago, the district installed Extron WallVault Digital Systems in 1,100 learning spaces. They also began evaluating GVCCS. Administrators, teachers, and classroom staff all gave GVCCS high marks. They especially liked the ability to control their own schedule, create their own audio content, control public address volume, alter bell tones, and have two-way intercom communications. GVCCS proved its worth as both a technical and creative resource. So much so, that MVUSD deployed GVCCS district wide.
The benefits of GVCCS have been clear to us since the first deployment. The dynamism that the system offers for content and delivery, coupled with the ability it gives each school to tailor these features to individual site needs, is a game changer.
Commissioning
GlobalViewer Campus Communication Suite Commissioning Service is a dedicated, premium technical assistance program offered by Extron. The service will help you ensure that your installation is properly set up and configured for optimal performance and reliability. GlobalViewer Campus Communication Suite Commissioning Service speeds up system design, installation, and optimization. Extron Engineers actively engage with you to help ease the learning curve typically associated with new technology.
Annual Maintenance
Extron's annual maintenance program provides several critical benefits to your organization. It includes the latest GlobalViewer Campus Communication Suite software updates and releases. In addition, it provides advance notification of new features and related software promotions. Most importantly, it is backed by our S3 commitment to Service, Support, and Solutions. Our friendly and knowledgeable support team is available 24 hours a day, including weekends and holidays, to ensure your system is up and running, satisfaction guaranteed.
Global Support
With offices around the globe, Extron is able to provide dedicated, full-service support to customers worldwide. Extron's global presence means that we are here for you, wherever you are.
View Extron Worldwide Office Locations
GlobalViewer Campus Communication Suite includes an alert notification feature which is not intended to be a life saving device, nor can it prevent emergencies. Extron is not responsible for your use of the alert notification feature or related equipment, and shall be exempt from liability for any loss, damage, injury or other consequence arising directly or indirectly from said use. In the event of misuse or malfunction of the product or any of its features, Extron shall be exempt from liability for any loss, damage, injury or other consequence arising directly or indirectly therefrom.