Enterprise Media Platform for Lecture Capture and Content Management
Explore the Entwine Enterprise Media Platform
Extron's powerful Entwine™ Lecture Capture software simplifies capturing, managing, and delivering high-quality recordings on demand to any device, anytime, anywhere.
Entwine equips users with intuitive dashboards and automated workflows making it easy to quickly schedule recordings, edit content, assign access rights, and publish to the customizable video portal or Learning Management System.
Experience the benefits of Extron's industry-leading reliable lecture capture appliances that work seamlessly with Entwine software for a fully integrated solution to engage and empower today's digital learners.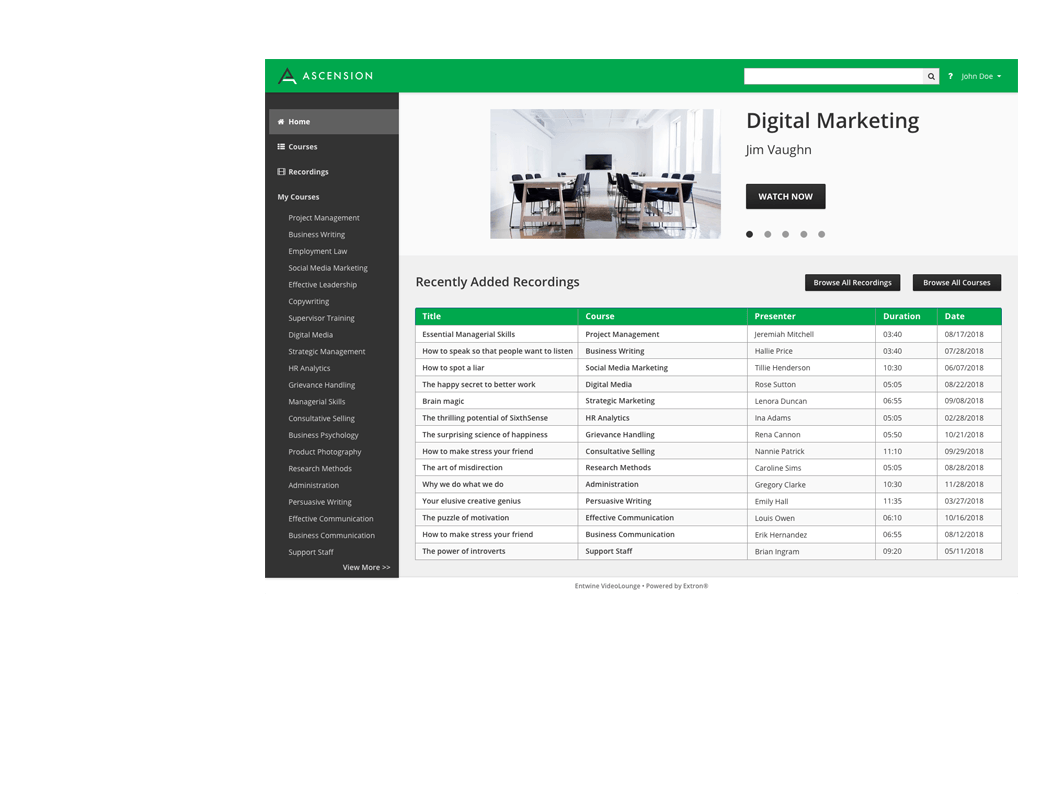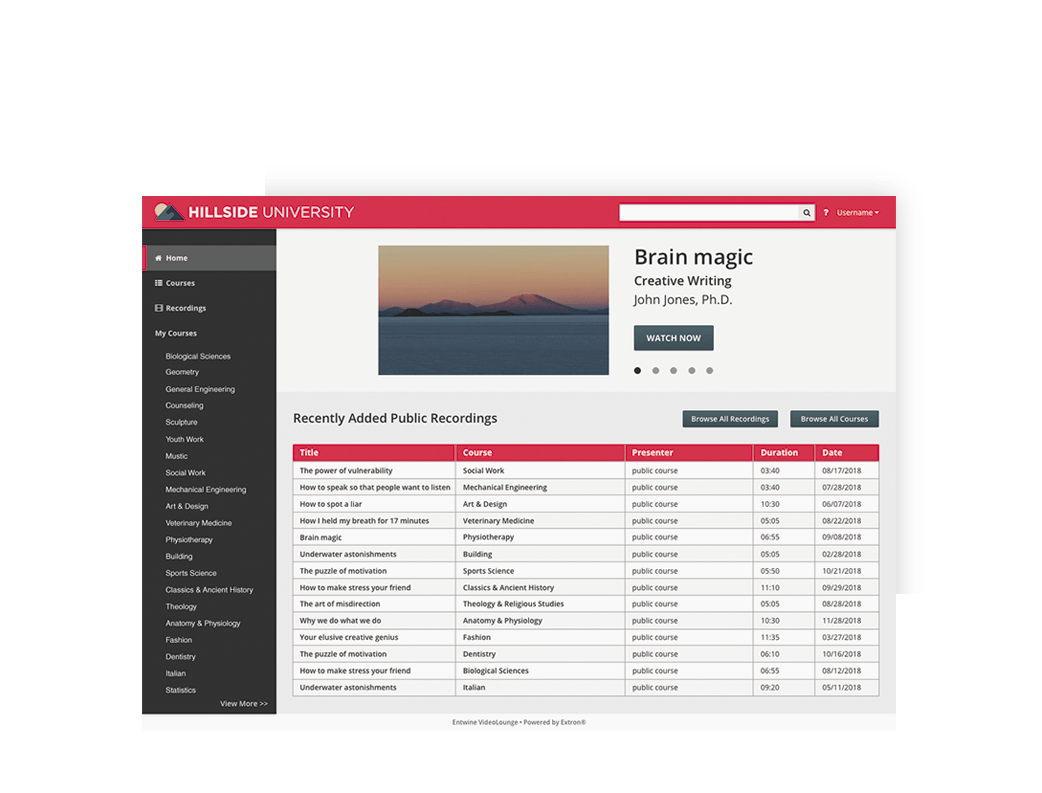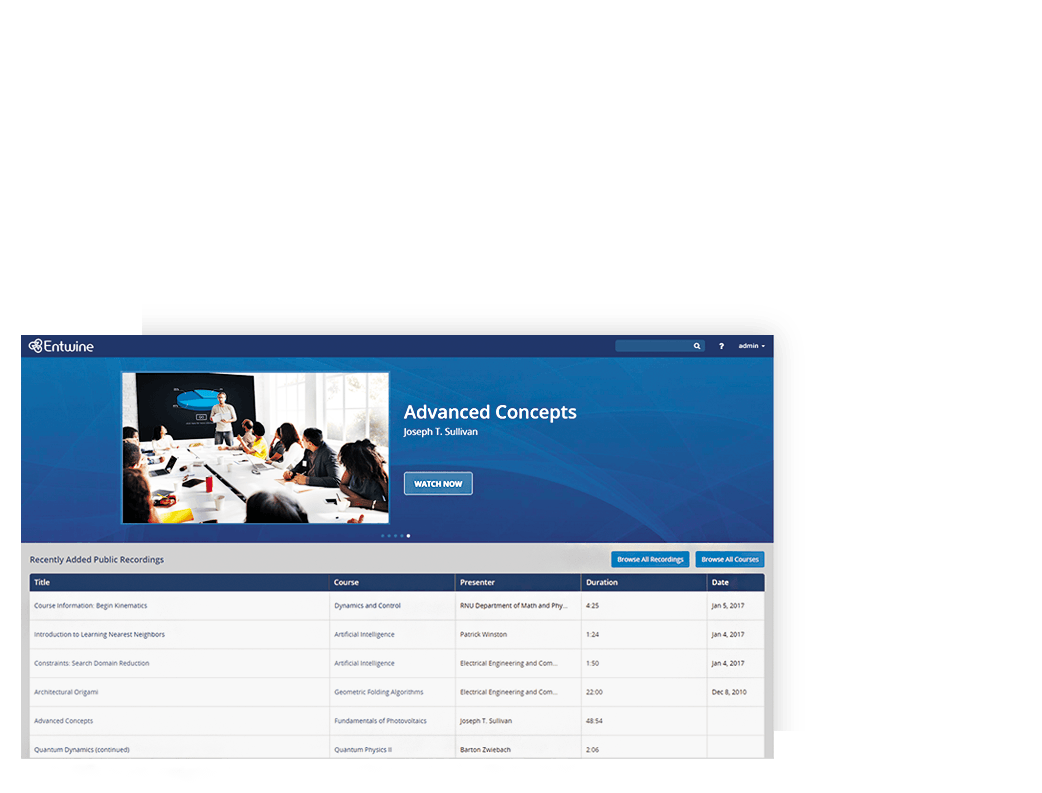 Lecture Capture. Work Smarter. Achieve More.
Entwine's full-featured enterprise video platform serves all use cases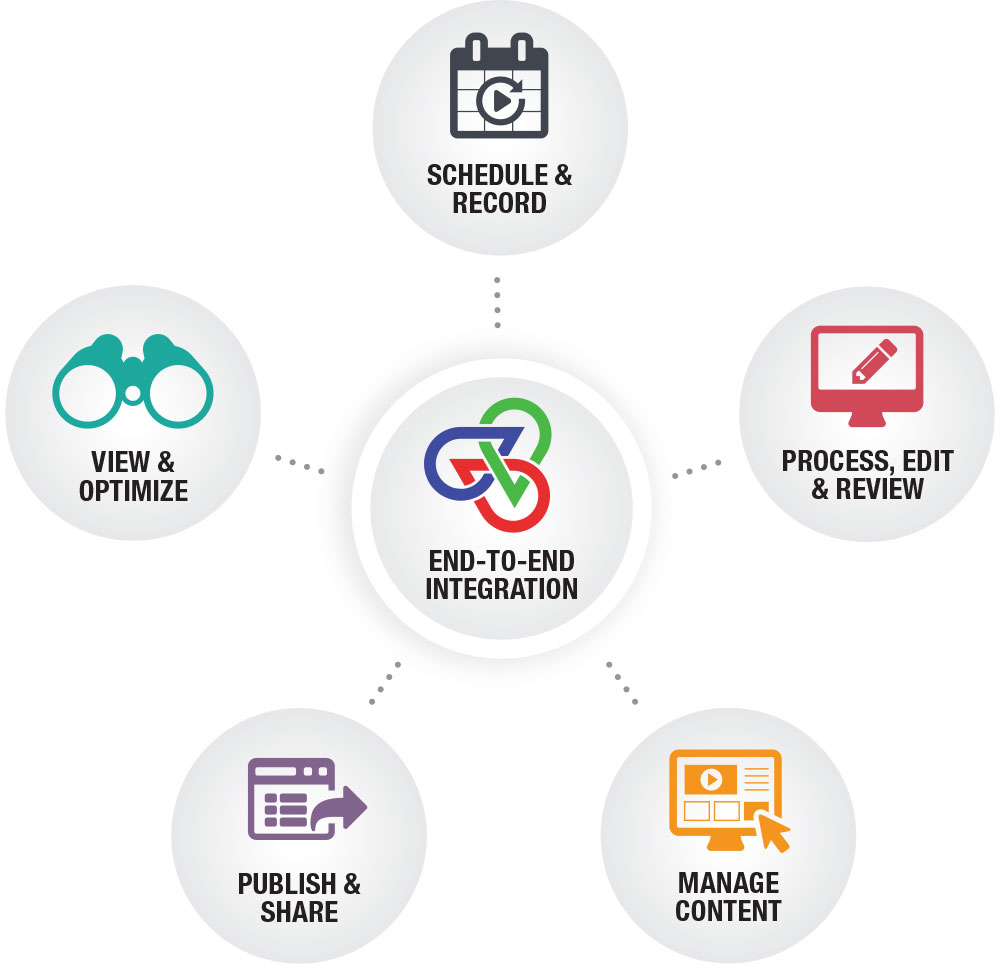 Flipped classroom initiatives
Lecture/Event Capture
Active learning - medical, legal, forums
Skills capture - clinical, sports
Live streaming
Online/Distance learning
Professional Development
On-demand digital media library
One-Stop. Fully Integrated. Serving All of Your Room Needs.
From enterprise-level management applications to AV room hardware, as well as any last mile in-room AV connectivity needs, Extron has our clients covered as the only true end-to-end provider.
Room Audio Video
Application hardware and powerful AV resource tools for scheduling, managing, monitoring, and control
Lecture Capture
Rich media capture, high definition recording and streaming
Video Content Management
Software to centralize, manage, and deliver video content
Room Scheduling
Intelligent central calendar control of room inventory using sleek wall panels
Device and Asset Management
Server-based software for monitoring and maintaining AV assets
Professional Services
Value-added deployment, commissioning, and integration service
Solutions designed to help your organization work fast and smart
Schedule and Record
Flexible options to create fixed recording schedules or accommodate ad hoc recordings.
Set up schedules from the admin dashboard or import schedules from a range of calendar applications that use the popular iCal format.
Enable the Extron SMP Series and StudioStation capture solutions to automatically record and publish based on schedules from the administrator dashboard.
Enter credentials via a touchpanel to query or pre-populate metadata fields through integration with supported Extron or third-party Pro Series control systems.
Access course and recording schedules.
Process and Edit
Simplify content processing workflows by ingesting industry standard audio/video formats from Extron SMP Series, Extron StudioStation, and legacy content libraries.
Create chapter marks automatically in presentation content using Entwine's advanced media analysis.
Process files and apply usage rights to existing data files with user-created content.
Combine closed captioning content with recordings.
Use intuitive web-based, non-destructive editor to trim unnecessary content, allowing faculty and staff to present more polished content.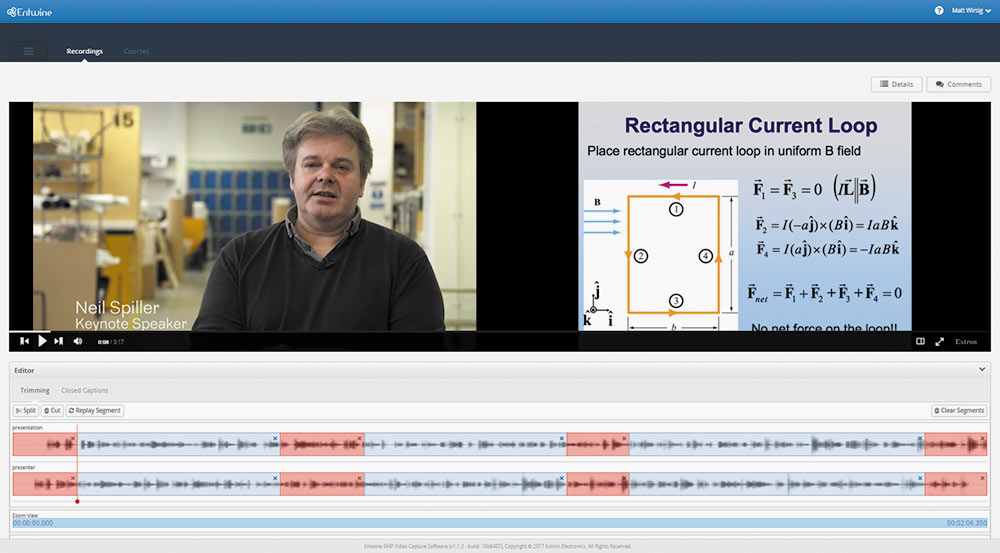 Manage Content
Easily group and categorize recordings through a web-based catalog, with configurable and automated workflows.
Increase the breadth and scope of media deployments without increased labor by applying workflow rules to automate content management.
Create user permissions or integrate with common authentication systems such as Microsoft Active Directory/LDAP.
Keep granular control over individual content and user rights, while maintaining rules-based authentication for all users.
Publish and Share
Enable your staff to easily and quickly streamline the sharing and delivery of content with others.
Fully integrate with Learning Management Systems through the Learning Tools Interoperability-LTI connection.
Produce compelling presentations with a data-rich, user-configurable playback suite.
Present synchronized content from video and slides, demos, or whiteboard using multi-window capabilities.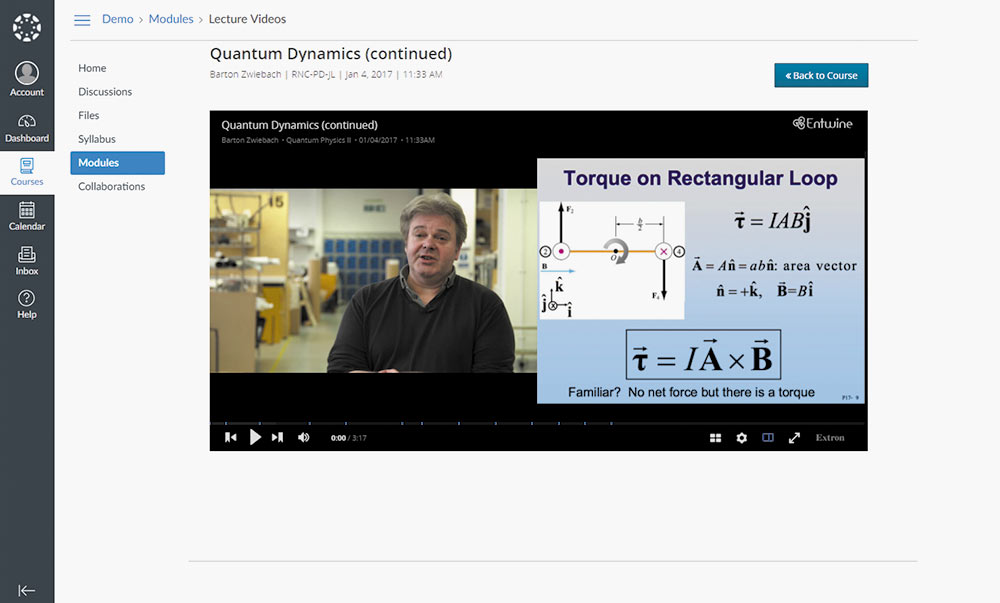 View and Optimize Playback
Portal
Create an engaging experience through the VideoLounge portal
View content with an optimal experience on all browsers and devices with the responsive user interface design
Organize recordings for quick and easy access by class, course, or session
Entwine VideoLounge is customizable to identify with your institution's brand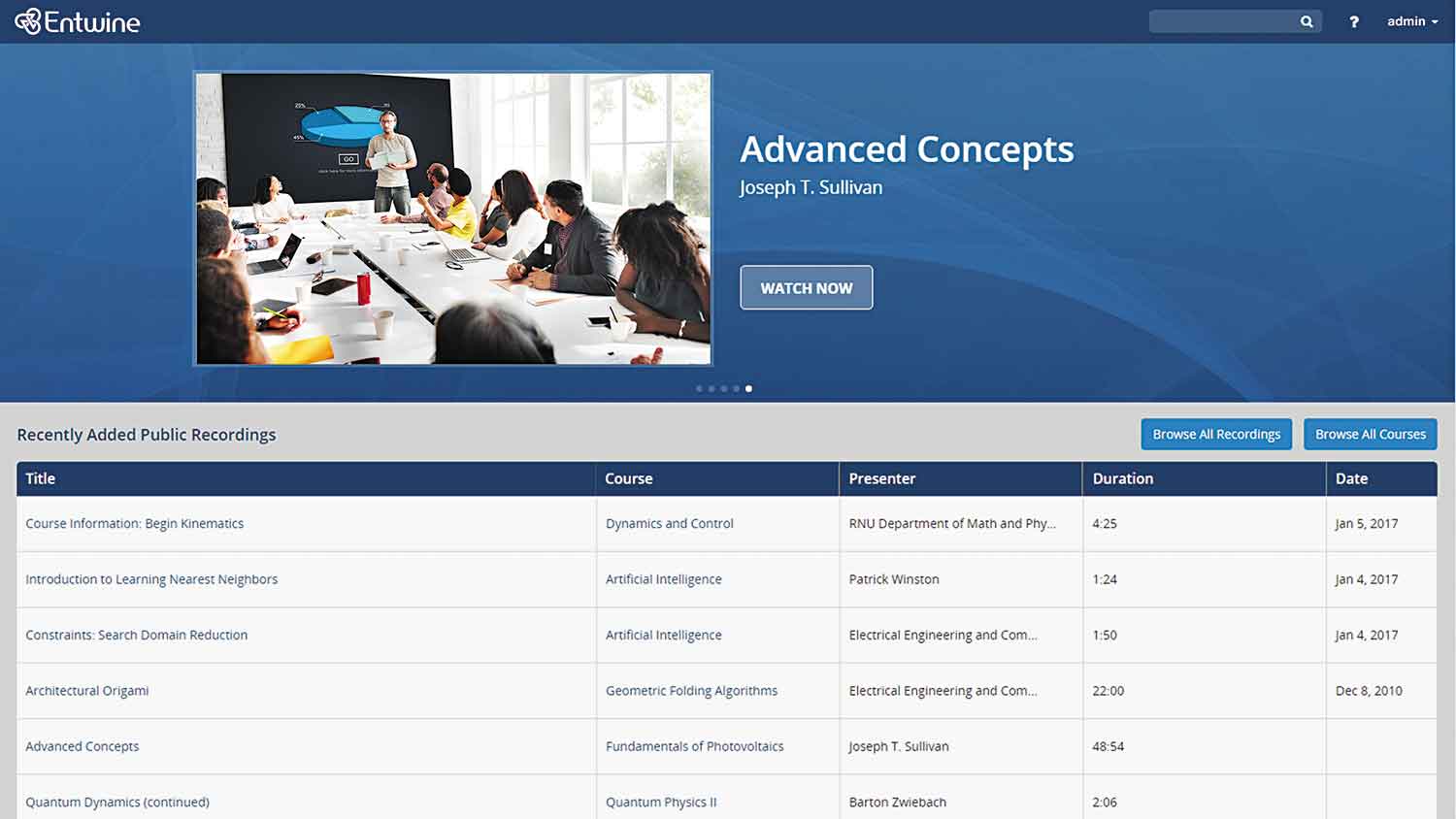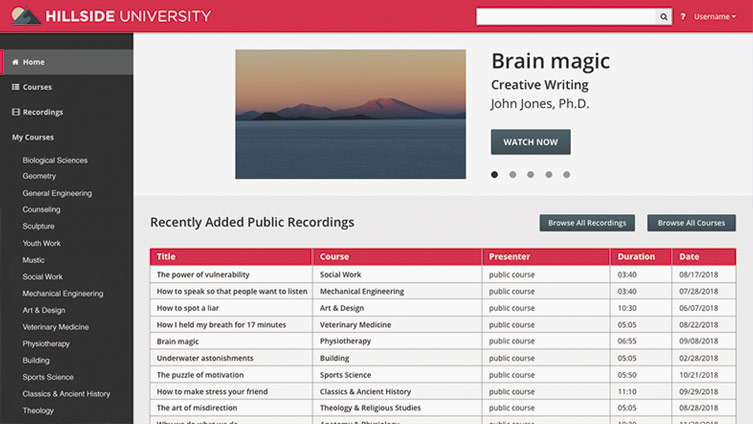 Player
View content using the robust VideoLounge player for an immersive viewing experience
View content on all devices with an enhanced mobile experience using an HTML5 player
Manage layout with multi-stream support
Navigate content with automatically created video chapter marks and slides
Control video consumption with adjustable playback speed
Display Closed Caption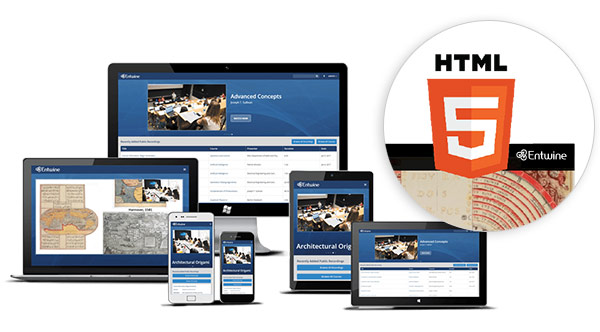 Contact Extron for a complete list of supported features.
Scalable options tailored to your needs
Education
Lecture/Event Capture
Flipped Classroom
Live Streaming
Active skills capture
Professional Development
Organizational Training
Corporate
Customer Training
Global Staff Development
Executive Announcement
HR Compliance Training
Corporate Town Hall
Digital Media Library
Government
Military Training
Legislative Recording
Live Streaming
Court Proceedings
Employee On-boarding
3rd Party Exchange
Healthcare
Credentialing
Clinical Skills Capture
Continuing Education
Telehealth
Grand Rounds
Active Learning
Enriching User Outcomes
IT and Curriculum Leaders
Deliver a scalable and standards-based video content management platform that can be customized to integrate with existing infrastructure to leverage overall institutional technology goals and objectives.
Instructors
Teach, communicate, and engage with students by providing flexible academic programs that enrich the learning process. Attract and enable participants to feel more connected, whether in a classroom or online.
AV Managers
Save time and resources by utilizing customizable workflows to minimize administrator requirements and day-to-day management tasks so that staff can focus on delivering technology services to students and faculty.
Students
Review course material, learn at your own pace, and take advantage of the power of video results in superior learning outcomes, higher retention of materials, and improved comprehension.
Explore the Entwine video solution designed with your needs in mind
EMP: Content Management
Enterprise Media Portal offers intuitive and scalable software solutions to process, catalog, and distribute media files
Browser-based dashboard interface
Scheduled, on-demand, or live stream events
Integrates with existing LMS / LDAP systems
Manages content and application permissions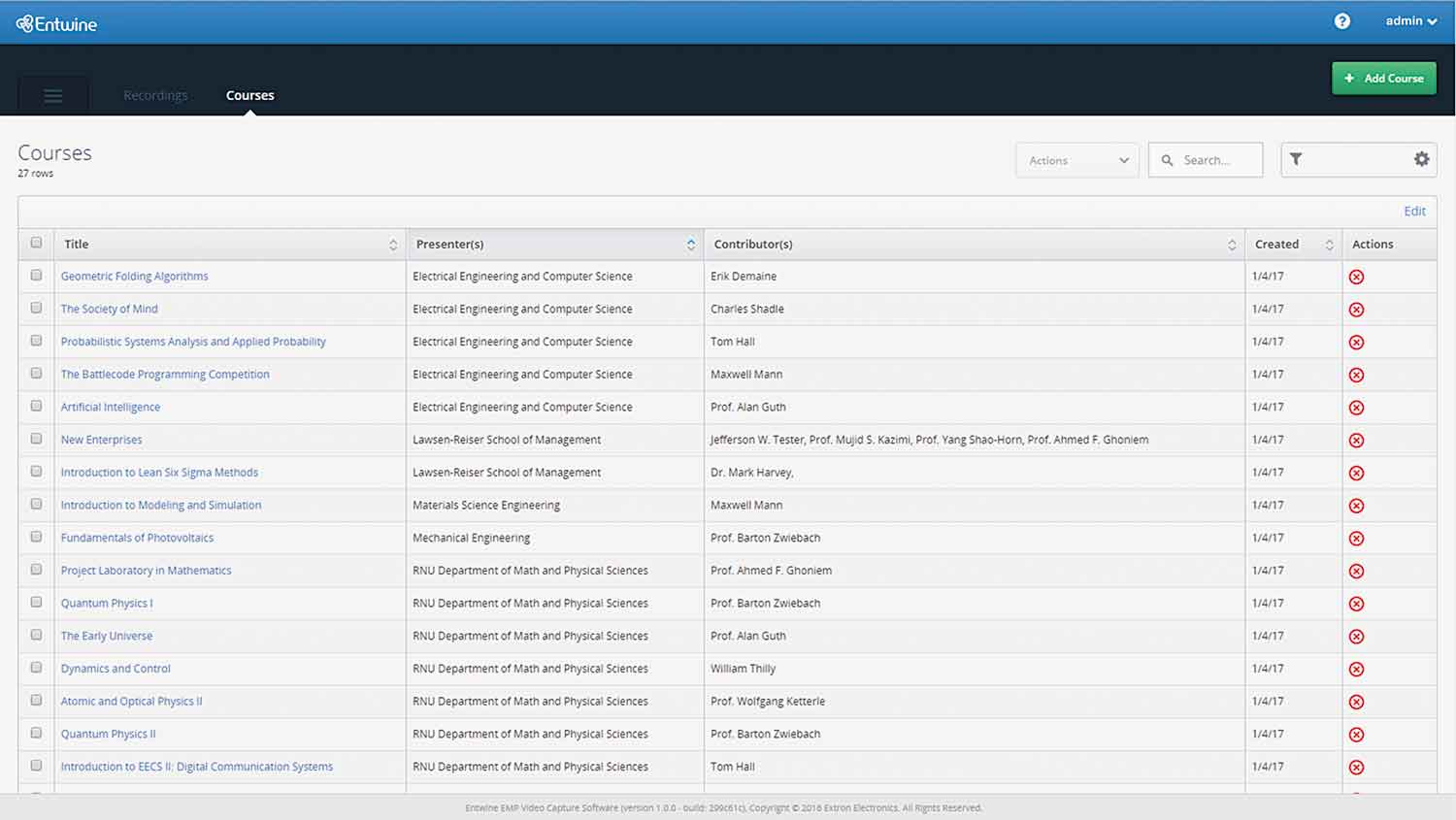 VideoLounge: Video Playback Portal
Flexible and secure video portal software for viewing institutional content published from EMP
Play content in the robust HTML5 portal and video player
Organize recordings by event, class, or course
Leverage LDAP users and groups to control permissions
Multi-speed playback with user-defined layout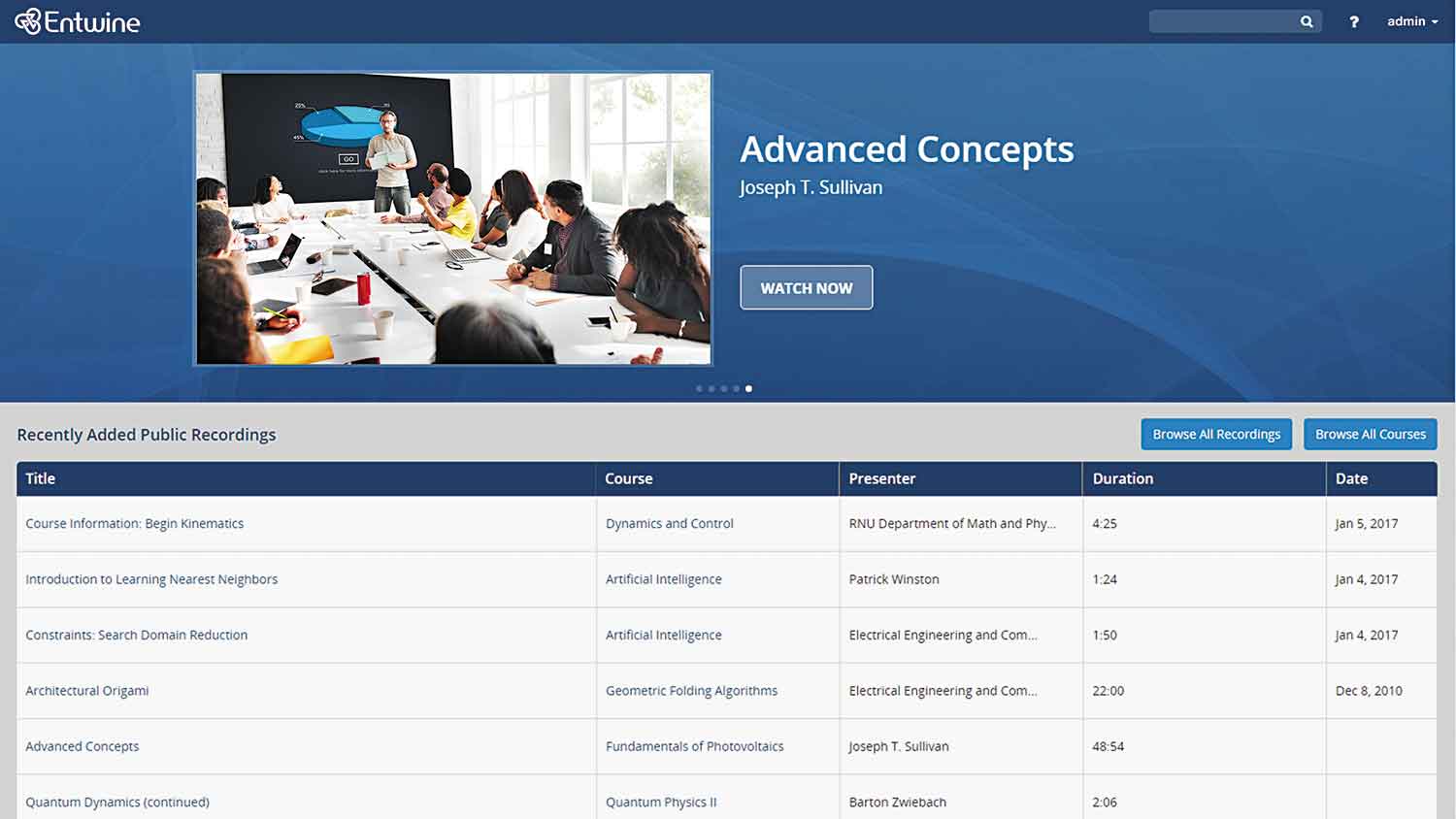 Getting content into Entwine. Flexible options for any room size.
The Extron SMP Series of Streaming Media Processors offer enhanced capabilities to record and stream day-to-day video and content, suitable for any room on campus - ranging from large lecture halls and classrooms to conference rooms and collaboration spaces.
Getting content into Entwine - One-touch recording solution
The Extron StudioStation™, with one-touch recording capability, horizontal video mirroring, power control, is ideal for flipped classrooms, lecture capture, live events, product presentations, board meetings, or any other application with convenient, one-button, easy to use recording and streaming.
Optimize Your Return on Investment with our Award-Winning Services
Extron's 35+ year commitment to audio video excellence extends beyond products. With offices around the globe, we provide highly skilled software and hardware Professional Services staff ready to work with your existing environment to tailor and optimize new technologies to meet your goals and objectives.
The Entwine Professional Services team uses a personalized engagement strategy and a broad range of project management, system deployment, and custom system integration services to help you more effectively adopt and adapt the newly deployed technologies for a seamless lecture capture experience. Extron also provides comprehensive support, training, and other benefits through our S3 Education Partnership Program. Enrollees in the program have access to a wide range of tools and services, including technical design assistance, Extron Insider website access, and much more.
Needs Assessment
Deliver an optimally designed system tailored to the needs of your institution.
Scheduling Integration
Deploy a tool to port data from the scheduling system into Entwine, eliminating the need to manually create schedules within Entwine.
Project Planning
Create a systematic analysis and plan detailing all technological functions to achieve implementation requirements.
Authentication Integration
Manage the creation of user permissions and integration with authentication systems such as Microsoft Active Directory/LDAP.
Commissioning
Perform design review, install, testing, system optimization, and training to ensure system performance prior to full operation.
Publishing Integration
Leverage the LTI connector to embed video recordings natively within the LMS so that users can continue to consume content through their preferred interface of choice.
Legacy System Migration
Move all content and metadata securely and accurately from third-party systems for a unified experience. Cloud service available.
Adoption Services
Provide custom tailored training and adoption services to help customers quickly and easily embrace newly deployed technologies.
How to Choose the Right Lecture Capture Solution
Quality and dependability are common table stakes for any purchase. Every buyer demands, and most all vendors claim to offer a quality, dependable lecture capture solution. But what are the most critical aspects to meet your current and future unified learning needs when there's so many choices?
Discover the Top 3 necessary items to consider when making your selection.
Read Article