Extron Introduces ENERGY STAR® Qualified Power Supplies With ZipClip™ Mounting
Public relations contact:
Joe da Silva, Vice President of Marketing
Extron
E-mail: pr@extron.com
Anaheim, California (July 17, 2008)
- Extron Electronics is pleased to introduce the PS Series of External Power Supplies. These ENERGY STAR® qualified power supplies are highly efficient to reduce operating costs and help meet green building requirements. Their unique design provides over 10 times the life expectancy of traditional power supplies. The PS Series also offers the ZipClip™ mounting system for quick and secure mounting in a variety of locations, including rack rails, tables, and lecterns.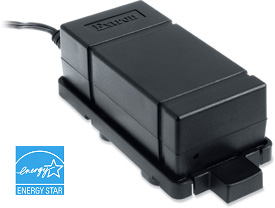 Click here to download high resolution image
"The PS Series was designed by our engineers to last up to 45 years, which is typically a much longer life span than the product it is powering," says Lee Dodson, Vice President of Marketing for Extron Electronics. "These ENERGY STAR qualified power supplies also offer low power consumption, which helps reduce operating costs and meet green building requirements."
PS Series products are available in the most popular voltages used by Extron products: 9, 12, and 15VDC. They feature a one-eighth rack width enclosure that can be rack-mounted when used with an Extron basic or universal rack shelf kit. Channels in the body of the enclosure allow the power supply to be securely mounted to cylindrical structures, such as projector poles and table legs, with wire ties.
Each PS series product comes with a 6-foot detachable IEC power cord, a 6-foot output cable terminated in either captive screw or DC plug, and a ZipClip 100 mounting kit.