Extron Announces New YCS SW2 Transcoding Switcher
Public relations contact:
Joe da Silva, Vice President of Marketing
Extron
E-mail: pr@extron.com
Anaheim, California (June 8, 2005)
- Extron Electronics is proud to announce the
YCS SW2
, a two input, dual output transcoding switcher. The YCS SW2 can decode composite video signals into Y/C (S-video), as well as encode S-video signals and output a composite video image. Key features such as time base stabilization, autoswitching, and contact closure remote control make the YCS SW2 ideal for integration into conference rooms, classrooms, video production facilities, and other applications requiring composite video and S-video switching.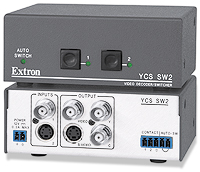 Click here to download high resolution image
"The YCS SW2 delivers advanced technology in transcoding switchers, since it implements a digital, Y/C separator with time base stabilization", says Lee Dodson, vice president of marketing for Extron Electronics. "Its compact design and unique features allows simple integration into a wide variety of environments." The YCS SW2 utilizes a high quality, three-line digital comb filter to decode composite video signals into Y/C (S-video) and accepts NTSC 3.58, NTSC 4.43, PAL, or SECAM formats. The YCS SW2 is housed in a compact enclosure and includes tactile, front panel input buttons for manual switching. The YCS SW2 lists for $500.00 and will be available in quarter three 2005. For additional information, please call an Extron Customer Support Representative at 800.633.9876 (inside U.S.A./Canada only).