Extron Introduces One-gang XTP Wallplate Transmitter for HDMI
Public relations contact:
Joe da Silva, Vice President of Marketing
Extron
E-mail: pr@extron.com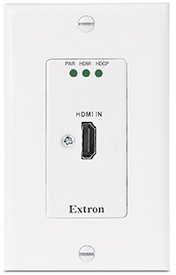 Anaheim, California (June 16, 2014) - Extron Electronics is pleased to announce the immediate availability of the XTP T HWP 101, a single-gang decorator-style transmitter that sends high resolution HDMI with embedded audio up to 330 feet (100 meters) over a single shielded CATx cable. It is HDCP-compliant, and supports computer video to 1920x1200, including 1080p/60 Deep Color and 2K resolutions. Designed for use within configurable rooms and other environments that require a compact wallplate transmitter, it provides extension from remote HDMI sources in XTP instalaltions. This one-gang wallplate transmitter is compatible with XTP CrossPoint matrix switchers for large installations as well as with XTP receivers, such as the XTP SR HDMI scaling receiver, for point-to-point content delivery over long distances. The XTP T HWP 101 offers many of the same integrator-friendly features that have made XTP Systems the go-to solution for AV system designers and integrators worldwide.
"Our customers have remarked on the proven value of installing XTP Systems, and wanted a wallplate in an even smaller form factor to fit into floor boxes and the tightest spaces," says Casey Hall, Vice President of Sales and Marketing for Extron. "The efficient one-gang design of this latest XTP transmitter provides that needed connectivity, sending HDMI source signals from the convenience of the wall, floor, or lectern."
Two Extron technologies simplify integration of HDMI-enabled devices. EDID Minder automatically manages EDID by maintaining continuous EDID communication with sources, ensuring that all sources power up properly and reliably transmit content to the destination. For encrypted content, Key Minder authenticates and maintains HDCP encryption between devices to ensure quick and reliable signal distribution. This XTP transmitter mounts in an included decorator-style wallplate designed for installation in one-gang US wall boxes.
To watch a product introduction video, please visit: www.extron.com/xtpthwp101video
For more information on the XTP T HWP 101, please visit: www.extron.com/xtpthwp101pr