Design and Install Complete XTP Systems from Extron Today
Public relations contact:
Joe da Silva, Vice President of Marketing
Extron
E-mail: pr@extron.com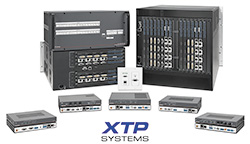 Anaheim, California (March 6, 2014) - Extron Electronics is pleased to announce the immediate availability of the XTP T UWP 202 wallplate transmitter. Now, all announced products for the XTP line are available to successfully design and integrate XTP Systems for reliable AV signal switching and distribution. As a completely integrated solution, XTP provides local connectivity as well as extended transmission capability for sending high resolution video, audio, control, Ethernet, and power up to 330 feet (100 meters) over a single shielded CATx cable. Modular XTP CrossPoint matrix switchers and a wide selection of XTP extenders in a variety of form factors offer the needed scalability and flexibility for twisted pair applications. The XTP CrossPoint frames also support today's emerging resolutions, including 4K. For the cable infrastructure, use of Extron-certified shielded twisted pair cable and connectors ensures optimal performance of the installation.
"We promised AV system designers and integrators the ultimate AV switching and distribution solution, and we're delivering on that promise with complete XTP Systems available to order today," says Casey Hall, Vice President of Sales and Marketing for Extron. "The Extron engineers have worked hard to make XTP the best solution in the market, and we're happy to report that our customers are saying XTP Systems are second to none in the industry."
The online XTP System Builder gives convenient access for complete system design. The tool also features a printable bill of materials, pricing, and quote submittal. Once the order is confirmed and received, the included XTP System Configuration Software enables easy setup and configuration right out of the box.
The XTP T UWP 202 wallplate transmitter sends HDMI or RGBHV video, audio, and bidirectional RS-232 and IR control up to 330 feet (100 meters) over a single CATx cable. Models are available with or without an Ethernet port, depending on the AV system design. Additional products are in development to extend the XTP line and fulfill unique application needs.
To find out what our customers are saying about XTP Systems, please visit www.extron.com/xtpsystemsquotes
For more information about XTP Systems, please visit www.extron.com/xtpsystemsnspr
For more information about the XTP T UWP 202, please visit www.extron.com/xtptuwp202nspr