Extron Now Shipping XTP II CrossPoint Matrix Switchers with 50 Gbps Backplane and XTP 3G-SDI Input Board
Public relations contact:
Joe da Silva, Vice President of Marketing
Extron
E-mail: pr@extron.com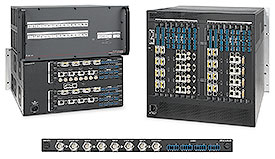 Anaheim, California (February 11, 2016) - Extron Electronics is pleased to announce the immediate availability of the new XTP II CrossPoint 3200 and XTP II CrossPoint 1600 matrix switchers along with the XTP CP 4i 3G‑SDI input board. XTP II CrossPoint matrix switchers provide world-class performance with the industry's first 50 Gbps switching backplanes. The modular design can be configured in sizes up to 16x16 or 32x32 with signal routing capabilities that can support 4K/60 video with 4:4:4 chroma sampling at 16 bits per color. XTP II is the only AV technology platform that supports uncompromised 4K video while providing additional bandwidth to accommodate anticipated future video resolutions and formats. The XTP CP 4i 3G‑SDI input board provides seamless integration of broadcast video sources into professional applications, such as cameras for videoconference environments and live events. The XTP CP 4i 3G‑SDI board features four 3G‑SDI inputs with stereo audio and buffered loop-throughs and automatically adapts to SMPTE and ITU standards for 3G‑SDI, HD‑SDI, and SDI signals.
"XTP II provides an AV infrastructure that supports 4K and beyond," says Casey Hall, Vice President of Sales and Marketing for Extron. "We are excited to have all of the XTP II CrossPoint matrix switchers shipping to give designers and integrators more options to choose from for their designs."
XTP II CrossPoint matrix switchers can be configured with a variety of boards to provide a completely integrated switching and distribution solution for multiple digital and analog formats. With local connectivity, as well as twisted pair and 4K fiber optic extended transmission, XTP Systems are known in the industry to offer complete end-to-end AV system solutions of uncompromised quality and performance. The XTP II line is the definitive AV industry standard you can depend on now and in the future to meet the challenges of 4K and beyond.
To watch a product introduction video, please visit: www.extron.com/xtpiicrosspointvideo
For more information on the XTP II CrossPoint matrix switchers, please visit: www.extron.com/xtpiicrosspointpr