XTP II CrossPoint Series
AV Infrastructure for an 8K Future
The XTP II CrossPoint® Series modular digital matrix switchers represent a monumental leap in engineering and product design, providing unmatched, high performance routing of video, audio, bidirectional control, and Ethernet in a future-ready integrated solution. The 50 Gbps digital backplane easily exceeds the data rate required to distribute 4K/60 video with 4:4:4 chroma sampling at 16 bits per color. These matrix systems can be configured with a complete family of boards and endpoints, including XTP 4K twisted pair, XTP 4K fiber optic, and XTP II HDMI input and output boards that support HDMI 2.0b, HDR, and HDCP 2.2. They are available in three configurable frames for I/O sizes from 4x4 to 16x16, 32x32, and 64x64 to meet the application needs of today's AV switching and distribution systems. XTP II CrossPoint is the definitive AV industry standard you can depend on now and to meet the challenges of an 8K future.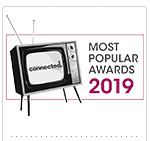 4K Twisted Pair and Fiber Optic Switching and Transmission
Twisted pair and fiber optic I/O boards and endpoints deliver end-to-end capability for extending 4K video along with audio, control and Ethernet over a single cable.
HDCP 2.2 compliant, XTP 4K Twisted Pair supports signal transmission up to 330 feet (100 meters) and supports remote powering of endpoints.
XTP 4K Fiber offers a completely integrated solution that incorporates Extron-exclusive, custom designed optical modules with increased distance performance over standard OM4 fiber.
Local I/O to Support HDMI 2.0b
HDMI 2.0b I/O boards with HDCP 2.2 deliver 18 Gbps throughput for HDR support and switching 4K/60 with 4:4:4 chroma sampling at 8 bits per color. For enhanced system design versatility, the XTP II CP 4o HD AT 4K PLUS output board provides Dante digital audio output. The output board enables audio transport of up to four stereo audio signals over a network using standard Internet protocols.

XTP II CP HD 4K PLUS I/O Boards
50 Gbps

4K

64 I/Os

4 Power Supplies

100,000

Hour MTBF
Digital switching backplane performance exceeds the data rate requirements of today's most demanding signals
Twisted pair, fiber optic and HDMI boards provide end-to-end 4K video switching and transmission
Modular, hot-swappable design supports I/O sizes up to 64×64 and upgrades to next generation video boards
Robust, hot-swappable, state-of-the-art power supplies are engineered to last
Highest quality metal fans are individually monitored to ensure optimal cooling
XTP II CrossPoint road-map to performance, efficiency, and longevity
Reliability and Performance by Design
Designed and engineered to the highest standards, the 50 Gbps backplane delivers bandwidth performance that exceeds HDMI 2.1 and DisplayPort 1.4 signal requirements for all 4K/60 rates and gives future support for emerging resolutions, such as 8K.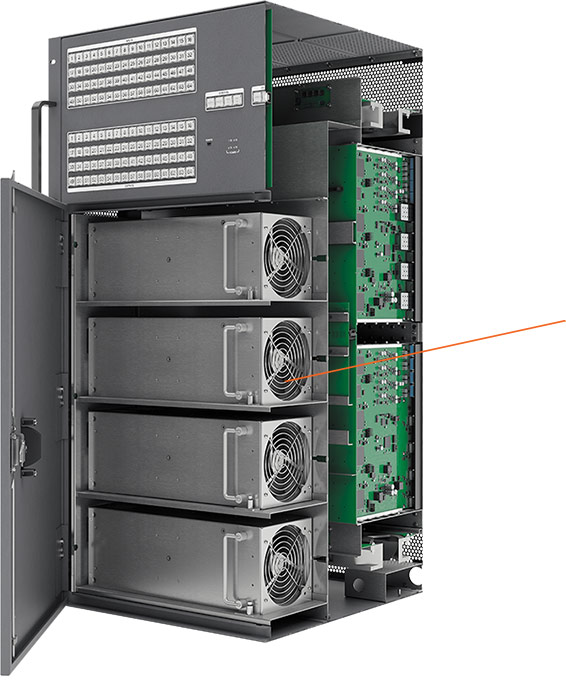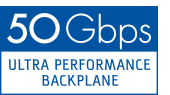 Four, hot-swappable, Extron-designed power supplies: 2 primary and 2 redundant
Power Supply Design
Extron state-of-the-art power supply design utilizes the highest quality and performance-rated components available.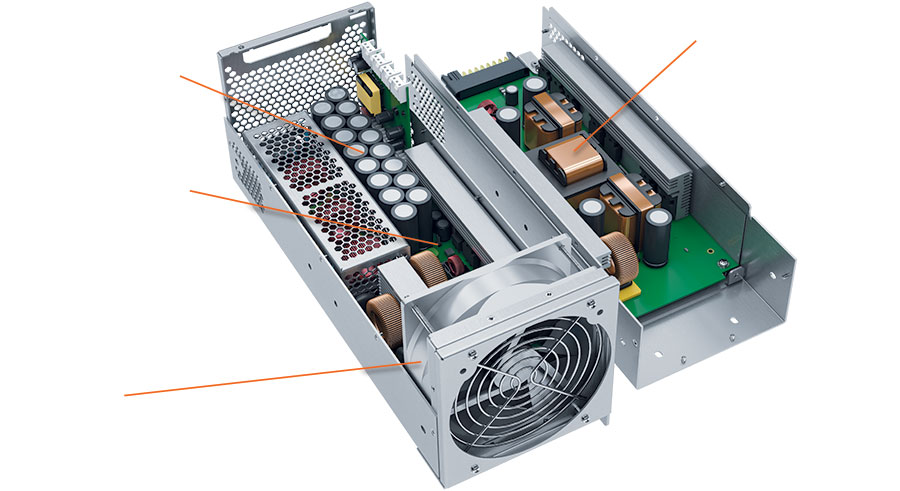 High temperature rated, electrolytic capacitors
Precision-wound, resin-encapsulated transformers
Engineered to last: components arranged for maximum efficiency, airflow and cooling
Metal fan assembly with high quality bearings and longest available lifetime rating
Thermal Management
Dual, monitored fan banks with top and bottom chassis ventilation deliver optimal thermal management by drawing cool air from the bottom, pushing forced air through the I/O board chamber, and expelling of warm air out the top of the enclosure.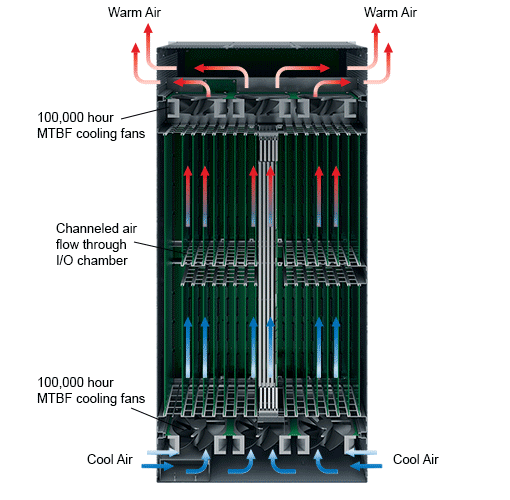 Modularity
The modular design and hot-swappable capability delivers substantial flexibility by allowing onsite field-service, upgrade, and expansion without affecting system operation.