Extron Launches HDBaseT Recommended Twisted Pair Cable Assemblies
Public relations contact:
Joe da Silva, Vice President of Marketing
Extron
E-mail: pr@extron.com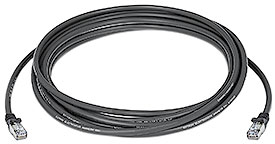 Anaheim, California (March 31, 2015) - Extron Electronics is pleased to introduce XTP DTP 24 Series precision-terminated shielded twisted pair cables in lengths from three feet (90 cm) to 100 feet (30.4 m). Available in both non-plenum and plenum-rated versions, the cables are constructed with the company's HDBaseT Alliance-recommended XTP DTP 24 bulk cable and factory-terminated with XTP DTP 24 Plugs. The cable assemblies are certified to 475 MHz bandwidth at distances up to 330 feet (100 meters), and engineered and tested to exceed HDMI error rate specifications of less than one pixel per billion at 100 meters.
"With the explosive growth of XTP Systems and DTP Systems digital twisted pair installations, AV integrators have looked to Extron for ways to further simplify installations and reduce their overall labor costs," says Casey Hall, VicePresident of Sales and Marketing for Extron. "These new, precision-terminated XTP DTP 24 cable assemblies offer performance, reliability, and off-the-shelf convenience for the most commonly-used lengths."
Extron XTP DTP 24 Series cables are constructed with performance-optimized, 24 AWG shielded twisted pair cable specifically engineered to Extron's exacting standards of performance. The cable utilizes an SF/UTP Shielded Foil/Unshielded Twisted Pair design for superior performance in digital video and audio distribution system applications. To complete an XTP or DTP system cable infrastructure, Extron recommends use of Extron-certified XTP DTP Punch Down Jacks and Couplers, available in packages of 10, or in pre-populated AAP - Architectural Adapter Plate, MAAP - Mini Architectural Adapter Plate, and WPD - Wallplate - Decorator-Style form factor wallplates.
For more information on XTP DTP 24 Series non-plenum cable assemblies, please visit: www.extron.com/xtpdtp24pr
For more information on XTP DTP 24P Series plenum-rated cable assemblies, please visit: www.extron.com/xtpdtp24ppr