Extron Digital Twisted Pair Cable Receives HDBaseT™ Recommendation
Public relations contact:
Joe da Silva, Vice President of Marketing
Extron
E-mail: pr@extron.com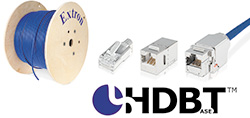 Anaheim, California (January 7, 2014) - Extron Electronics is pleased to announce that Extron XTP DTP 24 Shielded Twisted Pair Cable has been independently tested in an HDBaseT™ Alliance Recognized Testing Facility and verified to exceed performance requirements for recommendation by the Alliance. The HDBaseT Alliance's Cable Recommendation Program helps AV installers to select cables that are engineered for optimum signal transmission within a twisted pair infrastructure. Extron XTP DTP 24 cable is specifically engineered to improve performance and signal path reliability with Extron XTP Systems, DTP Systems, and HDBaseT applications. The cable is available in both Plenum and Non-Plenum versions, and is certified to 475 MHz bandwidth at distances up to 330 feet (100 meters).
"When Extron got into the AV cable business many years ago, we quickly determined that off-the-shelf bulk cable didn't meet our standards for performance, reliability, and durability, so we design all of our cables in-house," says Casey Hall, Vice President of Sales and Marketing for Extron. "XTP DTP 24 cable is engineered specifically for digital video applications to provide integrators with absolute confidence in signal integrity throughout the largest distribution systems. While primarily intended for use with Extron XTP Systems and DTP Series products, the XTP DTP 24 cable can be used in any HDBaseT application for an additional measure of performance and reliability."
Extron XTP DTP 24 cable is performance-optimized, 24 AWG shielded twisted pair cable specifically engineered to Extron's exacting standards of performance. The cable utilizes an SF/UTP Shielded Foil/Unshielded Twisted Pair design for superior performance in digital video and audio distribution system applications and features 24 AWG solid copper conductors within overall braid and foil shields. Both Non-Plenum and Plenum-rated versions are available in spools of 1,000 feet (305 meters). To ensure end-to-end cable infrastructure performance, a line of matching shielded RJ-45 plugs, punch down jacks, and couplers is also available.