Extron Introduces XTP Platform for Digital AV Systems
Public relations contact:
Joe da Silva, Vice President of Marketing
Extron
E-mail: pr@extron.com
Anaheim, California (June 15, 2011) - Extron Electronics is pleased to introduce the new XTP Systems, a flexible, reliable signal switching and distribution system that provides a completely integrated solution for multiple digital and analog formats. XTP Systems support local connectivity as well as extended transmission capability for sending high resolution video, audio, RS-232, Ethernet, and power up to 330 feet (100 m) over a single CATx cable.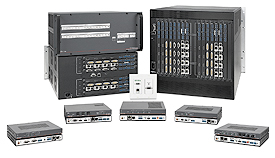 Extron has pioneered many technologies that integrators have depended on to deliver digital systems that work. These proven technologies have been incorporated into the XTP Systems, including SpeedSwitch® Technology, EDID Minder®, and Key Minder® for ultra-fast, highly reliable switching of HDMI and DVI signals and HDCP-encrypted content, SD Pro processing for deinterlacing standard definition signals to eliminate display compatibility issues, and Automatic Input Cable Equalization and Output Reclocking that provide digital video signal conditioning to ensure optimal performance. Extron has also incorporated extensive audio management features into the XTP Systems, including HDMI audio embedding and de-embedding, audio breakaway, and downmixing multi-channel formats.
"Our customers have been asking for complete digital signal routing and transmission solutions from Extron. We understand the many challenges encountered by AV professionals when designing and installing digital systems," says Casey Hall, Vice President of Sales and Marketing for Extron. "Our Engineering team has taken the time to do it right. We've focused on reliable, solid performance and ease of installation."
XTP CrossPoint matrix switchers are modular and expandable from 4x4 up to 16x16 or 32x32, and can be populated with input and output boards for long distance transmission when paired with XTP transmitters and receivers. I/O boards are also available for direct HDMI, DVI, VGA, video, and audio connections to support local sources and displays. Featuring advanced 24/7 system monitoring and hot-swappable modular components, the XTP CrossPoint is built for continuous, trouble-free operation in the most critical applications.
A family of long distance XTP transmitters and receivers are available for sending or receiving video, audio, RS-232 and IR control, Ethernet, and power up to 330 feet from the XTP CrossPoint matrix switcher over a single CATx cable. XTP transmitters are available in desktop or decorator-style wallplate models and accept HDMI, analog VGA, or standard definition video. Some XTP transmitters accept multiple inputs and feature automatic input switching. Two desktop XTP receivers are available, both with HDMI outputs. One of the models also features integrated video scaling, so that all incoming video signals can be optimized to a common output rate for the display. In a fully integrated XTP System with XTP transmitters and receivers, an overall transmission distance of 660 feet (200 m) is possible between two remote endpoints.
The XTP systems deliver all of this integration, switching, and transmission capability in a system that can easily be set up and configured out of the box, using intuitive control software that provides straightforward system configuration without complicated programming.