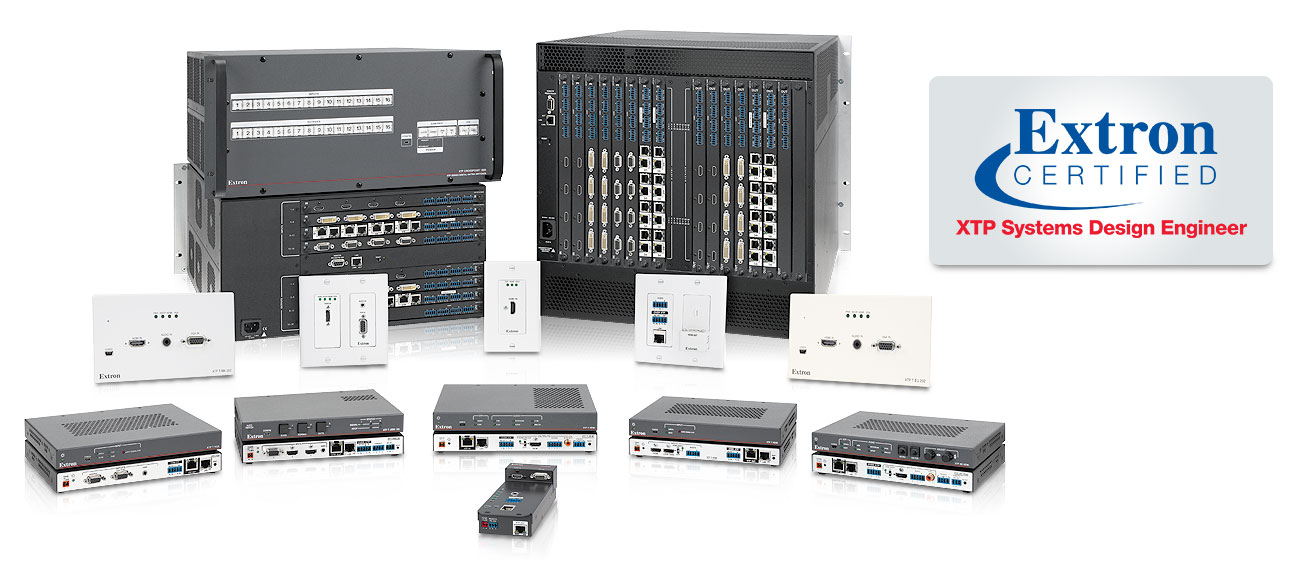 XTP Systems Design Engineer Certification Program
Establish Your Knowledge of Digital Systems Design
The Extron XTP Systems Design Engineer certification program involves online and instructor-led training for design of enterprise-wide digital systems based on Extron XTP Systems. Step-by-step instruction provides a balanced approach to theory and hands-on application with an emphasis on the practical aspects of designing digital AV systems.
Successful completion of the XTP Systems Design Engineer certification (XTP-E) program ensures a thorough understanding of XTP System design and implementation, and provides recognition and validation of newly acquired expertise with digital AV technologies.
Extron Certification
In the highly competitive AV industry, education, training, and certification are important to the success of both individuals and companies. Like a professional license, certification instills confidence through reliable evidence of a critical set of knowledge and skills. Acquired fluency and expertise in any field saves valuable time and money, and ensures a higher level of customer service and satisfaction.
The Extron certification program is for AV professionals who wish to advance their knowledge of AV system technology, design, and configuration. The program consists of online and instructor-led training components and allows system integrators, installers, and consultants an opportunity to learn new skills, validate their skills, and gain a better understanding of the latest technologies and solutions.
Audience
This program is ideal for individuals who will be required to design Extron XTP Systems.
Prerequisites
There are no education prerequisites. A strong working knowledge of digital AV technologies and successful completion of the Extron AV Associate certification program is recommended.
Delivery Method
The XTP Systems Design Engineer certification program is available through a combination of online course material and instructor-led training. Once enrolled, students are required to pass an online exam for Digital AV Technologies. Successful completion of the exam is the first step toward certification. Online materials, which include videos, short quizzes, and technical documents, allow students to study for the exam at their own pace. To achieve certification, students must also attend an instructor-led course and pass an Extron-proctored system design exam.
Extron XTP Systems Training and Certification Path
Stage 1: Online Exam with Self Study, Videos, and Documents
Stage 2: 2-Day Certification Course and Test
2-Day Course Content
The instructor-led portion of the Extron XTP Systems Design Engineer certification program (offered in English, Spanish, German, Italian, French, Russian, Korean, Chinese and Japanese) consists of the following content:
Day 1: XTP Systems Theory
Students will gain a complete understanding of system design for Extron XTP Systems. Instruction includes the general principles of XTP System design within multiple AV environments. This day concludes with an exam on learned content.
Day 2: XTP Systems Design
Coursework covers complete XTP System design concepts, complex system configuration, and designing for real-world scenarios. The final exam for XTP-E certification is focused on system design and configuration theory.
How Can I Get Started?
To request enrollment into the XTP-E certification program, contact your Extron Support Representative.
Continuing Education Units
The Extron XTP-E certification program contributes to Continuing Education Units - CEUs for a variety of established industry organizations, including AVIXA™ and BICSI.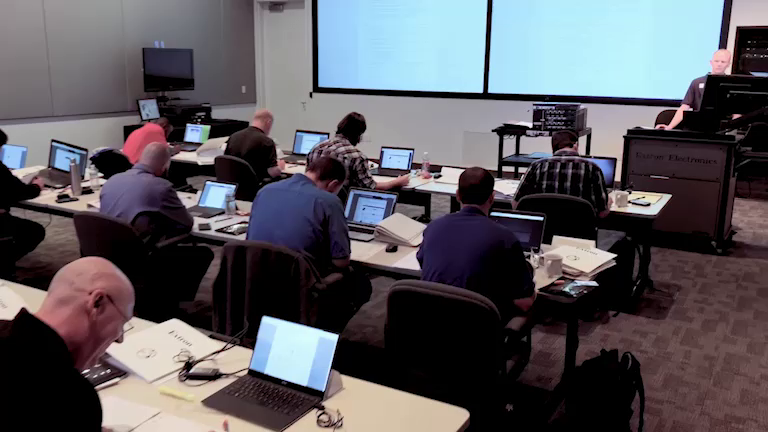 Become an Extron Certified XTP Systems Design Engineer
As an Extron Insider, request enrollment into the XTP Systems Design Engineer certification program:
Already enrolled in the XTP Systems Design Engineer certification program?
If you have any further questions about the program, please contact your Extron Customer Support Representative.