Extron Introduces Three New Multi-Channel XTRA™ Series Amplifiers
Public relations contact:
Joe da Silva, Vice President of Marketing
Extron
E-mail: pr@extron.com
Anaheim, California (June 17, 2009) - Extron Electronics is pleased to announce three new additions to the XTRA Series of audio power amplifiers. These high-powered amplifiers offer 200 watts rms per channel and up to 800 watts rms total power output. XTRA Series amplifiers are ENERGY STAR® qualified to conserve energy and reduce costs. They feature an Extron exclusive, highly efficient, advanced Class D design with patented CDRS™ - Class D Ripple Suppression technology that provides a smooth, clean audio waveform and an improvement in signal fidelity over conventional Class D amplifier designs. With a compact 1U, full rack width enclosure, they are ideal for installation in racks and lecterns, and do not require fans for cooling. These new XTRA Series amplifiers include the XPA 2002-70V, a two-channel model for 70 volt high impedance speaker systems, the XPA 2004, a four-channel model for 4 ohm or 8 ohm speakers, and the XPA 2003C-70V, a three-channel amplifier that offers two channels for 4 ohm or 8 ohm speakers, plus a third channel for 70 volt high impedance speaker systems.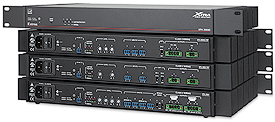 "We're pleased to expand our XTRA Series with new, high-powered models designed for large-scale AV integration projects with substantial power requirements," says Lee Dodson, Vice President of Marketing for Extron. "The unique XPA 2003C-70V offers what many of our customers have been looking for: a single product to provide amplification for both voice and program audio applications. The XPA 2003C-70V delivers with a 200 watt per channel stereo amplifier and a 200 watt 70 volt amplifier in a space efficient, 1U enclosure."
The new XTRA Series power amplifiers consume just 30 watts when idle and less than one watt in standby mode. They enter into standby automatically after 25 minutes of inactivity, or when the standby port is triggered, and turn on instantly whenever an input signal is sensed.