Ultra Flexible · Ultra Cool · Ultra Efficient
High Performance 200 Watt Multi-Zone Amplifiers

Extron XPA Ultra FX Series are eight and four channel multi-zone audio power amplifiers with exceptional flexibility. A single unit can be set up in a variety of configurations to support large systems with multiple speaker types. These amplifiers can simultaneously drive 8 ohm, 4 ohm, 70 volt, and 100 volt loads and are easily configurable per channel. Each channel of an adjacent pair dynamically draws power from the pair's total wattage, delivering optimal power where it's needed according to system requirements. XPA Ultra FX amplifiers feature Extron InstaWake+™ technology, offering the ability to return to full power from standby in under 5 milliseconds. This ensures no part of the audio is ever cut off. With an appealing new design, the fan-cooled enclosure can be part of a high-tech aesthetic or hidden away in a rack, without requiring adjacent empty space for ventilation.
The XPA Ultra FX amplifier is the go-to solution for any multi-zone application requiring mixed speaker types and power levels.
Ultra FX Power Amplifier Features
XPA U 2008 FX


Stackable 1U enclosure

Can be freely stacked in a rack for space savings while maintaining cool operation.

Front to rear fan-cooled

Easy to remove and clean foam air filters maintain airflow performance.

Front panel LED indicators

Protection, Signal, Power, and Over Temp LEDs facilitate setup and troubleshooting.

Auto Standby

Enters standby after 25 minutes of inactivity, dramatically reducing power consumption.

InstaWake+

Exits auto-standby mode in under 5 milliseconds to ensure no audio gets cut off.


Configurable output mode per channel

Per channel selection of 8 ohm, 4 ohm, 70V, and 100V operation with selectable HPF for 70V/100V modes.

Flexible power allocation

Power is shared between adjacent odd/even channel pairs to provide the right amount of power where it's needed.

Recessed, detented level controls & LEDs

Rear panel location prevents tampering and facilitates repeatable setup with laser etched markings and LED signal indicators.

Remote standby

Enables an XPA Ultra FX amplifier to be remotely powered down when not in use, reducing operating cost.
InstaWake+
The graphic below shows the advantage of InstaWake+ technology enabling the XPA Ultra FX to exit standby in less than 5 milliseconds. Other Class D amplifiers can take up to hundreds of milliseconds to achieve nominal power. In paging applications, where every word matters, InstaWake+ ensures no part of the audio is cut off while still maintaining the energy savings of auto-standby.
Independently Configurable Output Modes
Output modes can be independently configured per channel for 8 ohm, 4 ohm, 70 volt or 100 volt operation. This allows a single XPA Ultra FX amplifier to power multi-zone systems with any type of speaker, as shown in the diagram below, saving cost and space while simplifying setup.

Flexible Power Sharing
The total wattage per channel pair is shared between adjacent channels. This power sharing allows each channel of a pair to deliver the amount of power required by the connected speakers. In the multi-zone application shown in the diagram below, a single amp is used to meet the power requirements of different speaker zones.

Application Diagram
In this multi-zone system, AV sources are processed and routed through a DMP 128 Plus C V AT Digital Matrix Processor, feeding into an XPA U 2008 FX Eight Channel Flexible Output Audio Power Amplifier. Separate zones receive coverage from appropriate quantities of SF 26CT LP Two-Way Ceiling Speakers, each zone drawing its required power from one of the XPA U 2008 FX channels set to 70 volt operation. Stereo program content is handled by a pair of SM 28 Surface Mount Speakers, driven by two 8 ohm amplifier channels, while two SF 8CT SUB In‑Ceiling Subwoofers provide low frequency impact, driven by a single low impedance amplifier channel. This compact but powerful system is completed by an additional set of 70 volt lobby ceiling speakers, driven by the remaining amplifier channel.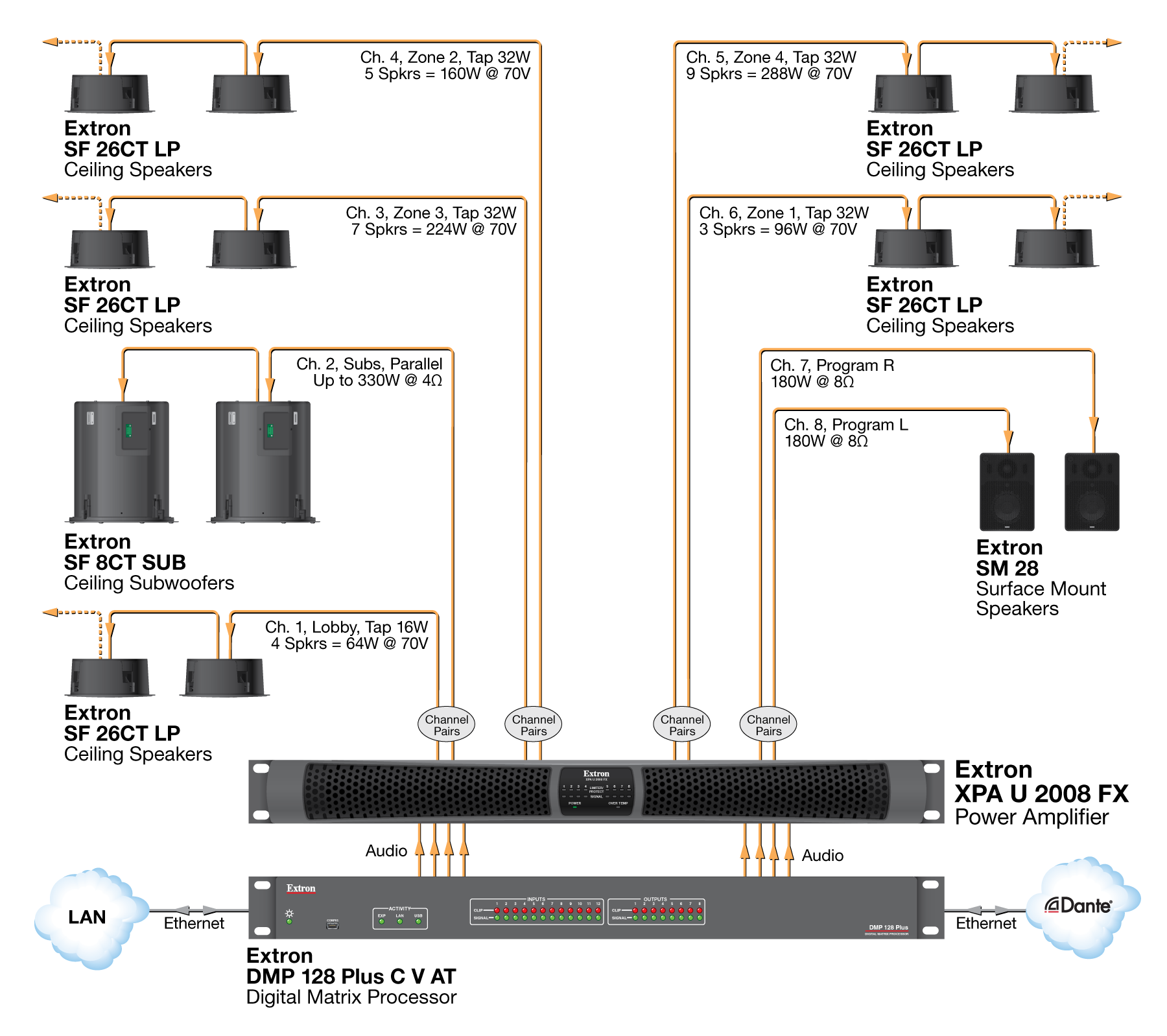 Advanced Engineering for Efficiency and Long Life
Everlast Power Supply

Designed with state-of-the-art technology and the highest-quality components for high‑demonstrated reliability, low power consumption for reduced operating cost, and worldwide power compatibility.

Component Choice & Placement

Specifying long lifespan capacitors and placing them away from high heat sources extends product lifespan.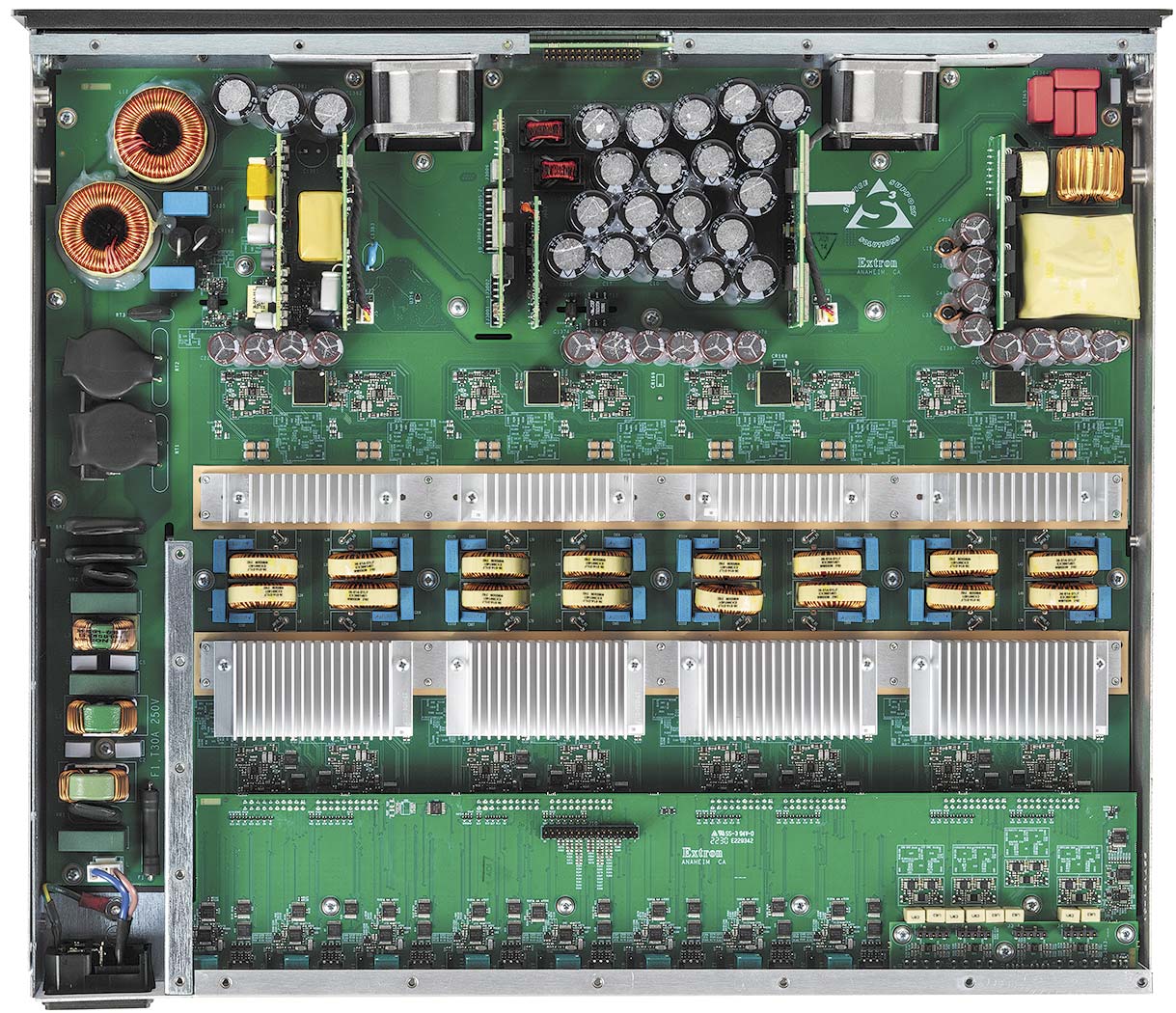 A Look Inside an XPA Ultra FX Series Amplifier
Heat Dissipation

High temperature components utilize the largest possible heat sinks, greatly reducing component level failures.

Fan Cooled

Premium, long lifespan fans that run quietly at low RPM actively push heat away from sensitive components, extending their life.

High Efficiency

XPA Ultra FX amplifiers operate with industry-leading efficiency that reduces cooling costs and energy requirements.
XPA Ultra FX Patents
Only a company that develops its own unique technology could have a patent portfolio as extensive as Extron, including many audio patents. The XPA Ultra FX amplifiers benefit from our patented technologies shown below, technologies providing key performance and reliability advantages to our customers that cannot be duplicated by other amplifier manufacturers.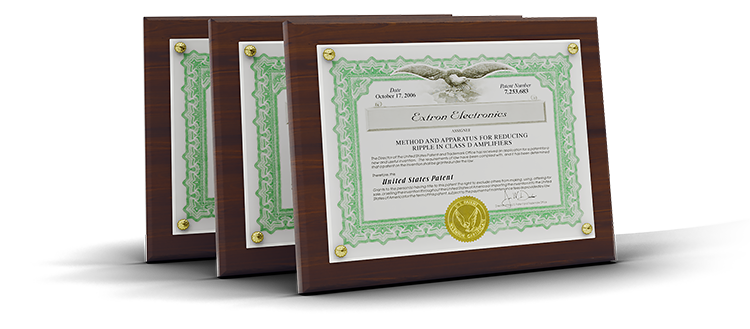 Low Noise Triangular Waveform Generator
Since a triangle generator is the heart of a Class D amplifier, and triangle generators have audio band noise content, this technology is used to greatly reduce that noise content resulting in a lower audio noise floor.
Class D Power Converter
The power converters in Extron Class D amplifiers facilitate energy transfer for more precise performance while using fewer lifetime-limiting capacitors in the power supply.
Class D Soft Switching
Extron's soft switching design works to reduce dissipated power, which increases amplifier efficiency.