Easily Expand Channel Count for Dante Systems
24 Channels of AEC

48x48 Dante Audio Networking

DDM and AES67 Support

Extensive Mix Matrix with Input and Output Processing

Compact Half Rack Size
XMP 240
Dante Expansion DSP Matrix Processor
The XMP 240 Dante Expansion DSP Matrix Processor features an extensive mix matrix with 24 channels of AEC and 48x48 Dante connectivity in only a half rack space. The XMP 240 can also be used standalone for matrix processing in an all network audio system. When connected to a DMP Plus Series processor via Dante or the EXP expansion port, a complete system is created that features up to 36 channels of AEC, a USB audio interface, analog connectivity, and optional VoIP. A system expanded with an XMP 240 is capable of supporting multiple beam forming microphone arrays alongside numerous other Dante sources, with enough outputs to support multiple zones and destination devices. Ideal for network audio systems based on Dante or AES67, the XMP 240 allows for high channel count audio input and output processing.
Designed for Large Network Audio Systems
With connectivity for up to 48 sources and 48 destinations via Dante or AES67, the XMP 240 is ideal for applications that utilize many network audio devices. Dante Domain Manager support provides user authentication, role-based security, and seamless expansion of Dante systems over any network infrastructure.
FlexInputs
All inputs of the XMP 240 offer FlexInput source selection to route any network audio input or expansion input to a specific DSP channel. This enables the XMP 240 to process audio from any source with the full range of DSP capabilities, including AEC.
Acoustic Echo Cancellation
The XMP 240 includes Extron AEC for conferencing applications. AEC is essential for effective remote room-to-room conversations, ensuring clear, natural communication for all participants. These models include 24 independent channels of high performance AEC, as well as selectable noise cancellation. AEC processing can be challenged by conditions such as double-talk, when talkers from both ends are speaking simultaneously, and when near end talkers use wireless microphones. Extron AEC features advanced algorithms that deliver fast echo canceler convergence for optimal intelligibility, even in challenging conditions.
The DSP Configurator Software simplifies AEC and noise cancellation setup with a user-friendly interface that provides real-time metering for ERL - Echo Return Loss, ERLE - Echo Return Loss Enhancement, and TER - Total Echo Reduction levels. Guided alerts appear whenever ERL is outside of the optimal range for echo cancellation and DSP templates serve as starting points with routing optimized for AEC workflows. Optional settings include fine adjustments for NLP - Non-Linear Processing to maximize AEC performance in acoustic environments with significant sonic reflections or reverberation.
Automixer
The XMP 240 features a 48 channel automixer with gated and gain sharing modes that can manage up to eight groups of microphone signals. Gating threshold, signal level reduction, and timing parameters are user-adjustable per channel. This allows for fine‑tuning to avoid the "chopped" sound characteristic of a traditional automixer when a mic is gated off. As the number of active microphones is doubled, system gain is automatically reduced, uniformly attenuating microphone signal levels to minimize audible changes in the overall sound and the possibility of feedback. For a natural sounding mic mix, the automixer also offers a gain sharing mode which allows all mics to remain on, while the gain for each mic is adjusted in real time to ensure a constant system gain.
Powerful Routing Across Two ProDSP Processors
The DMP EXP expansion port allows two Extron ProDSP units to be linked together via a single shielded CAT 6 cable. This creates a 16 channel bi-directional 24-bit/48 kHz high-resolution digital audio expansion bus between the two units, allowing expanded input and output signal management and routing capabilities. This expanded 16x16 I/O channel transport between devices allows designers to create audio mixes with advanced I/O and signal management scenarios combining the capabilities of two processors. The expansion port is also available on Extron DTP CrossPoint® matrix switchers. This allows a 16x16 I/O channel transport between the matrix switcher and an XMP 240 to expand the number of available audio inputs for a DTP System, and to offer additional capabilities such as automixing, AEC - Acoustic Echo Cancellation.
ProDSP
Extron's exclusive ProDSP is engineered from the ground up using a powerful 64‑bit floating point DSP engine to provide very wide dynamic range and reduce the potential for clipping. ProDSP also utilizes studio grade 24‑bit audio converters with 48 kHz sampling to maintain audio signal transparency. ProDSP is loaded with powerful, easy‑to‑configure tools to control level, adaptive gain, automixing, dynamics, filters, delay, ducking, loudness, feedback suppression, and AEC.
Easy-to-Use DSP Configurator Software
The power of ProDSP is easily harnessed with the DSP Configurator Software. The flexible on‑screen layout offers fast access to all of the digital audio signal processing tools. Designers can quickly get a snapshot view of the entire audio system, including processing blocks and routing assignments, all at once.
Front to Back Ventilation

Allows side by side, above, or below rack mounting of other devices

24 Full DSP Channels

Including AEC, filters, dynamics, automixing, delay, and ducking

Compact Half Rack Size

Requires less rack space or easily fits under a table

FlexInput Capability

Route Dante or expansion bus inputs to any channel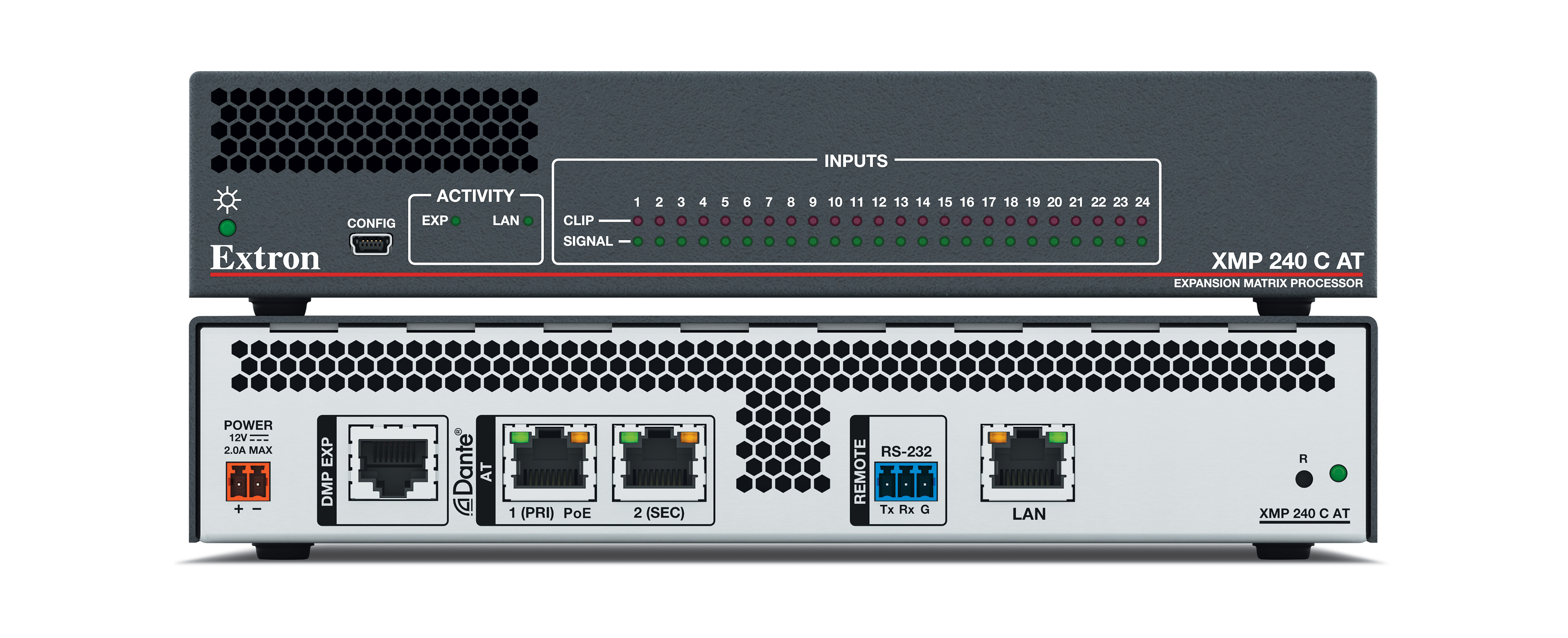 Expansion Port

16x16 connection to a DMP Series processor or DTP CrossPoint

Dante with PoE

A single cable can provide power and 48x48 connectivity

RS-232 & LAN Remote

Easily control and monitor the XMP 240 via serial or IP

Low Latency

Powerful DSP maximizes performance regardless of active channels
Application Diagram
In this multi-purpose room, audio routing and processing are handled by a system comprised of a DMP 128 FlexPlus C V AT and an XMP 240, while AV matrix switching is performed by a DTP CrossPoint. 32 microphone channels from an eight‑channel ceiling mic array and 24 desktop mics are connected to the system via Dante, where they receive all processing necessary for conferencing, including AEC on all 32 channels. The entire system is network controlled from an Extron TLP Pro 1025T Touchpanel. High performance mix minus audio playback is provided by the four‑channel, half rack XPA U 1004-70V power amplifier directly feeding SF 26CT two-way ceiling speakers.