Extron Introduces WallVault Systems for Wall-Mounted Short-Throw Projectors
Public relations contact:
Joe da Silva, Vice President of Marketing
Extron
E-mail: pr@extron.com
Anaheim, California (January 27, 2010)
- Extron is pleased to introduce WallVault Systems, a family of complete, centralized AV switching and control systems designed for use with wall mounted short-throw projectors and flat panel displays. These easy-to-use, easy-to-install, economical classroom AV systems use twisted pair technology for transmitting signals and include network connectivity for Web-based asset management, monitoring, and control. WallVault Systems take their name from the unique WMK 100 Wall Mount Kit that securely mounts and conceals system components on the wall.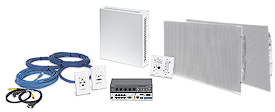 "Following on the success of Extron PoleVault Systems, we recognized the need for a system that supported wall-mounted short-throw projectors and flat panel displays that are becoming more popular in classrooms," says Casey Hall, Extron Vice President of Sales and Marketing for North America. "WallVault Systems accomplish this by providing a complete AV switching, amplification, and control solution that securely mounts and conceals key components."
WallVault Systems include all the necessary audio and video switching, audio amplification, system control, source connectivity, speakers, mounting hardware, and cabling needed for a complete classroom AV system. All that remains is to add a video projector, screen or flat panel display, and sources.