Extron NAV Pro AV over IP Powers Audiovisual Amenities in WSSU Anderson Center Meeting Spaces
Public relations contact:
Joe da Silva, Vice President of Marketing
Extron
E-mail: pr@extron.com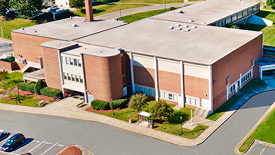 Anaheim, California (May 16, 2023) - Winston-Salem State University's Anderson Center houses several academic departments and is also a busy conference venue. It boasts meeting rooms, a banquet hall, and a 400-seat auditorium.The conference venues are booked by the campus community, government agencies, corporations, non-profit organizations, and business associations. The Center's McNeil Banquet Hall recently completed a major remodel that included a cutting-edge audiovisual system. NAV® Pro AV over IP forms the backbone of the AV signal path. To simplify cable pulls through existing construction, AV over IP signal distribution over CATx Ethernet cable was the logical choice. WSSU's Technology Support Analyst Chris Screen worked with Winston-Salem based pro AV integrator Recursav, LLC to design and install AV systems in the banquet hall. Recursav selected a range of Extron switching, distribution, control, and audio products to meet system design requirements.
"Recursav based its design decision to use NAV Pro at the Anderson Center on NAV's track record of solid performance and reliability at several other installations that we've performed over the last two years at other universities in the area," says Adam Gordon, CTS, Sales Engineer at Recursav. WSSU's Chris Screen is completely satisfied with the finished project, saying, "To get the kind of AV distribution capability that NAV Pro provides with just one cable pull? I'm so impressed with that."
Five projectors show images on the banquet hall walls, providing flexibility to make any wall the focal point of the room. Flat panel displays in the lobby show informational messages and views from inside the banquet hall. NAV decoders provide the projectors and lobby displays with HDMI signals. An SMP 352 streaming media processor records and streams events from both the banquet hall and the auditorium. NetPA amplifiers, fed from the Dante audio network, drive SoundField ceiling speakers to provide clear sound for attendees in the banquet hall and the lobbies. Wall mounted TouchLink Pro touchpanels next to each projection screen work with an IPCP pro control processor to provide intuitive control of all AV system functions.
To read the WSSU Anderson Center case study, click here.