Extron Announces New WindoWall® Product Commissioning Services
Public relations contact:
Joe da Silva, Vice President of Marketing
Extron
E-mail: pr@extron.com
Anaheim, California (September 23, 2008) - Extron Electronics announces WindoWall Product Commissioning Services, a new proactive program designed to ensure optimum performance in AV presentation systems utilizing Extron's WindoWall System, a highly scalable, multi-window videowall processor system. The service includes pre-installation design review as well as one to two days on-site for system optimization and customer training. Extron WindoWall Product Commissioning Services are designed to help integrators and their customers ensure that a WindoWall System meets their specifications for performance, prior to the system going into full operation.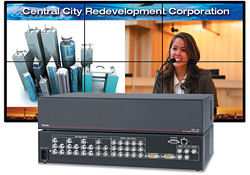 Click here to download high resolution image
"Videowalls are among the most complex of the AV presentation systems in use today, and must run reliably and continuously under demanding conditions," says Lee Dodson, Vice President of Marketing for Extron. "We developed our new WindoWall Product Commissioning Services to help ensure that an Extron WindoWall System is ready for operation after installation and is fully optimized to the customer's satisfaction."
WindoWall Product Commissioning Services includes pre-installation design review services with Extron Engineers who are available to assist integrators throughout the WindoWall design process. Once on-site, an Extron Engineer will optimize the WindoWall System and calibrate all WindoWall processors to deliver the best performance possible. Window layouts, source parameters, and presets are set according to the customer's requirements. On-site training is also provided on the WindoWall Console application software, its user interface, system adjustment and window parameters, and use of the Virtual Canvas to create custom window layouts and presets.