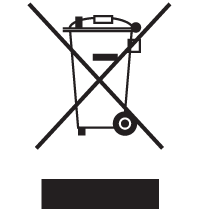 WEEE - Waste Electrical and Electronic Equipment - is a set of European regulations designed to prevent the disposal of electronic waste and encourage the recovery and recycling of electronic equipment at end of life. The "WEEE Directive," officially known as Directive 2002/96/EC, is also designed to improve the environmental performance of manufacturers and imposes responsibilities for the disposal of waste electrical and electronic equipment on the manufacturer. WEEE and the RoHS Directive, Directive 2002/95/EC, are related in that WEEE limits E-waste and its harmful compounds from entering landfills while RoHS limits those compounds at the point of manufacture.
Extron is in full compliance with all WEEE regulations and our European headquarters has a formal recycling program in place to responsibly process Extron products sent in by customers.
WEEE Directive (PDF) (287 KB)
Visit the WEEE Web site here.