Extron Adds DVI to Its Professional AV Test Generator
Public relations contact:
Joe da Silva, Vice President of Marketing
Extron
E-mail: pr@extron.com
Anaheim, California (January 28, 2009) - Extron Electronics is pleased to introduce the VTG 400DVI, an advanced programmable and upgradeable Video and Audio Test Generator for setting up, testing, calibrating, and troubleshooting today's complex digital video and audio systems. It delivers accurate, full bandwidth video signal reproduction and high performance audio test signals. The VTG 400DVI offers DVI output for use with most digital display devices. When new EDID data is received from a DVI device, its native resolution is displayed on the LCD. The VTG 400DVI also provides high resolution RGB computer-video, HDTV component video, and NTSC and PAL video output. An innovative, patented feature of the VTG 400DVI is Scope-Trigger™, which expedites analysis of a specific area within the video image when used with an oscilloscope.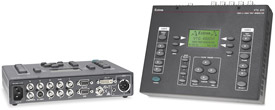 Click here to download high resolution image
"The VTG 400DVI was developed to be a professional-quality reference tool for DVI devices and systems," says Lee Dodson, Vice President of Marketing for Extron Electronics. "The VTG 400DVI features powerful capabilities that enable proof of performance for commissioning and testing AV systems."
The VTG 400DVI offers 34 video test patterns, several with adjustable levels, and seven audio test reference signals with selectable frequencies and output levels. A total of 113 output rates are pre-programmed for high resolution computer-video, HDTV, 16:9, plasma, and RGB, as well as standard definition component video, S-video, and composite video. An intuitive control panel allows for quick and easy access to video or audio test signals and settings. The VTG 400DVI can be programmed and upgraded with custom scan rates through the RS-232 port using the included Extron control software. Versatile and lightweight, the VTG 400DVI is appropriate for field and bench testing, or permanent installation in integrated AV systems.