Extron Introduces VoiceLift Pro Microphone System for High Performance Classroom Voice Amplification
Public relations contact:
Joe da Silva, Vice President of Marketing
Extron
E-mail: pr@extron.com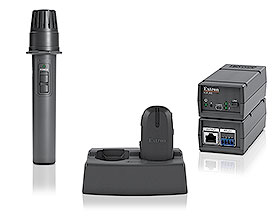 Anaheim, California (February 6, 2017) - Extron Electronics is pleased to introduce the new VoiceLift Pro Microphone System. VoiceLift Pro is designed to evenly distribute the teacher's voice throughout the classroom, which has been proven to increase student achievement. VoiceLift Pro wireless technology utilizes digital transmission and pairing in a dedicated spectrum to provide superior performance over traditional systems. Benefits include higher sound quality, increased reliability, and greater transmission distance, with reduced interference. VoiceLift Pro uses radio frequency technology operating in a spectrum reserved exclusively for voice communications. Its wireless transmission is not susceptible to environmental factors, such as windows, sunlight, and fluorescent lighting, that create problems for infrared systems. It also does not suffer from the licensing restrictions and proximity issues of traditional RF microphones.
"The VoiceLift Pro Microphone System offers a whole new level of audio quality and performance with benefits for both teachers and students," say Anthony Cortes, Director of Sales and Marketing, K-12 Classroom Systems. "Our advanced wireless technology overcomes many of the reliability, coverage, and interference issues associated with previous systems."
Extron is the only manufacturer offering two upgrade paths to completely integrated AV switching, control, and voice amplification for the classroom — with no duplication or replacement of equipment. So, your technology investments provide not only the critical benefits needed today, but also a foundation for enhancing the system by simply adding selected components. Extron VoiceLift, PoleVault, PlenumVault, and WallVault Digital Systems allow you to make full use of your current equipment while also enabling you to take advantage of future innovations in classroom AV technology.