Extron Launches New Online Configurator for VoiceLift® Microphone Systems
Public relations contact:
Joe da Silva, Vice President of Marketing
Extron
E-mail: pr@extron.com
Anaheim, California (May 6, 2009)
- Extron Electronics is pleased to introduce the
VoiceLift® Microphone Systems Configurator
, an online, drag-and-drop configuration utility that allows users to design VoiceLift Microphone Systems. The dynamic, graphical user interface makes system customization easy. After launching the VoiceLift Microphone Systems Configurator, users will start with the standard single pendant microphone, two speaker package and then customize that system to meet their specific requirements. For example, users can specify an additional pendant microphone and desktop charging station or additional speakers.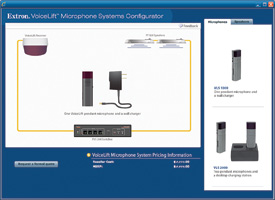 "The VoiceLift Microphone Systems Configurator reflects our ongoing efforts to develop tools that make it easy for Extron Resellers, Consultants and Educational Professionals to create complete systems that meet their needs," says Lee Dodson, Vice President of Marketing for Extron Electronics. "This new online tool simplifies the proposal and ordering process by including all items in a single part number."
Extron VoiceLift is a voice amplification system specifically developed for K-12 classrooms. The VoiceLift System contains all the components necessary to evenly distribute the teacher's voice throughout the classroom, including wireless pendant microphone, IR receiver, switcher/amplifier, speakers, and cables. At the heart of the system is the award-winning Extron PoleVault System switcher/amplifier that allows the system to be upgraded to an easy-to-use video switching and control system. Simply add a projector, sources, input wall plates, and a controller to create a completely integrated system for AV switching, control, and voice amplification.