Extron Introduces the VoiceLift® Microphone for Classroom Sound Field Voice Amplification
Public relations contact:
Joe da Silva, Vice President of Marketing
Extron
E-mail: pr@extron.com
Anaheim, California (June 27, 2008)
- Extron Electronics is pleased to introduce the new VoiceLift® Microphone, an infrared wireless microphone system that integrates seamlessly into new or existing PoleVault® installations, as well as complete VoiceLift solutions. The VoiceLift Microphone enables the creation of a sound field that allows a teacher's voice to be heard clearly throughout the classroom. Studies show that use of a sound field system results in increased student achievement and a reduction in teacher health issues related to voice fatigue. The VoiceLift series of products includes a wireless pendant microphone, receiver, and charging station. The lightweight pendant microphone can be worn around the neck or clipped onto clothing.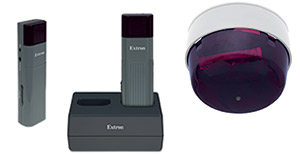 Click here to download high resolution image
"Many credible studies have shown that students benefit from lifting the teacher's voice level in the classroom with increased student attention, improved speech recognition, lower distractions, and increased on-task behavior," says Lee Dodson, Vice President of Marketing for Extron Electronics. "Our new VoiceLift wireless microphone is easy to use and helps teachers with increased mobility and reduced vocal strain."
The microphone uses infrared signals for transmitting the teacher's voice to the receiver. Infrared signals do not pass through walls and are not subject to interference, offering clear advantages over systems that use radio frequency technology. Up to two microphones can be supported per classroom. Each microphone is powered by an included rechargeable 2500 mAH NiMH AA battery. The desktop charging station charges two microphones and protects them when not in use. The pendant microphone features easily accessible controls for volume and power/mute. An auxiliary input is also included for use with an MP3 player or other audio source, along with an auxiliary microphone input for use with an optional boom or lapel mic. The VoiceLift Microphone is designed and manufactured by Extron Electronics and includes a 3-year parts and labor warranty.