Expansive Range of New VoiceLift Pro Microphone Systems Meet Today's Teaching Needs
Public relations contact:
Joe da Silva, Vice President of Marketing
Extron
E-mail: pr@extron.com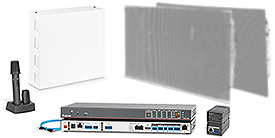 Anaheim, California (November 8, 2023) - Extron is pleased to announce the expansion of its line of VoiceLift Pro wireless microphone system packages offered to educators to meet the needs of today's teaching styles and instructional spaces. These complete audio reinforcement packages are simple to purchase and integrate, and intuitive for anyone to use. Capabilities are enhanced with sophisticated mixing and digital signal processing of audio sources to fit the needs of various teaching methods like HyFlex, allowing students to clearly hear the instructor's voice – in-person or remote. A broader choice of standard system configurations with mix-and-match combinations of pendant and handheld microphones enables users to create a system that suits their requirements for collaborative teaching and student participation. Flexible mounting options are available to support installation on a wall, above a suspended ceiling, and behind flat panel displays.
"The design innovations we've added to our popular VoiceLift Pro microphone system represent the next generation of classroom voice amplification technology that keeps pace with evolving user needs," says Casey Hall, Chief Marketing officer at Extron. "These new VoiceLift Pro packages also complement our latest PlenumVault Direct View classroom AV system with options to add control interfaces, video connectivity, and direct integration with GlobalViewer Campus Communication Suite."
VoiceLift Pro improves speech clarity, reduces vocal strain, and promotes an accessible and inclusive learning environment ensuring everyone can clearly hear what is being said. Each system contains all the components necessary to evenly distribute the teacher's voice throughout the classroom: microphones with charging station, receiver, PVCA 452 controller amplifier, Flat Field speakers, mounting hardware, and cables. Comprehensive communication features include on-mic volume control, the ability to trigger lecture capture, and priority page sensing to mute audio for PA announcements. The VoiceLift Pro System's Instant Alert feature enables teachers to discreetly request assistance with the press of a button.
For more information on the VoiceLift Pro Microphone System, click here.