Extron to Showcase Industry-Leading Technologies for Streaming AV Over IP
Public relations contact:
Joe da Silva, Vice President of Marketing
Extron
E-mail: pr@extron.com
Anaheim, California (June 11, 2010) - Extron Electronics, the industry leader in interfacing, switching, and control solutions, will demonstrate new products and technologies for streaming AV over IP at InfoComm 2010 in Las Vegas. Visitors to the Extron booth will see working demonstrations of Extron's VN-Matrix™ encoders, decoders, and recorders for high performance streaming of audio, video, and computer graphics over IP.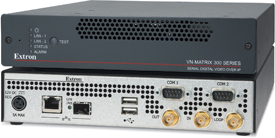 "The migration of AV solutions to real-time IP streaming represents the next great innovation for our industry," says Casey Hall, Vice President of Sales and Marketing for Extron. "We are committed to the development of new products and technologies, along with comprehensive training and support programs, to enable our resellers to successfully integrate streaming solutions."
VN-Matrix encoders utilize the Extron exclusive PURE3™ codec to compress and stream computer graphics and video instantly across standard IP networks for live viewing and collaboration. The PURE3 codec produces excellent, visually lossless image quality at highly efficient bit rates and low latency. It also provides extremely reliable delivery and exceptionally robust protection against network errors with advanced error concealment. The PURE3 codec exceeds many of the performance characteristics of existing standards-based compression formats, making it ideal for time-sensitive, quality-critical applications. In addition to VN-Matrix Systems, Extron will present a preview of their upcoming technology for streaming high resolution video and audio using H.264 video compression technology.
Extron VN-Matrix Systems enable applications of any size, from simple point-to-point systems to those that require virtual switching of hundreds of inputs and outputs. VN-Matrix Systems are also highly scalable, allowing distribution of signals across town or around the world. They support existing cabling and network infrastructure and are ideally suited for governmental, corporate, medical, industrial, and entertainment applications.
Attendees of the InfoComm 2010 show are invited to sit in on an informative presentation on the basics of AV streaming technologies and applications, which will be offered daily in the Extron booth. Extron will distribute a wide range of educational materials at the show, including a new AV Streaming Design Guide. Extron is also launching a new one-day AV Streaming System Design School.