Extron VoiceLift® Microphone Wins District Administration Magazine Readers' Choice Award
Public relations contact:
Joe da Silva, Vice President of Marketing
Extron
E-mail: pr@extron.com
Anaheim, California (February 19, 2009)
- Extron Electronics is pleased to announce that District Administration Magazine has awarded the Extron VoiceLift Microphone, an infrared wireless microphone system, with a 2008 Readers' Choice Top Education Products Award. This annual award recognizes the top education products of the year. Winners are selected by readers of the magazine who vote for the products they think are solid resources for furthering district initiatives.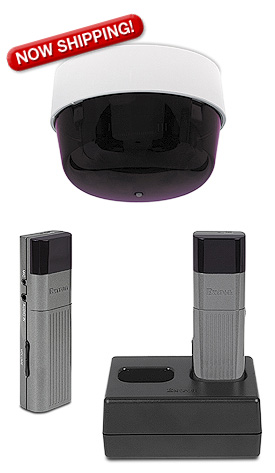 The VoiceLift Microphone is an infrared wireless microphone system that integrates seamlessly into new or existing PoleVault® installations. This system creates what is called a sound field that enables a teacher's voice to be heard clearly throughout the classroom. Studies show that use of a sound field system results in increased student achievement and a reduction in teacher health issues related to voice fatigue.
The VoiceLift series of products includes a wireless pendant microphone, a ceiling or wall mounted receiver, and a desktop charging station. The lightweight pendant microphone can be worn around the neck or clipped onto clothing and operates for an entire school day on one AA battery. Up to two VoiceLift microphones can be used in the same classroom simultaneously for student participation or team teaching.
The desktop charging station charges two microphones and protects them when not in use. The pendant microphone features easily accessible controls for volume and power/mute. In addition, the Instant Alert email notification capability enables the teacher to request assistance with the push of a button. An auxiliary input is also included for use with an MP3 player or other audio source, along with an auxiliary microphone input for use with an optional boom or lapel mic. The VoiceLift Microphone is designed and manufactured by Extron Electronics and includes a 3 year parts and labor warranty.