Extron High Performance AV Switching Systems Enable Practical & Emergency Medical Training at VinUniversity
Public relations contact:
Joe da Silva, Vice President of Marketing
Extron
E-mail: pr@extron.com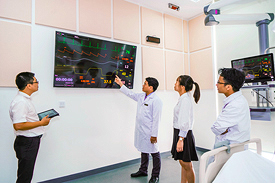 Anaheim, California (August 10, 2022) - VinUniversity in the Gia Lam district of Hanoi, Vietnam, offers education, skills development, and career placement for its students. The Medical training programs at this new, non-profit university include lecture, team-based learning, and hands-on experience through simulation. Simulation spaces in the two buildings are based on a modern hospital and home-health service, covering diagnostics, procedures, lab work, and crisis intervention. Integration firm Hoang Minh Investment Technology Joint-stock Company – HMICO worked in conjunction with the university planners to design and build AV systems using products from Extron.
"The Extron DXP HD 4K Plus matrix switchers and audio products support VinUniversity's modern training methods," says Nguyen Truong Giang, Vice Director at Hoang Minh Investment Technology JSC. "They are vital in helping the students learn to be proactive in mastering medical procedures and emergency and crisis response as a team."
DXP HD 4K PLUS Series matrix switchers are used in the lecture and simulation rooms. Supporting 4K/60 HDMI with 4:4:4 color sampling at data rates up to 18 Gbps and HDR, they met the high-resolution video requirements for medical imaging and the switching speed for emergency services. DTP transmitters extend signals from sources within the room. The matrix switchers are linked to the adult and child interactive medical manikins that provide a vast array of capabilities and integrated or programmable health responses. Content is transmitted to the room's displays, and audio signals are sent to the sound system.
The DXP matrix switcher de-embeds audio and sends the signal to an Extron DMP 128 Plus AT 12x8 ProDSP audio processor for mixing program audio, live microphones, and feeds from the manikins. The sound systems are driven by the XPA U 358-100V which provides eight 35-watt channels of 100 V distributed audio or an MPA 601 60-watt amplifier. They drive pairs of Extron CS 26T Plus two-way open back ceiling speakers with a 100 V transformer, ensuring accurate and optimal sound throughout each room and space.
The instructor uses a tablet to select and activate the manikin's responses based on the applied treatments. The support staff monitors the lectures and various simulation scenarios from the control room. They can also remotely operate an AV system or a connected manikin on request. VinUniversity's medical teaching buildings with Extron AV systems have proven to be instrumental in preparing the future medical practitioners to serve the citizens of Vietnam.
To read the full VinUniversity Medical Training case study, click here.