Extron AV at Viettel Headquarters Enables Productive Meetings and Collaboration
Public relations contact:
Joe da Silva, Vice President of Marketing
Extron
E-mail: pr@extron.com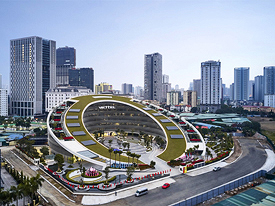 Anaheim, California (October 19, 2021) - Viettel Group is the largest telecommunications service provider in Southeast Asia, with 110 million subscribers and 50,000 employees. In 2020, one-thousand employees moved into Viettel's futuristic new Hanoi headquarters. Cutting edge building management systems earned the building LEED-Silver certification. Sophisticated audiovisual systems in its many meeting and event spaces promote effective communication and collaboration. Hong Ky Technology and Investment Development Company Limited handled AV design and installation. They chose Extron for all AV switching, distribution, and control equipment. Over 150 Extron AV products went into equipping the collaboration and meeting venues with state-of-the-art multimedia capability.
According to Le Ngoc Thang, Hong Ky Technology's technical lead for the Viettel project, "Extron's product line provides system designers with the flexibility to select the optimal solution for each application, a major advantage that made Extron a key vendor for this diverse and complex AV project. The AV-enabled facilities are in constant use and feedback from Viettel staff is that audio and video quality is quite good and stable."
There are meeting and training rooms that seat from 20 to 65 people. All feature multiple projectors, flat panel displays, wired and wireless content sharing, PTZ cameras, and wireless microphones. AV switching and audio processing are handled by DTP CrossPoint 108 4K Scaling Presentation Matrix Switchers and DMP 128 Plus Digital Matrix Processors. Attendees share content from BYOD devices via ShareLink Pro Wireless Presentation Gateways. A 600-seat auditorium treats audiences to Hollywood-caliber multimedia productions. For the auditorium, XTP II CrossPoint 3200 Matrix Switchers select program sources and a DMP 128 Plus tailors audio to room acoustics. An SMP 352 Streaming Media Processor stores and streams AV program content. All venues share a common AV control architecture built around IPCP Pro 360 IP Link Control Processors and TLP Pro 1025T TouchLink Pro Touchpanels, which simplifies configuration, maintenance, and operation.
To read the full Viettel case study, click here.