Extron Integration-Friendly USB Switchers Now Shipping
Public relations contact:
Joe da Silva, Vice President of Marketing
Extron
E-mail: pr@extron.com
Anaheim, California (January 6, 2009)
- Extron Electronics is pleased to announce the immediate availability of three new USB switchers designed for AV system integration. The SW2 USB, SW4 USB, and SW4 USB Plus offer two or four host inputs and provide flexible and dependable switching among the shared USB peripherals. The SW4 USB Plus features an emulation mode that ensures uninterrupted communication between host and peripheral devices for consistent performance. All three models are USB 2.0-compatible and incorporate several key features to ensure ease of integration, configuration flexibility, and control, including port status indication and RS-232 pass-through. The SW USB Series is ideal for use in KVM, interactive whiteboard, and annotator-based applications where reliable USB switching is required.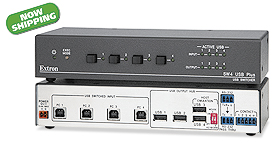 Click here to download high resolution image
"There are many USB switchers on the market today, but integrators called on Extron to design one that will work consistently and reliably in AV presentation environments," says Lee Dodson, Vice President of Marketing for Extron. "We designed the SW USB switchers to eliminate compatibility issues normally associated with USB switching and provide the peace of mind provided by reliable, day in and day out operation that AV system designers appreciate in Extron products."
SW USB series switchers act as active four port USB hubs, supplying 500mA to attached devices. Additionally, RS-232 pass-through allows control of the SW USB and attached Extron audio and video switchers with a single command, providing streamlined operations. The SW USB Series incorporates rack mountable, 1U, half rack width enclosures for simplified integration. All models include an external, universal power supply for worldwide power compatibility.