Extron Expands USB Extender Plus Series with New Architectural Models
Public relations contact:
Joe da Silva, Vice President of Marketing
Extron
E-mail: pr@extron.com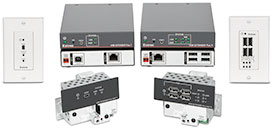 Anaheim, California (March 3, 2015) - Extron Electronics is pleased to introduce new models to the USB Extender Plus Series, a family of products that extend signals from USB peripheral devices located up to 330 feet (100 meters) away from the host computer using a single CATx cable. The USB Extender Plus AAP fits into a double‑space Architectural Adapter Plate - AAP opening, providing convenient and elegant architectural USB connectivity. The USB Extender Plus D is a Decorator-style wallplate that fits into a single‑gang wall box. Each extender supports USB 3.0, 2.0, 1.1, and 1.0 devices with data rates up to 480 Mbps. Direct connection of USB peripherals to a remote host eliminates the need for additional IP network drops, equipment, software, or drivers. For streamlined integration, the transmitter includes USB peripheral emulation that supports trouble‑free booting of the host. Also, the receiver features an integrated four‑port hub with 5 Volts, 500 mA available on each port to power attached devices. The USB Extender Plus Series form factors can be mixed and matched for optimum installation flexibility, ensuring simplified device integration in a wide variety of environments.
"Integrators and system designers are often challenged with maintaining the aesthetics of a space when mounting USB extenders on walls, in lecterns, or under conference tables and desks," says Casey Hall, Vice President of Sales and Marketing for Extron. "The new architectural models in the USB Extender Plus Series provide the performance needed for a wide range of USB devices in form factors that seamlessly blend with the environment."
The USB Extender Plus Series streamlines integration by avoiding IT‑specific design criteria that may be in conflict with the need to extend KVM in professional AV installations. For increased system reliability, peripheral emulation mimics continuous connection of device to host. Real‑time status LED indicators provide visual confirmation of port activity between an active host and each connected peripheral device.
To watch a product introduction video, please visit: www.extron.com/usbextenderplusvideo
For more information, please visit: www.extron.com/usbextenderplusseriespr