Find the best solutions for your facility
USB-C for Pro AV
Initially just an interface for data and peripheral devices, USB technologies have rapidly evolved to support audio, video, data, and fast charging. The latest evolution in USB connectors is USB Type-C®, also known as USB-C, which streamlines AV system connections while providing increased speed, functionality, and convenience. USB-C connectors can now be found on many devices, including mobile phones, tablets, and laptops. In some cases, USB-C is the only connection available. Extron offers a growing number of USB-C cables and interfaces in addition to featuring USB-C connectivity on its products.
One Connector, Multiple Possibilities
The USB-C connector provides significant advantages for professional AV environments. Support for alternate data protocols, blazingly fast data transfer rates, and increased power transfer and charging capabilities - all on a single, small connector - are some of the features that make USB-C a one-stop shop for your AV connectivity needs.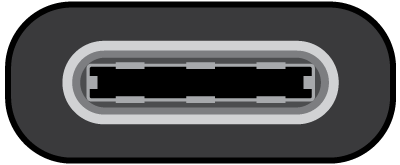 The USB-C connector was designed to incorporate a small form factor while improving the user experience. In addition to supporting 240 watts of power and a connector rated for 10,000 insertions, the connector offers the convenience of a reversible orientation that enables users to plug their devices in correctly every time.

Alternate Modes for Alternate Signal Support
USB-C supports Alternate Mode, which allows for transmission of alternate data protocols such as DisplayPort, HDMI, MHL, VirtualLink, and Thunderbolt 3. The four SuperSpeed lanes available with USB-C, in addition to other specified pins, can be used in part or in full for Alternate Mode data. For example, two SuperSpeed lanes can be used for DisplayPort data while the other two SuperSpeed lanes are being used for USB 3.x data. Or, if higher video bandwidth is required, all four SuperSpeed lanes can be used for DisplayPort data, with USB 2.0 pins used for data transfer. This flexibility to carry non-USB data greatly expands the capabilities of the USB-C cable, reduces cable clutter, and simplifies system connectivity.
The tables below provide the maximum video data rate that can be accommodated across a varying number of SuperSpeed lanes for multiple versions of DisplayPort/HBR (High Bit Rate). While USB 3.2 can support DisplayPort resolutions up to 8K/30 on a USB-C connector, actual performance can vary based on the capabilities of the source and display, as well as cable architecture. It is important to confirm the distribution system's maximum bandwidth is sufficient to support the maximum video resolution that you want it to pass. It is also important to note that some Active Optical Cables (AOC) can only support a specific number of DisplayPort lanes and are not configurable between the host and peripheral device like traditional copper-only USB-C cables.
Two SuperSpeed Lanes for DisplayPort Video and Audio Signals
| DisplayPort Transmission Mode | Data Per Lane | Total Data | Max. Video Resolution |
| --- | --- | --- | --- |
| HBR (DP 1.1) | 2.7 Gbps | 5.4 Gbps | 1080p/60 |
| HBR2 (DP 1.2) | 5.4 Gbps | 10.8 Gbps | 4K/30 |
| HBR3 (DP 1.3/1.4) | 8.1 Gbps | 16.2 Gbps | 4K/30 |
Four SuperSpeed Lanes for DisplayPort Video and Audio Signals
| DisplayPort Transmission Mode | Data Per Lane | Total Data | Max. Video Resolution |
| --- | --- | --- | --- |
| HBR (DP 1.1) | 2.7 Gbps | 10.8 Gbps | 4K/30 |
| HBR2 (DP 1.2) | 5.4 Gbps | 21.6 Gbps | 4K/60 |
| HBR3 (DP 1.3/1.4) | 8.1 Gbps | 32.4 Gbps | 8K/30 |
Accelerated Data Transfer
The USB-C connector supports the USB 3.2 specification, which provides USB data transfer speeds up to 500 times faster than the USB 2.0 standard of 480 Gbps. The supported data rate can vary by product, offering speeds of 5 Gbps, 10 Gbps, or 20 Gbps for USB 3.2, or 40 Gbps with USB4. The increased bandwidth allows USB to deliver video, audio, and data over a single cable.
Higher Power for Larger Devices
USB-C supports power delivery of up to 240 watts to charge or operate most devices, including tablets, desktops, and workstations. Power delivery can flow in either direction, based on application. For example, a laptop can be powered over a USB-C cable connected to a display or it can deliver power over a USB-C cable connected to an external hard drive.


As stated in USB Power Delivery specification Version 3.1, USB Standard Power Range - SPR provides a maximum power delivery of 100 watts plus data. This revision added support for 100 ‑ 240 W with extended power range - EPR. Power delivery can extend beyond 100 watts when using sources, cables, and sinks that adhere to EPR specifications.
Previous to this, USB Power Delivery Version 1.0 implemented Power Profiles that allowed a power source to communicate with a device to ensure the proper voltage and current is provided. Version 2.0 incorporated support for the USB‑C connector, and implemented Power Rules to ensure higher voltage, high-power devices can also support devices with lower power requirements. The table below provides a breakdown of the latest 3.1 Power Rules, based on a power source's maximum output.
| Max power output | Supported voltage | Max Current |
| --- | --- | --- |
| 15W | 5V | 3A |
| 27W | 5V, 9V | 3A |
| 45W | 5V, 9V, 15V | 3A |
| 100W | 5V, 9V, 15V, 20V | 5A |
| 240W | 28V, 36V, 48V | 5A |
Thunderbolt 3
Thunderbolt™3 is a hardware interface that delivers PCIe data, DisplayPort 1.2 video and audio, and DC power on a USB-C connection. Up to two 4K displays can be supported simultaneously. Older versions of Thunderbolt use a mini DisplayPort connector. It supports data transfer at up to 40 Gbps and power delivery up to 130 W. Thunderbolt 3 is a superset of USB 3.x, incorporating the USB Type-C port. It is fully compatible with USB devices and cables that allows USB 3.x devices to operate at SuperSpeed USB data rates and support USB Power Delivery with Thunderbolt 3.
Thunderbolt 3 connections can be found on devices such as external hard drives, displays and I/O hubs. Thunderbolt ports and cables are identified with the Thunderbolt logo.