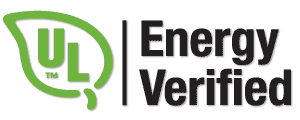 Extron is pleased to be the first US‑based manufacturer to receive Energy Efficiency Certification - EEC by UL Environment, a wholly owned subsidiary of the globally respected Underwriters Laboratories® Inc. The EEC program allows a manufacturer to substantiate its ENERGY STAR® claims using a trusted third-party organization. Extron designs and tests their products to the highest standards available for reliability and performance. Taking the extra step of having UL test these products for energy efficiency ensures that the designs stand up to the intense scrutiny of these industry regulatory leaders. After completing the testing of the XTRA Series Power Amplifiers and the PS Series of desktop power supplies, UL confirmed that Extron is the first US manufacturer to receive Energy Efficiency Certification.
Once UL Environment qualifies a product, it is listed on their Web site, www.ul.com/environment, and the EEC mark is placed on the product and its packaging. The EEC mark, consisting of the UL Environment leaf logo encapsulating the UL initials and including the words Energy Verified, signifies that a product has met a wide variety of stringent regulations. Products with the EEC mark can be cross-checked against the Web site listings to verify energy efficiency and performance in accordance with environmental and industry standards, including ENERGY STAR. This certification provides additional credibility to a product's energy efficiency claims.
Visit the UL Environment Web site for more information.
Extron Energy Verified Products