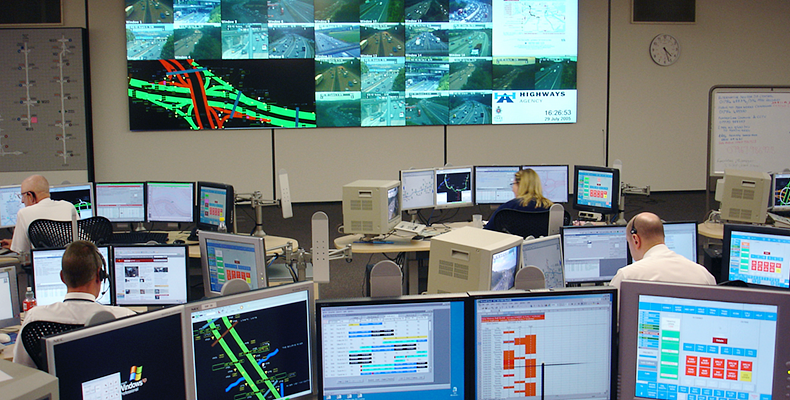 UK Highways Agency Monitors Road Traffic with Extron Scalable Videowall Processing
The Highways Agency in the United Kingdom is a heavy user of surveillance video as it monitors and manages traffic conditions throughout an extensive network of highways and major roadways. The UK is said to have the world's largest deployment of surveillance video with some 4.2 million cameras in place. Though primarily used for security purposes, police surveillance cameras are used extensively in traffic management as well. To help facilitate their operations, the Highways Agency contracted with Electrosonic Ltd. to install videowalls at five regional control centers throughout the country in Godstone, South Mimms, Nottingham, Wakefield, and Bristol. The videowalls are used to make numerous road-based camera feeds and other important information readily viewable by a large number of staff members.
The Extron Quantum ® Elite was selected as the processor to drive the videowalls, based on its ability to fulfill several important application and performance requirements as established by the Highways Agency.
The Quantum Elite has proven to be a highly reliable, easy-to-service system for the Highways Agency.

Colin Rowley, Project Manager - Electrosonic Ltd.
Videowall Processing Requirements
A videowall was needed for each of the regional control centers that could simultaneously display a large number of camera feeds, plus a number of specialized high resolution graphics sources, all in real-time and without sacrificing image quality. The Highways Agency also wanted the flexibility to expand the system to support more camera feeds or other sources over time. Since these centers operate 24/7, the videowalls are always in use and high reliability would be an absolute must. Each facility had its own unique videowall input and output requirements, so the videowall processing had to be easily configurable to the layout and resolution of the video cubes or future displays. Finally, the videowall processors were to be situated in equipment rooms isolated from the main operations centers, and needed to be controlled from a remote location with an easy-to-use interface.
Quantum Elite Provides Flexibility for Videowall Configuration and System Expansion
At each facility, a large number of regional, road-based CCTV camera feeds are supplied into the AV system. Up to 48 of them are selected for display on the videowall.
Quantum Elite 615 card frames were installed to drive videowalls at each of the five facilities. Each card frame includes 15 available card slots that can be populated with input or output cards. The video input card used for this application features high density connections that accept up to 12 video sources. Each output card drives two screens in the videowall and can display up to 128 source windows simultaneously.
The videowalls at the facilities were 10 or 12 screen configurations and therefore required 5 or 6 output cards per card frame. The frames were also populated with 4 or more of the high density video input cards to accept at least 48 video inputs. For each Quantum Elite unit, several slots were left unoccupied for future system expansion as requested by the Highways Agency.
In addition to video traffic camera feeds, PC graphics sources supplying data, maps, and specialized information relevant to traffic management operations were input to each system. These input signals were streamed over IP network connections to the Quantum Elite processors using QGE 100 DVI/RGB Computer Screen Capture IP Encoders. Two to four PCs served as data or graphics sources at each facility, supplying RGB or DVI-D signals to the Quantum Elite processors. Some QGE 100 units were used for guest laptops to connect into the system, which the Quantum Elite could automatically identify and present on the videowall.
Video Processing to Maintain Image Integrity
Viewing critical visual information on a videowall, such as highway camera feeds and maps, requires the ability to present the content for each of the numerous sources without compromising image detail. A video source displayed through a videowall should have the same picture quality as if it were being viewed on a single display. Any necessary scaling to reduce the source image size for the videowall must preserve essential details in the image. When computer inputs are used, text for data and graphics should always be legible.
Quantum Elite video processing speed and capability ensure clear, quality presentation of the many video and computer-video input sources, while providing rapid control response for the user when selecting presets or switching input sources.
Failsafe, 24/7 Operational Reliability
The 6U Quantum Elite processor frame includes a number of important design features that enable it to satisfy the Highways Agency's requirement for 24/7 failsafe operation. The fans and redundant power supplies can be hot-swapped without powering down the system. Quantum Elite operates using write-protected CompactFlash memory, which eliminates the risk of virus retention and is not susceptible to mechanical failure.
The operating system and shared resources are independent of the RAPT bus, input cards, and output cards, so in the unlikely event of a system crash, the Quantum Elite will continue to output content to the videowall. If ever necessary following a system crash or power failure, a system reboot restores the system to its last operating state in less than 90 seconds.
Simple User Operation, Customized for Each Regional System
The Highways Agency requested that control of the Quantum Elite be simple and wanted staff to be able to easily recall predetermined display arrangements. To accomplish this, window layouts for the videowalls were first created using the Quantum Elite control software and saved as presets. The Quantum Elite software was then used to create a simple GUI with easily clickable buttons for each preset. The PC running this software was networked into the Quantum Elite processing frame.
Colin Rowley, Project Manager at Electrosonic Ltd., commented, "We have programmed special display arrangements for presenting camera views mixed with road map visualizations, all customized around the unique road systems for each region. These display arrangements are simple and easy for Highways Agency staff to select with the click of a mouse."
A Videowall Processor Designed for Easy Servicing
Quantum Elite provides a reliable videowall processor for quickly and easily presenting many high quality video sources on a single display. It is designed so that integrators can intuitively set up and configure the processor, and also expedite any customer service needs after installation.
"The Quantum Elite has proven to be a highly reliable system for the Highways Agency," Rowley says. "Designing this product into installations simplifies our job of providing on-site service."