Extron Introduces TeamWork Show Me Cable Retraction Modules for HDMI, DisplayPort, and VGA
Public relations contact:
Joe da Silva, Vice President of Marketing
Extron
E-mail: pr@extron.com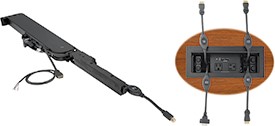 Anaheim, California (September 17, 2014) - Extron Electronics is pleased to introduce Retractor SM Show Me cable retraction modules for the company's popular TeamWork Collaboration System. The new Retractor SM modules provide the user interface for HDMI, DisplayPort, Mini DisplayPort, or VGA sources. Operation is simple and intuitive. Extend the Show Me cable, connect it to your source device, and press the Share button to share your content on the main presentation display. At the end of the collaboration session, cables retract with the press of a button, ready for use by the next collaboration team. Retractor SM modules are designed to work with Extron Cable Cubby 1200 and Cable Cubby 1400 next-generation cable access enclosures, as well as the TMK 120 R Table Mount Kit for under-table applications.
"TeamWork has set the benchmark for AV collaboration systems with its unique combination of integration flexibility, ease of operation, and low cost of ownership," says Casey Hall, Vice President of Sales and Marketing for Extron. "The combination of two of Extron's most popular products, Retractors and Show Me cables, now provides AV integrators with a simple, elegant, and robust cable management solution for any collaboration environment."
Retractor SM modules are engineered for long life and reliability in schools, libraries, conference rooms, and other high-utilization environments. Each module includes a pre-loaded, continuous cable for a single signal type, ensuring consistent, reliable performance regardless of cable extension length. A six-foot (1.8 m) pigtail is provided on the system end of the Retractor cable for ease of installation and connection to under-table electronics or floor boxes. HDMI and VGA models pass signals from the connected sources without processing. The DisplayPort and Mini DisplayPort models actively convert dual-mode DisplayPort signals to HDMI for use with a TeamWork switcher.
Cable Cubby Mount Kits are required to complete a Retractor SM installation in a Cable Cubby 1200 or Cable Cubby 1400. The Triple Mount Kit holds up to three Retractor SM modules. The Quad Mount Kit includes two mounting brackets, each of which supports up to two Retractor SM modules. The Retractor SM Horizontal Bracket Kit supports up to three modules for horizontal mounting applications. The TMK 120 R Table Mount Kit supports up to two Retractor SM modules for under-table mounting applications.