Selecting the right product for your AV system starts with having the right information. The unfortunate reality is that, beyond making bold claims about supporting 4K or UHD, very few AV product manufacturers make it easy for you to find the crucial information you need to determine if a product meets the needs of your AV system.
It's not enough to claim that a product is "4K Capable", or "4K Certified", or "4K Ready". Unless a manufacturer clearly defines the resolution, frame rate, color sampling, and color bit depth that their product supports, they haven't told you what you need to know – they haven't told you the truth.
At Extron, we believe in providing you ALL the information you need to select the right product for your system. We have always been the manufacturer you could count on for detailed, clear and honest specifications for our products. Extron is maintaining its leadership position by defining what a complete and detailed product specification for 4K video performance MUST include. We call this the Extron True4K™ Specification.
True4K Specification
For every Extron 4K product, you'll be able to clearly identify the four critical parameters you need to know to meet your performance requirements for 4K video:
Resolution
Frame rate
Color sampling
Color bit depth
Look for the True4K logo at the top of the specifications for any Extron 4K product, followed by a True4K Specification that always includes resolution, frame rate, color sampling, and color bit depth. You'll also see information about the 4K video signal types and the maximum effective 4K data rate supported by the product. Shown below is a True4K Specification for an Extron XTP II CrossPoint matrix switcher.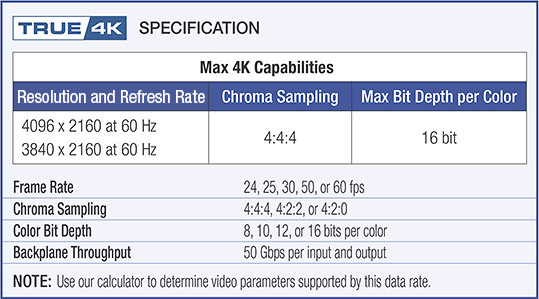 New 4K White Paper
To help you better understand the important performance parameters for 4K, we have created a new white paper titled "Hitting the Moving Target of 4K." Inside, you'll find the essential information you need to know about how each of these parameters affects 4K video performance. The paper also offers valuable insight into what's currently in development as 4K technology continues to evolve, so you can begin to consider new AV integration opportunities down the road. You can download a copy of the paper at www.extron.com/4Kpaper.
Extron Training – Designing Systems for 4K and Beyond
Schools within the Extron Institutes now include new training that provides vital information that AV system designers need to know in order to successfully design 4K video systems that perform reliably and meet customer expectations. Some of the topics include: understanding the four critical 4K video performance parameters and which is most important with different types of source material, using the True4K Specification, how to calculate the required data rate for various applications, plus much more.