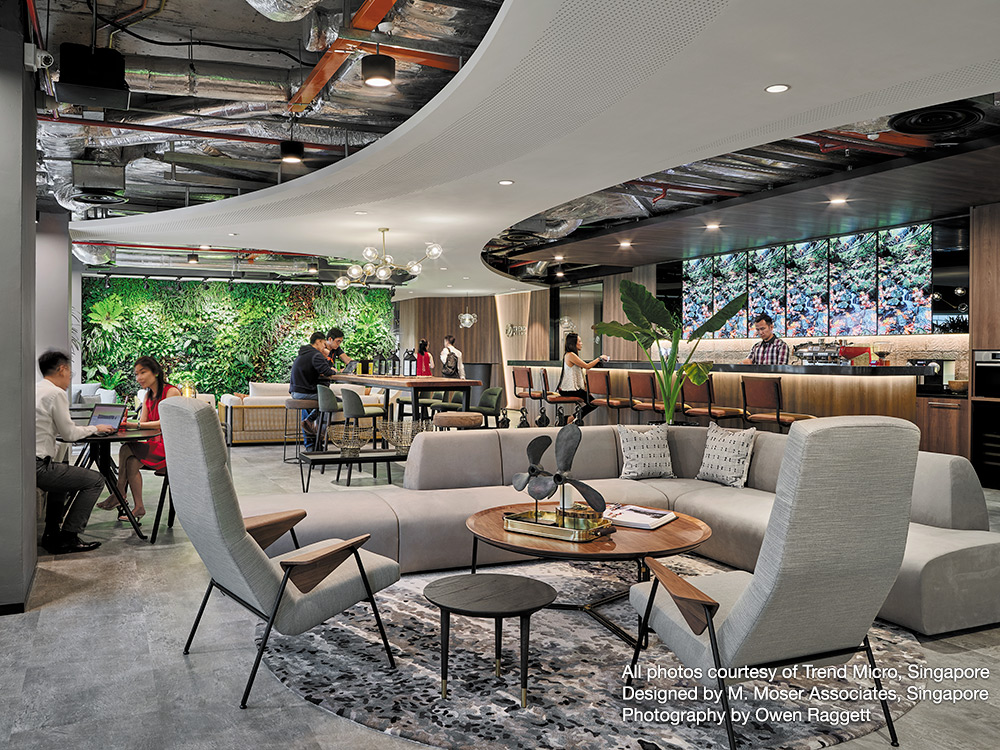 Extron AV Technology Sparks Knowledge-Sharing at Trend Micro Asia Pacific Headquarters
We've used Extron AV products in a number of successful installations. Trend Micro's Singapore team is happy with the AV capabilities in place. They're impressed with the high-end performance of the EBC's Quantum Ultra videowall. The boardroom and training center are always booked, showing how popular these AV-enabled spaces are.
Challenge
Trend Micro is a global cybersecurity company with over 6,500 employees worldwide developing security software for servers, cloud computing environments, networks, and endpoints. The company opened its headquarters for Asia Pacific, Middle East, and Africa in a 12,000 square foot office located in Singapore's Suntec Tower Four. Embracing an open office concept that fosters collaboration, the headquarters includes space for the regional management team and a full-fledged sales and business operations team. They have multiple meeting spaces, including an AV-enabled boardroom with Zoom teleconferencing and an AV-equipped training center where IT security certification programs are presented.
Near the entrance is an Executive Briefing Center, EBC, with a 4x3 videowall of 65" flat panel displays. Movable glass walls, when closed, transform the EBC into a private meeting space; and, when opened, connect the EBC to the adjacent townhall area.
Solution
Trend Micro entrusted pro AV integrator Fiber One Asia Pte. Ltd. with design and installation of the video and audio multimedia systems in the Singapore EBC, townhall, boardroom and training room spaces.
EBC Videowall and Laser Projection
An Extron Quantum Ultra 610 videowall processor configured with 12 HDMI inputs and 12 DTP twisted pair outputs drives the EBC videowall, providing up to 12 simultaneous 4K video images for presentations and demos. Sources applied to the videowall processor include a PC with 12-output video card, feeds from wallplates in the EBC and townhall, an Apple TV, and a visitor PC. An Extron DXP 1616 HD 4K HDMI matrix switcher preselects from among the 16 possible sources. The townhall boasts a laser projector that displays 4K content on a 120" screen. HDMI and VGA sources feed the projector via a wallplate transmitter and DTP receiver in the townhall.
Boardroom and Training Room AV
The boardroom's interactive 86" flat panel display and sound system receive content from a Mac Mini and a laptop. A camera and ceiling mics are connected to the laptop for videoconferencing. The training room has two interactive 86" flat panel displays for clear viewing of source material from the instructor PC. Each display also has its own Mac Mini directly sourcing instructional material. Ceiling array mics and speakers in the training room amplify instructor and student voices.
AV System Control and Signal Extension
Extron DTP transmitters and receivers extend video signals over CAT6 cable. HAE 100 4K units in the boardroom and training room de-embed audio from HDMI for input to the audio systems. Touchlink Pro touch panels allow users to control AV functions via intuitive graphical user interfaces. For roaming wireless control in the townhall, Extron LinkLicense extends the graphical interface to an iPad running the Extron Control App. IPCP Pro and IPL Pro S6 control processors translate user selections on the touchpanels into commands for the videowall processor, matrix switcher, flat panel displays, motorized projection screen, and other AV hardware.
Result
According to Mr. Saravanan Selva, Technical Director at Fiber One, "Our company has extensive experience with Extron, having used their AV products in a number of successful installations. Our design proposal was well received by Trend Micro. The installation went smoothly, taking two months. Trend Micro's Singapore headquarters team is happy with the AV capabilities in place. They're impressed with the high-end performance of the EBC's Quantum Ultra videowall. The boardroom and training center are always booked, showing how popular these AV-enabled spaces are."