TouchLink™ Configurable Touchpanel Control Systems
Powerful Control Without Programming
At InfoComm 09, Extron is introducing TouchLink™, the first fully configuration-based touchpanel control system with the power to handle the control needs of single display rooms, dual display rooms, divisible rooms, multi-image systems, and video conference suites. We pioneered configurable AV control systems with the highly successful MediaLink® family of push-button controllers. Now, with TouchLink, we are set to revolutionize the way you design, install, and maintain touchpanel systems. With our user-friendly, ready-to-use, customizable, predesigned application templates, TouchLink Control Systems can be deployed much faster, and are easier and less costly to support, than traditional programmable systems.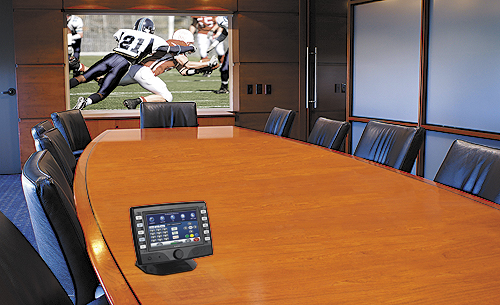 The TouchLink System
With introduction of the TouchLink Touchpanel Control System, Extron elevates configurable control systems to the next level. Just like MediaLink, TouchLink doesn't require any programming skills to deploy. Leveraging our years of experience and library of thousands of tested and documented Extron Certified device drivers, we designed the TouchLink System to meet the demands of the types of systems you install every day.
Anyone familiar with configuring MediaLink® or IP Link® systems with our free Global Configurator software will be comfortable configuring a TouchLink System using the same easy-to-use tools and our predesigned application templates.
TouchLink control systems are made up of a touchpanel, a control processor, predesigned application templates, and user-friendly configuration software. This article will introduce you to each of these new system components.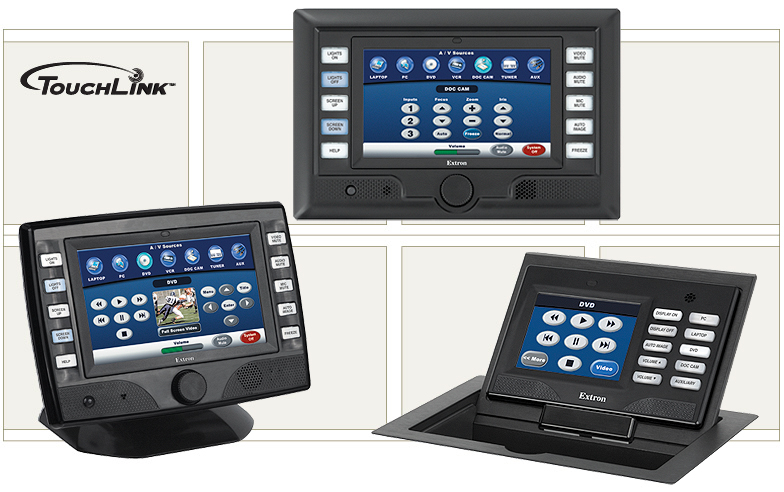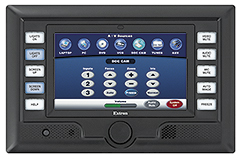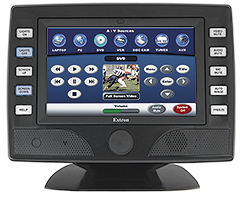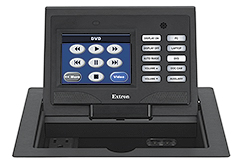 TouchLink Touchpanels
Three full-featured TouchLink touchpanel models offer a variety of mounting options with an attractive user interface suitable for any room. The TLP 700MV, with a seven-inch touchscreen, is designed for mounting on a lectern or wall. The TLP 700TV, also with a seven-inch touchscreen, is designed for tabletop or VESA mounting. The TLP 350CV is a Cable Cubby® version that features a 3.5" touchscreen.
Each TLP Series TouchLink touchpanel model features:

High Resolution Touchscreen: Full-color in a size and quality that are ideal for our predesigned application templates with sophisticated touchscreen layouts.
Full-Motion Video: Each model accepts a standard resolution video signal from any source device, such as a DVD player, VCR, security camera, or upstream switcher.
Customizable Backlit Buttons: These tactile bi-color buttons can be customized in their function and labeling to ensure that frequently used or critical functions are easily accessible, independent of the current touchscreen mode. Backlighting provides ease of use in low light conditions.
Speaker: Provides user feedback as buttons are pressed or monitored events occur.
Volume Knob: TLP 700 models only - You can configure this knob for simple and fast volume control.
Motion Sensor: TLP 700 models only - Awakens panel when in power-saving sleep mode.
Auto Dimming Sensor: Automatically adjusts the screen's brightness according to the room lighting.
IPL 250 Ethernet Control Processor
Unlike MediaLink Controllers, TouchLink touchpanels require a separate control processor with device control ports. The IPL 250 is an Ethernet control processor that works together with a TouchLink panel to create a configurable touchpanel control system. The processor communicates with the TouchLink touchpanel over Ethernet, rather than a proprietary network or bus protocol, and features a variety of control ports for interfacing with displays, switchers, sources, screen controllers, lighting systems, and many other devices.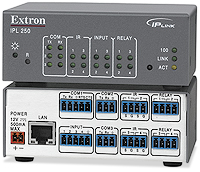 The IPL 250 provides a full scope of control capabilities, including:
Three bidirectional RS-232 serial ports for controlling and monitoring projectors, flat-panel displays, switchers, and other serially controlled devices
Four independent, normally open relays and four contact inputs for monitoring and controlling projector lifts, screen controls, lighting systems, window shades, motion sensors, timers, and more.
Four IR ports for one-way control of professional and consumer AV source devices, such as DVD players, VCRs, tuners, and more.
Ethernet Control Capability - Allows for management, monitoring, and control of up to six Ethernet-enabled products.
Ready-to-Use Touchscreen Templates
Extron GUI Configurator is an intuitive design tool that makes creating and maintaining Extron TouchLink™ touchscreen user interfaces easy, even for those without graphic design skills.
Getting started is fast and simple with our ready-to-use, customizable, predesigned application templates, or start from scratch and build your own layout using our comprehensive software. Simply select the template that best suits the application. In many cases, all the input sources, display control, and environmental settings are already in place. Each template is fully developed and includes complete, detailed documentation of its application and capabilities. If any modification is required, GUI Configurator software's user-friendly drag-and-drop interface makes adding or removing a source or other element a snap.
Ready-To-Use Templates
GUI Configurator includes ready-to-use templates created for the following popular AV system applications:
Single Display Rooms
Dual Display Room
Divisible Room
Multi-Image System
Video Conference Suite
... and more will be added to www.extron.com soon.
Our touchscreen design templates are:
Broadly Applicable - Our templates are matched carefully to the most common AV applications installers and integrators are likely to encounter.
Intuitive to Use - Readily learned and understood with clearly labeled buttons and logical page flows.
Easy to Edit - The object appearance properties of every GUI element is easily changeable, including shape, color, label, and operation.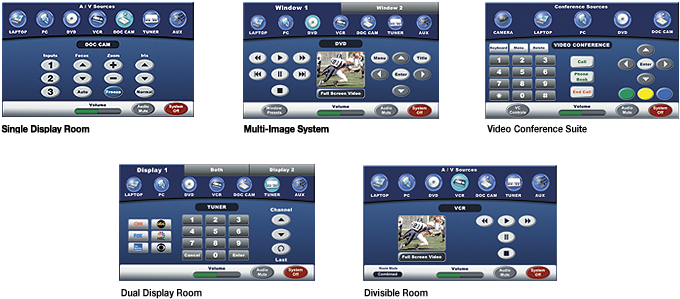 Since system designs vary, our templates can be customized to suit the specific needs of any application. GUI Configurator's intuitive design environment enables a wide variety of design choices for buttons, colors, logos, font styles, and more.
Start From Scratch and Design Your Own Layout
A wide array of design options enables users to develop their own touchscreen layouts to meet almost any system requirement.
GUI Configurator software's resource library of shapes, graphics, and sounds provide a wide variety of choices for design of pages, popup pages, multistate buttons, 3D effects, video windows, dynamic text, and more. In addition, users can import their own images or audio files into GUI Configurator and use the resource management tool to provide further customization capabilities. The Designer Window displays the layout design in progress, so the changes can be seen while the customization occurs.
Upload Your Finished Design To The TouchLink Panel
Once the touchscreen layout design is completed, the process for uploading the design files to a TouchLink touchpanel is simple. GUI Configurator connects to one or more TouchLink Touchpanels over the network for uploading the project layout data. In addition, project data can be saved to disk for future use.
Familiar System Configuration Process With Global Configurator Software
Anyone familiar with configuring MediaLink® or IP Link® Systems using Extron Global Configurator software will be comfortable installing and configuring a TouchLink system. With no code to write and no need for graphic design skills, anyone can develop and deploy a sophisticated, feature-rich, TouchLink AV control system.
Global Configurator is a simple-to-use, yet comprehensive software application that allows non-programmers to configure a wide range of Extron IP Link-enabled products, including TouchLink Systems. It provides an integrated environment for defining AV control and monitoring system functionality from an easy-to-use graphical user interface.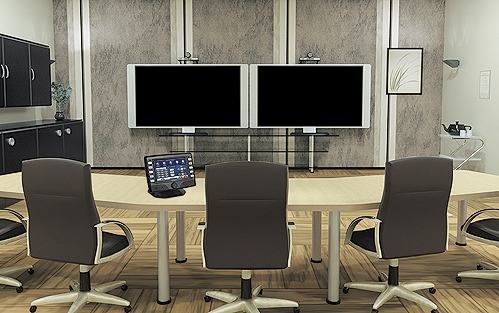 TouchLink touchpanels enable integrators to deploy a fully configurable touchscreen control interface with a sophisticated, high tech appearance.
It's simple enough to be used for configuring a single room controller, yet powerful enough to facilitate building a Web-based AV resource management and remote monitoring system for hundreds of AV devices in multiple locations.
Global Configurator's intuitive, step-by-step menus walk the user through the process of configuring a TouchLink Panel's functions to the IPL 250 controller. For large installations with IP-enabled systems, Global Configurator guides the user through adding new TouchLink Systems to the network, organizing them in a logical fashion, configuring IP and security settings, and defining monitoring and alert parameters.
Configuration changes may be required when a display or source device is replaced or additional functionality is desired.
With Global Configurator, modifying a configuration is fast and easy. The program creates and stores unique configuration files which can be recalled whenever changes are required.
Modifying a configuration is as simple as opening the configuration file, making the necessary changes, and uploading the new configuration and device drivers. This feature is also useful for replicating "cookie cutter" systems with only a few mouse clicks.
Thousands of Extron Certified Device Drivers
Extron maintains thousands of serial and IR drivers for devices from dozens of manufacturers. Each driver was written and reviewed by Extron engineers and our Certified drivers have been tested with at least one of the supported products. The Extron Web site features an easy-to-use online driver filter that enables installers and system integrators to select and download the appropriate driver files for their AV system.
Powerful AV System Management
You can proactively manage, monitor, and support TouchLink Systems right alongside MediaLink and IP Link systems using the award-winning Extron GlobalViewer Enterprise software. GlobalViewer Enterprise is the next step up for managing larger AV installations. It provides an easy upgrade path for existing users of the Free GlobalViewer Web application. Compatible with most Web browsers, GlobalViewer Enterprise provides enhanced help desk functionality, enterprise-wide scheduling and monitoring, and time-stamped AV system data collection for reporting. Built on Microsoft® .NET® technology, GlobalViewer Enterprise integrates with third-party facility scheduling software for viewing room availability and managing meeting schedules.
A New Way to Think About Touchpanel Control Systems
Up to now, deploying touchpanel AV control systems, has remained in a different category from more common pushbutton control panels. While touchpanel systems are generally more elegant, they have been considered more complex, more costly, and more difficult to support than their pushbutton counterparts, due mostly to the programming skills needed for integration. Thanks to Extron TouchLink, the first fully configuration-based touchpanel control system, the industry now has an opportunity to view them in a whole new light.
Additional Resources
Extron.com offers extensive additional information and training on TouchLink Systems, including:
Spec sheets
Brochures
White papers
Training videos
Also, our unique online TouchLink Simulator lets you test drive each touchpanel model, trying it out in various types of presentation environments. For more information, visit www.extron.com/touchlink

 Download the story – High Res PDF – 1.75 Megs