New larger Extron 10" Room Scheduling Panel - Book a room the easy way
Public relations contact:
Joe da Silva, Vice President of Marketing
Extron
E-mail: pr@extron.com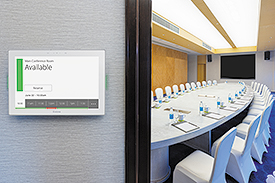 Anaheim, California (October 10, 2018) - Extron Electronics is pleased to announce the immediate availability of the TLS 1025M 10" panel for Extron Room Scheduling systems. This 10" stand-alone TouchLink Scheduling panel connects directly to a variety of popular calendar services, and requires no additional scheduling software or external processors. It features a vibrant 1280x800 capacitive edge-to-edge Gorilla Glass® touchscreen that is especially scratch and smudge-resistant. The TLS 1025M also features the convenience of PoE - Power over Ethernet, which allows it to receive power and communication over a single Ethernet cable. Two bright red and green LEDs make it easy to see if a room is occupied or available even from down the hall. The integration-friendly 1025M is an ideal solution for any environment requiring a stylish and convenient room scheduling panel.
"The new TLS 1025M has a brilliant, high resolution edge-to-edge touchscreen and is the largest of our TouchLink Scheduling panels," says Casey Hall, Vice President of Worldwide Sales and Marketing for Extron. "The room analytics functions give customers vital, at-a-glance data to help them schedule rooms and view meeting trends across their organization."
TouchLink Room Scheduling panels provide the information you need to closely analyze room usage, activity patterns, and occupancy trends across the organization. You can download a Scheduling Activity file with room usage and meeting data from each touchpanel and transform this readily-available information with data analytics tools to create powerful reports. All TLS panels are configured with Extron Room Agent software. Simply connect the touchpanel to your computer, open the free Room Agent software, fill in the required fields to compose the user interface, and you're done. Customization options include custom colors and background images, interface text fields to be shown or hidden, depending on user preference.
For more information on the TLS 1025M, click here.