Extron TLP Pro 725T Reinvents Touchpanel Performance and Design
Public relations contact:
Joe da Silva, Vice President of Marketing
Extron
E-mail: pr@extron.com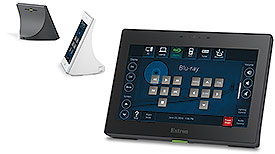 Anaheim, California (February 7, 2017) - Extron Electronics is pleased to introduce the TLP Pro 725T TouchLink Pro Touchpanel. Inside this newly-designed touchpanel, there's a powerful new quad-core processor and eight times more memory feeding the seven inch, 1024x600 high resolution capacitive touchscreen. The enhanced touchscreen delivers stunning graphics and superb durability with scratch and smudge-resistant Corning® Gorilla Glass®. Outside you'll find a stylish, ergonomic enclosure that will complement any contemporary presentation environment.
"We designed these new TLP Pro 725T touchpanels with a number of significant enhancements in both performance and style," says Casey Hall, Vice President of Sales and Marketing for Extron. "We boosted processing power, memory, and graphics, then wrapped it all in a sleek enclosure that simply looks stunning."
The TLP Pro 725T is built for today with an eye on the future. With its improved graphics engine, quad-core processor, and increased RAM, you'll see faster background graphic loads and crisper page flips. These performance enhancements offer an enhanced user experience now, while providing ample memory and processing power to support exciting new features and capabilities in the future via firmware updates. All TouchLink Pro touchpanels can be customized using Extron GUI Designer software. This powerful interface design software offers ready-to-use templates for a wide variety of rooms and presentation environments.
For more information about the TLP Pro 725T, please visit www.extron.com/tlppro725t_pr