TLP Pro 300M
3.5" Wall Mount Touchpanel Puts Powerful, Simplified Control Into a Small Package
The Extron TLP Pro 300M is a 3.5" portrait wall mount TouchLink® Pro Touchpanel. It is designed to control video, audio, lighting, shades, HVAC, security, and other systems within virtually any environment. This touchpanel is equipped with a 320x480 resolution capacitive touchscreen built with scratch and smudge-resistant Corning® Gorilla Glass®. The TLP Pro 300M also features the convenience of PoE - Power over Ethernet, which allows it to receive power and communication over a single Ethernet cable. It can be conveniently mounted in a one-gang junction box without the need for additional mounting hardware. The TLP Pro 300M is ideal for any environment requiring a wall-mountable, portrait touchpanel with a fully customizable interface.
Contemporary portrait design
The TLP Pro 300M adds an elegant point of control to any environment. Its compact, unobtrusive form factor lets you add stylish and powerful control features to your workspace while maintaining the integrity of your décor.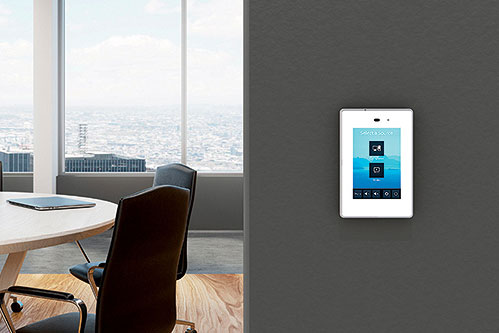 Tough, scratch and smudge-resistant
Edge-to-edge Corning® Gorilla Glass is stronger and more scratch-resistant than standard glass, while maintaining touch sensitivity, color saturation, and vibrancy.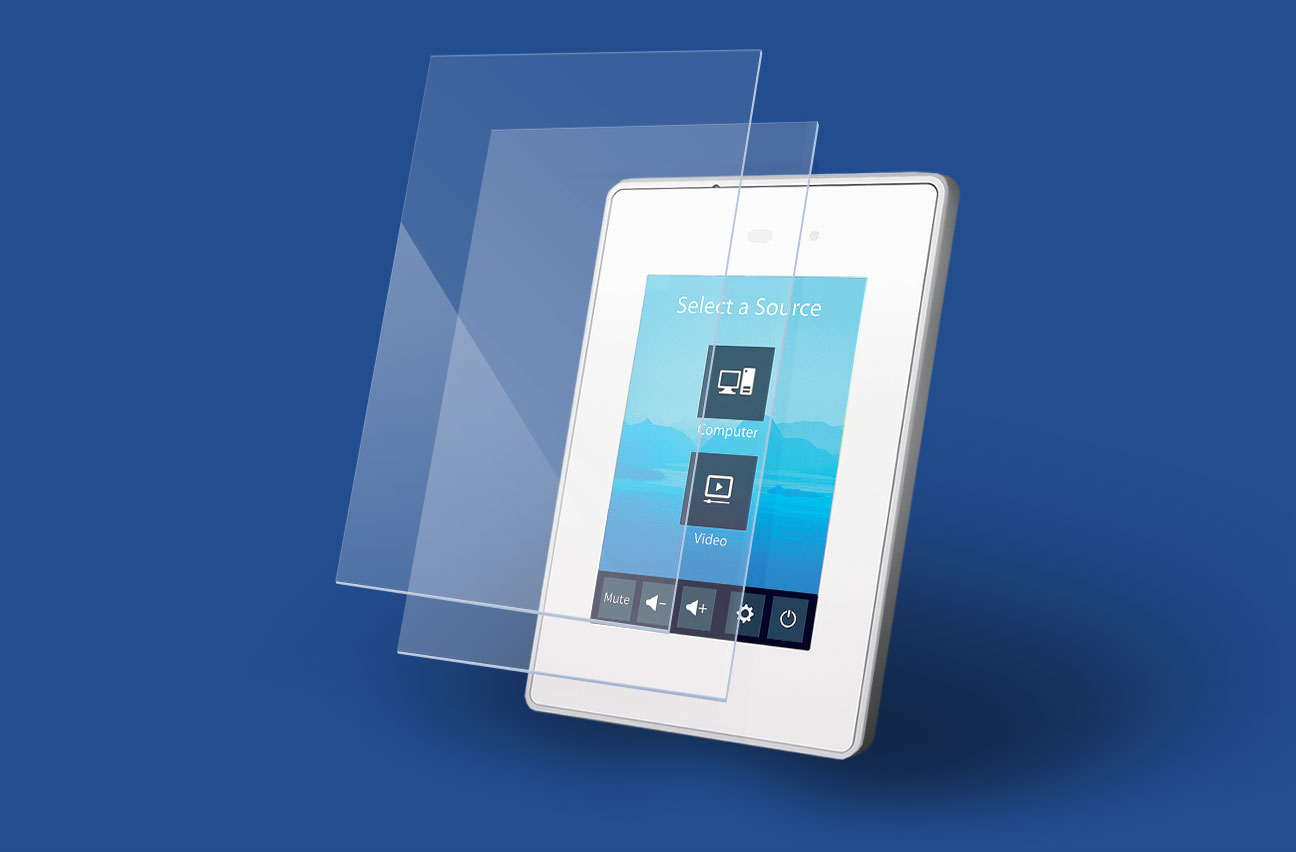 Compatible with a wide range of Extron products
The TLP Pro 300M works with any Extron IP Link® Pro control processor and HC 400 Series systems. It is designed for use in AV system applications that require complete, interactive control of a broad range of source devices. TouchLink Pro touchpanels operate using standard network infrastructure and are easy to install with reliable and cost effective Ethernet cable.

Energy-saving
All Extron TouchLink Pro touchpanels are designed with energy saving features. In addition to its inherent energy-efficient design, the TLP Pro 300M has an adjustable sleep timer that puts the touchpanel into sleep mode after a designated time. A motion detector wakes the touchpanel when lights or motion is detected.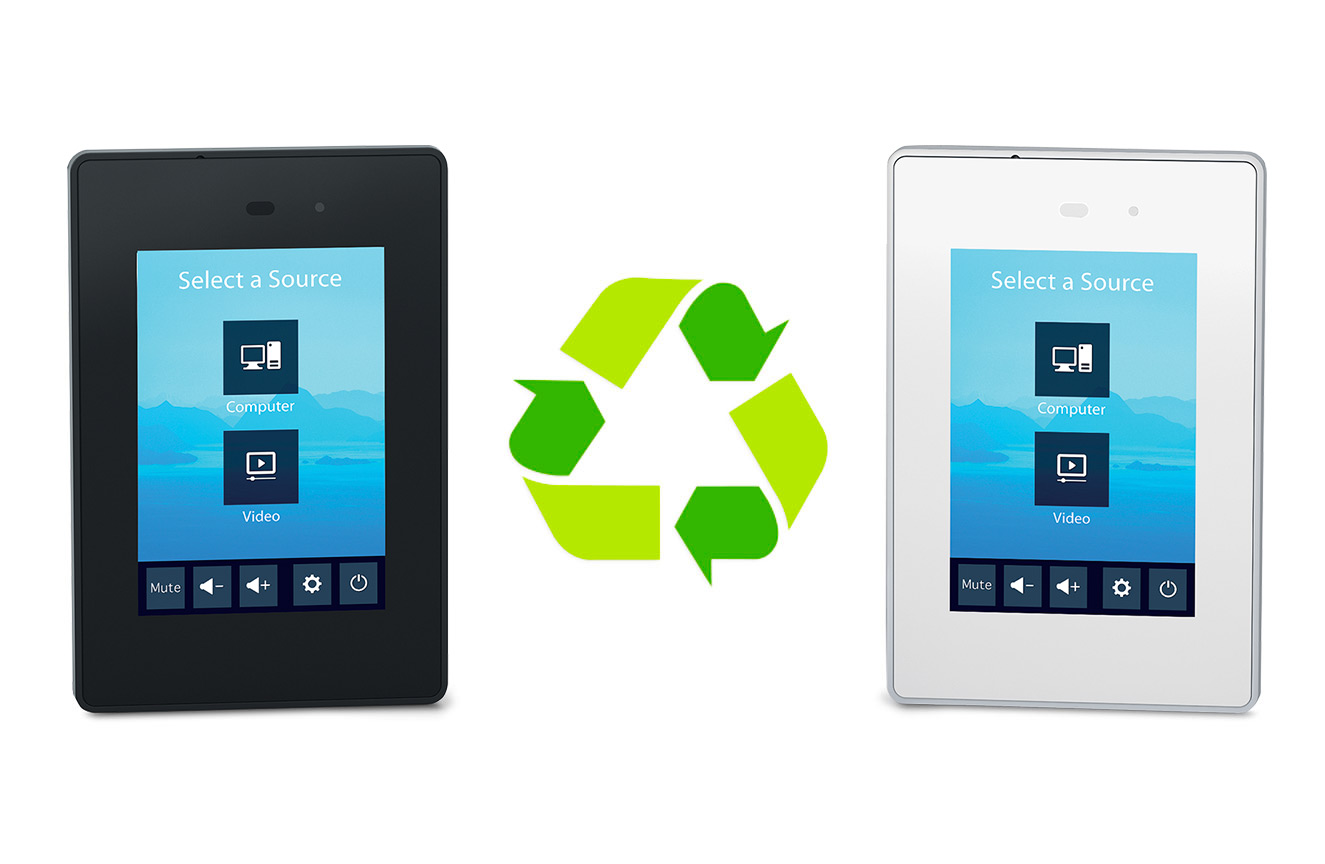 Fully customizable
All TouchLink Pro touchpanels can be customized using Extron GUI Designer software. This powerful interface design software offers ready-to-use templates for a wide variety of rooms and presentation environments. These designs may be used as is or customized for the application by simply changing individual graphic elements. In addition, all of our touchpanels offer maximum flexibility by allowing individuals to either configure them using Global Configurator Plus and Professional or program them using Global Scripter.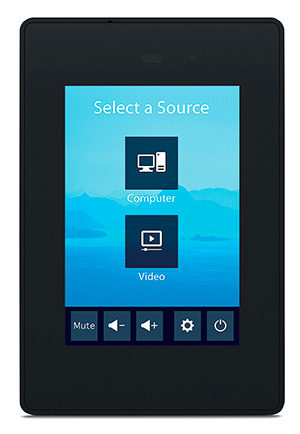 Configurable red and green status light indicates a room's availability or call status

Light sensor automatically adjusts LCD backlighting

Tough Gorilla Glass screen is scratch and smudge-resistant

Fully customizable touchpanel user interface

Available in black or white

On-screen menus simplify touchpanel set-up

Capacitive, edge-to-edge glass LCD display with 320x480 resolution

Motion sensor wakes the touchpanel when approached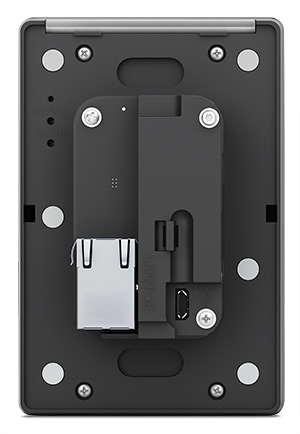 Configurable red and green status light indicates a room's availability or call status

Security screw used to attach pre-crimped tether for additional security

USB port for future expansion

Built-in speaker provides audible feedback from button presses

Mounts in standard 1-gang US junction box

PoE Compatible

Menu button provides shortcuts to system options for quick touchpanel setup

Reset Button — Allows firmware to be reset to original factory settings