Extron Now Shipping 17" Capacitive TouchLink Pro Touchpanels
Public relations contact:
Joe da Silva, Vice President of Marketing
Extron
E-mail: pr@extron.com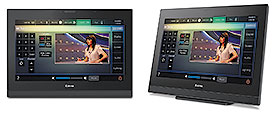 Anaheim, California (September 16, 2016) - Extron Electronics is pleased to announce the immediate availability of the TLP Pro 1720MG and TLP Pro 1720TG, 17ʺ wall mount and tabletop TouchLink Pro touchpanels with capacitive, edge-to-edge glass touchscreens. These 1920x1080 capacitive touchscreens provide a vibrant image and a more responsive control surface. As with all TouchLink Pro models, these new, customizable touchpanels feature faster processing and more memory. Both touchpanels feature video preview inputs that support high resolution, HDCP-compliant video from HDMI sources and XTP devices. For convenience, the touchpanels can receive power and communication over a single Ethernet cable. The TLP Pro 1720MG and TLP Pro 1720TG have stylish designs and powerful features that make them ideal for control applications requiring fully-customizable touchpanels with large control surfaces and multi-source video preview.
"The new 17" TouchLink Pro touchpanels deliver exceptional performance and a larger control area that customers have been looking for," says Casey Hall, Vice President of Sales and Marketing for Extron. "In addition to the vibrant, capacitive touchscreens that provide ample space for the advanced controls needed in elaborate AV control applications, XTP and HDMI inputs offer the additional flexibility to display a scalable video window for video preview or a confidence monitor."
The TLP Pro 1720MG and TLP Pro 1720TG work in conjunction with any Extron IP Link Pro control processor and are designed for use in AV system applications that require complete, interactive control of a broad range of devices. All TouchLink Pro touchpanels operate using standard network infrastructure and are easy to install with reliable and cost effective Ethernet cable. They are customized using Extron GUI Designer software. This powerful interface design software offers ready-to-use resource kits to help design a wide variety of interfaces for rooms and presentation environments. For mounting flexibility, the TLP Pro 1720TG can be removed from its base and mounted on any VESA standard mounting arm or bracket. The TLP Pro 1720MG and TLP Pro 1720TG can be programmed using Global Scripter, with support for Global Configurator Plus and Professional coming soon.
To watch a product introduction video, please visit: www.extron.com/tlppro1720video
For more information on the TLP Pro 1720MG and TLP Pro 1720TG, please visit: www.extron.com/tlppro1720nspr