TLP Pro 1230WTG
Our Ultra-Wide Touchscreen Puts Everything Within Reach
The TLP Pro 1230WTG is our new ultra-wide touchpanel. Featuring a vibrant 12" 1920x720 resolution touchscreen, the ultra-wide format enhances user experiences since it allows multiple tasks to be seen and managed at the same time. The TLP Pro 1230WTG provides ample screen space to simultaneously display full AV system controls and video preview. It features HDMI video preview input that supports high resolution HDCP compliant video from an HDMI source. The sleek, low-profile design minimizes visual obstructions and improves collaboration engagement in a wide variety of applications.
Ultra-wide Screen
The ultra-wide touchscreen on the TLP Pro 1230WTG displays more information; making it easy to view and manage multiple functions, simultaneously. By bringing more tasks within easy reach, you'll spend less time flipping pages, and more time engaged with your meeting content and attendees.
Video Preview
Video preview enables users to use the TLP Pro 1230WTG as a confidence monitor or a preview monitor within a presentation environment. Content can be displayed either windowed or full screen and is delivered via an HDCP-compliant HDMI source.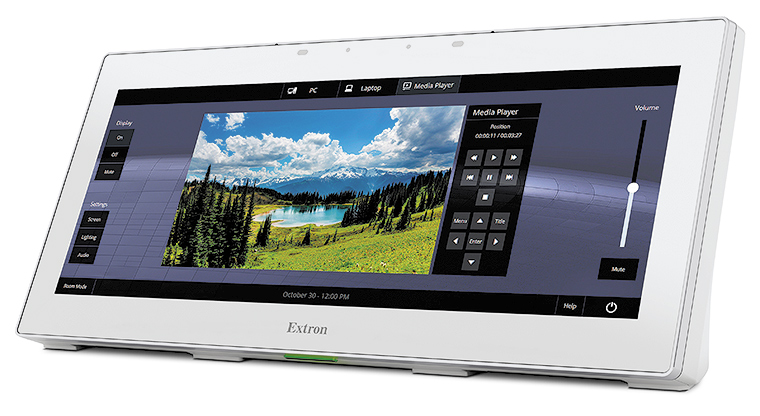 Compatible Products
The TLP Pro 1230WTG works with any Extron IP Link® Pro control processor and HC 400 Series systems. It is designed for use in AV system applications that require complete, interactive control of a broad range of source devices. TouchLink Pro touchpanels operate using standard network infrastructure and are easy to install with reliable and cost effective Ethernet cable.

Energy-saving
All Extron TouchLink Pro touchpanels are designed with energy saving features. In addition to their inherent energy-efficient designs, they also have an adjustable sleep timer that puts the touchpanel into sleep mode after a designated time. A motion detector wakes the touchpanel when lights or motion is detected.

Fully customizable
All TouchLink Pro touchpanels can be customized using Extron GUI Designer software. This powerful interface design software offers ready-to-use templates for a wide variety of rooms and presentation environments. These designs may be used as is or customized for the application by simply changing individual graphic elements. In addition, all of our touchpanels offer maximum flexibility by allowing individuals to either configure them using Global Configurator Plus and Professional or program them using Global Scripter.
TLP Pro 1230WTG Front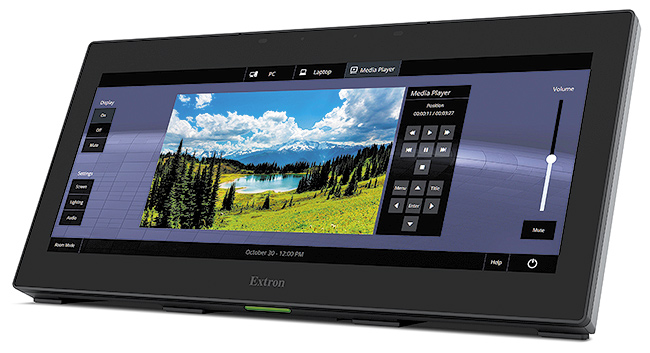 Configurable red and green status light indicates a room's availability or call status

Light sensor adjusts screen brightness as the ambient room lighting changes

12" ultra-wide, edge-to-edge glass display with 1920x720 resolution

Built-in speakers provide stereo audio

Power saving motion sensor for sleep and run modes

Fully customizable touchpanel user interface

On-screen menus simplify touchpanel setup

LED indicator provides control processor connection status

Tough, scratch and smudge resistant Gorilla Glass® screen

Available in black and white models
TLP Pro 1230WTG Rear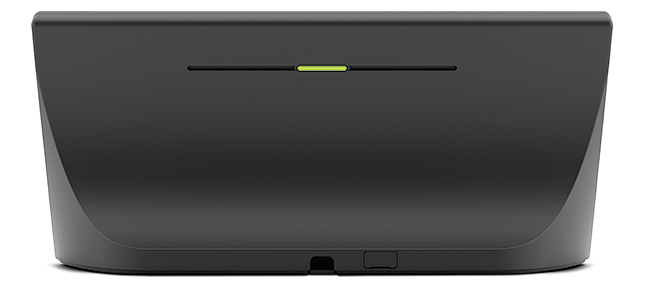 Scaled HDCP-compliant HDMI video input

PoE+ powered

Configurable red and green status light indicates a room's availability or call status

USB port