Extron Introduces 10" Capacitive TouchLink Pro Touchpanels
Public relations contact:
Joe da Silva, Vice President of Marketing
Extron
E-mail: pr@extron.com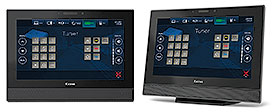 Anaheim, California (March 8, 2016) - Extron Electronics is pleased to introduce the TLP Pro 1022M and TLP Pro 1022T, 10" wall mount and tabletop TouchLink Pro touchpanels with capacitive, edge-to-edge glass touchscreens. These 1024x600 capacitive touchscreens provide a vibrant look and a more responsive control surface. As with all TouchLink Pro models, these new, customizable touchpanels feature faster processing and more memory. The convenience of Power over Ethernet - PoE allows the touchpanels to receive power and communication over a single Ethernet cable. The TLP Pro 1022M and TLP Pro 1022T have the same sleek design as our larger TouchLink Pro touchpanels and features that make them ideal for control applications requiring fully-customizable touchpanels with flexible mounting options.
"The 10" TouchLink Pro touchpanels have become a favorite among AV integrators, and we are pleased to offer our customers new versions that include a vibrant, capacitive touchscreen," says Casey Hall, Vice President of Sales and Marketing for Extron. "These powerful and stylish touchpanels offer industry-leading performance and versatile mounting options that are ideal for a wide range of AV applications."
The TLP Pro 1022M and TLP Pro 1022T work in conjunction with any Extron IP Link Pro control processor and are designed for use in AV system applications that require complete, interactive control of a broad range of devices. All TouchLink Pro touchpanels operate using standard network infrastructure and are easy to install with reliable and cost effective Ethernet cable. They are customized using Extron GUI Designer software. This powerful interface design software offers ready-to-use resource kits to help design a wide variety of interfaces for rooms and presentation environments. For mounting flexibility, the TLP Pro 1022T can be removed from its base and mounted on any VESA standard mounting arm or bracket.
For more information on the TLP Pro 1022M and TLP Pro 1022T, please visit: www.extron.com/tlppro1022pr