Extron Introduces TLP 710CV 7" Cable Cubby® TouchLink™ Touchpanel
Public relations contact:
Joe da Silva, Vice President of Marketing
Extron
E-mail: pr@extron.com
Anaheim, California (August 18, 2011) - Extron Electronics is pleased to introduce the TLP 710CV Cable Cubby® TouchLink™ Touchpanel. The Extron TLP 710CV is a fully configurable 7" Cable Cubby TouchLink Touchpanel with a contemporary thin bezel design that combines AV system control with the convenience of an Extron Cable Cubby enclosure. It features a tilt-up, full-color, high-resolution touchscreen in an elegant, metal enclosure that can be mounted securely into a tabletop, lectern, or other flat surface. An integrated MTP twisted pair receiver accepts S-video or composite video and audio input signals over a single CAT 5-type cable. Power over Ethernet - PoE allows the touchpanel to receive power and control over an additional CAT 5-type cable, eliminating the need for a local power supply. The TLP 710CV touchpanel enables integrators to deploy furniture-mountable, fully configurable touchscreen control, with cable management and easy access to AV connectivity and power.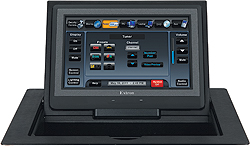 "The TLP 710CV combines the convenience of a Cable Cubby with the flexible control capabilities of a high-resolution TouchLink Touchpanel," says Casey Hall, Vice President of Sales and Marketing at Extron. "Its sleek design and integration-friendly features, like PoE and cable management, make this configurable touchpanel ideal for a variety of presentation environments."
The TLP 710CV works in conjunction with any Extron IP Link® control processor and is designed for use in AV system applications that require complete, interactive control of conferencing systems, displays, switchers, and source devices. The TLP 710CV and IP Link control processors communicate using a standard Ethernet network, allowing utilization of existing infrastructure, or easy installation with proven, reliable, and cost effective CAT 5 cable.
GUI Configurator software makes configuration of the touchpanel easy, with no graphic design skills required. This software offers ready-to-use templates for single display rooms, dual display rooms, divisible rooms, multi-image systems, and video conference suites. These designs may be used as is, or customized for the application by simply changing individual graphic elements.