Extron Announces Immediate Availability of TLP 350CV TouchLink™ Cable Cubby® Touchpanel
Public relations contact:
Joe da Silva, Vice President of Marketing
Extron
E-mail: pr@extron.com
Anaheim, California (December 17, 2009)
- Extron Electronics is pleased to announce the immediate availability of the TLP 350CV TouchLink™ 3.5" Cable Cubby® Touchpanel, the latest addition to the Extron configurable control system family. The TLP 350CV combines AV system control with cable management. It features a tilt-up, full-color touchscreen in an elegant, metal enclosure that can be mounted securely into a tabletop, lectern, or other flat surface. In addition, ten customizable backlit buttons provide expanded control capabilities to ensure that critical functions are easily accessible.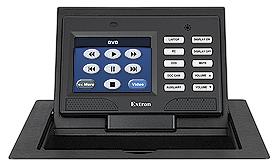 "The TLP 350CV touchpanel enables integrators to deploy a fully configurable, furniture-mounted touchscreen control system," says Casey Hall, Vice President of Sales and Marketing for Extron. "The Cable Cubby enclosure provides easy access to AV connectors, cables, and power."
Setting up a TLP 350CV touchscreen layout is fast and simple with a ready-to-use, customizable design template, or users can start from scratch and design their own layout using our GUI Configurator touchscreen design software. The single display room template is carefully matched to the most common AV applications installers and integrators are likely to encounter. In most cases, all the input sources, display control, and environmental settings are already in place. If any modification is required, the included GUI Configurator's user-friendly, drag-and-drop interface makes adding or removing a source or other element a snap.
Extron provides extensive information on TouchLink control systems, including data sheets, brochures, white papers, online and instructor-led training, and a powerful TouchLink Simulator that lets users test drive each touchpanel model, trying it out in various types of presentation rooms.