TLI Pro 201
Advanced TouchLink Interface Delivers 4K Video, Annotation, and Pro Series Control to Third Party Touchscreens
The Extron TLI Pro 201 TouchLink® Interface allows a third-party 4K touchscreen display to be used as a point of control within an Extron Pro Series control system. This unique interface includes a scaled HDCP 2.3-compliant HDMI input for video preview, supporting resolutions up to 4K/30. The scaled output supports signal resolutions up to 4K/30 at 4:4:4. The TLI Pro 201 has built in annotation features, allowing a presenter to draw and point on 4K video or computer sources using a third-party touchscreen display and/or mouse.In addition, it also features the convenience of PoE+, which allows it to receive power and communication over a single Ethernet cable.
Use Third Party 4K Touchscreens as a Point of Control
Customers can greatly benefit from combining the power of Extron Pro Series control systems or HC 400 Series system with third party 4K touchscreens. Imagine walking up to a touchscreen and not only being able to view video in brilliant 4K from a source device, but also controlling all source devices, lighting and shades for that room all from a single touchscreen.
Convenience of Built-In Annotation
Flexibility to create and customize graphical icons and menus using Extron GUI Designer. This allows for quick access to essential annotation tools for drawing freehand, highlighting and pointing to objects on-screen, as well as various customization tools.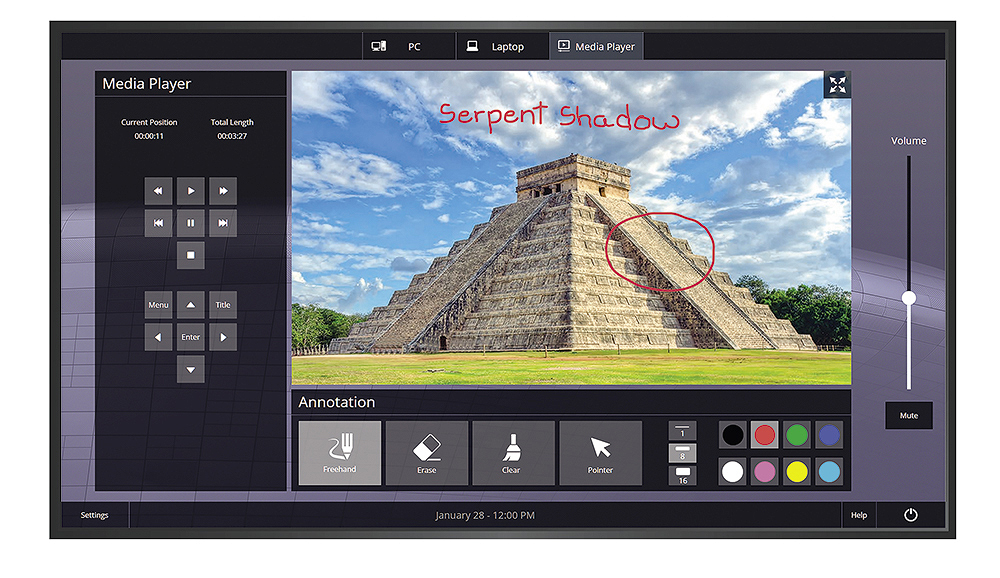 Pair with an Annotator 300 for Advanced Annotation Capabilities
The TLI Pro 201 can be paired with an Annotator 300 for advanced annotation capacities such as capture, recall, freeze, whiteboard, redo, zoom, and pan. The Annotator 300 has 64 colors and additional annotation tools for drawing lines, arrows, rectangles, ellipse, and typing text

High Performance Video Processing and Digital Video Integration Capabilities
The TLI Pro 201 features an advanced scaling engine that can scale HDMI HDCP 2.3 video to a common high-resolution output. The TLI Pro 201 accepts signals up to 3840x2160, including 1080P/60 and 4K. The output can be set for various resolutions up to 4096x2160, including 1080p/60 and 4K/30 4:4:4.
Vast Library of Readily Available HID Device Drivers
A wide variety of HID drivers are currently available on Extron.com to assist in getting projects completed quickly and efficiently. If a driver that is needed is not available, please contact an Extron representative and they will gladly assist you in getting the correct driver needed for your touchscreen.
TLI Pro 201-Features

Recessed Menu and Reset Buttons

HDMI Input and Output Status LEDs

PoE+ delivers power and communication over a single cable

Compact 1" high, half rack width metal enclosure low profile enclosure

USB 2.0 port for third-party touchscreens and HID devices

HDMI Output supports displays up to 4K/30 at 4:4:4

HDCP 2.3 -compliant HDMI Input

Power Indicator