Extron TouchLink™ and Annotator Win Awards at ISE
Public relations contact:
Joe da Silva, Vice President of Marketing
Extron
E-mail: pr@extron.com
Anaheim, California (February 12, 2010)
- Extron Electronics is pleased to announce that two new products received Technology InAVation Awards at Integrated Systems Europe 2010 in Amsterdam. TouchLink™ configurable control systems won for Most InAVative Commercial Control, and the Annotator graphics processor won for Most InAVative Commercial Video Processing or Distribution. The EMEA InAVation awards for technology celebrate all that is best in the Pro AV industry throughout Europe, The Middle East, Africa, and beyond.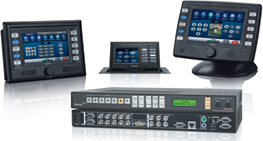 TouchLink is the first fully configuration-based touchpanel control system with ready-to-use templates and the power to handle the control needs of single display rooms, dual display rooms, divisible rooms, multi-image systems, and video conference suites. With our ready-to-use templates and drag-and-drop configuration software, TouchLink Control Systems can be deployed much faster than traditional programmable control systems and are easier and less costly to support. TouchLink Systems integrate seamlessly with Extron's award-winning GlobalViewer® Enterprise and Free GlobalViewer® software for complete AV resource monitoring, management, and control over a computer network.
The Annotator is a high performance, hardware-based annotation processor that offers live annotation capabilities plus high performance scaling and switching on any type of display. With an intuitive graphical user interface, a presenter can easily draw, point, or add text to motion video or still images using a touchscreen display and/or a keyboard and mouse. The Annotator's seven-input switcher supports digital and analog video formats including DVI, HD-SDI, and RGB, simplifying system design and significantly reducing overall system cost. The Annotator is ideal for applications that require the overlay of graphics and text within AV presentations, including law enforcement, medicine, education, telepresence, and live events.