Extron Working with Moseley Architects on Demonstration Classroom to Facilitate Interactive Learning
Public relations contact:
Joe da Silva, Vice President of Marketing
Extron
E-mail: pr@extron.com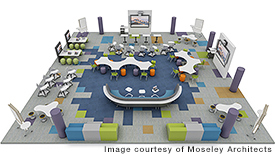 Anaheim, California (October 19, 2017) - Extron Electronics is pleased to announce they are working with Moseley Architects to build a demonstration classroom for the EDspaces 2017 conference, October 25–27 in Kansas City, Missouri. The "Thrive" classroom will feature flexible furniture, integrated technology, and acoustical elements, all designed to provide an environment where teaching and learning thrive. Extron will contribute AV switching, system control, and audio amplification for multiple displays through their WallVault system, voice amplification with their VoiceLift Pro microphone, and small group collaboration with their TeamWork system.
"We are delighted to team up with Moseley Architects and allow conference attendees to experience how classroom innovations can address new teaching and learning styles," says Anthony Cortes, Director of Education Sales and Marketing for Extron. "The Thrive room will utilize Extron WallVault, VoiceLIft Pro microphone, and TeamWork systems to help create an interactive learning environment."
The EDspaces 2017 Conference will not only feature the very best education sessions, but visitors will be learning in unique spaces, such as the Thrive room, created by leading architects and designers in the field and outfitted with the latest innovations that make learning spaces come to life.
For more information on the EDsession Classrooms at the EDspaces 2017 conference, click here.
For more information on Moseley Architects, click here.
For more information on Extron Electronics, click here.